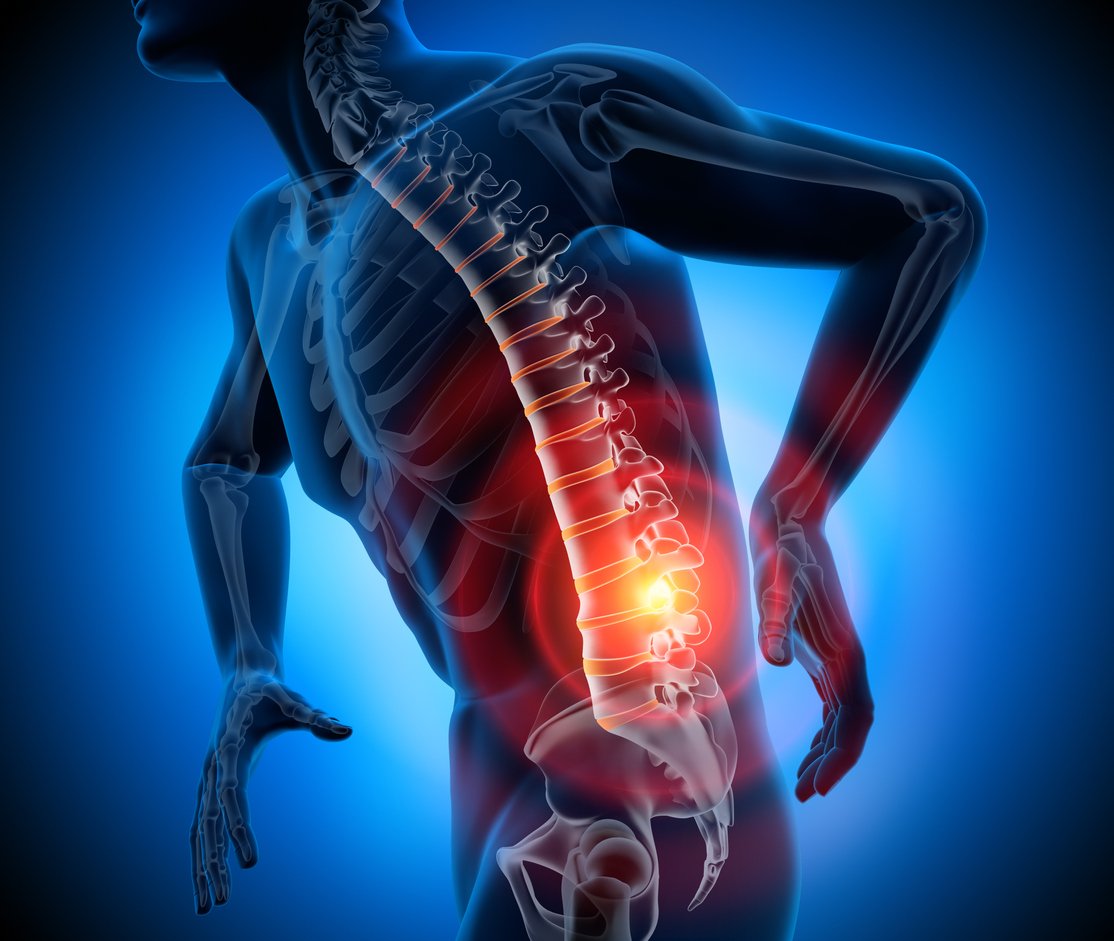 3D Rendering - Starke Schmerzen in der Wirbelsäule und Bandscheiben - Bandscheibenvorfall
Irish Osteoporosis Society Annual Medical Conference for Health Professionals, 17 October 2020
Vertebral fractures are highly predictive of future fracture risk and account for significant morbidity and mortality among older patients, the 2020 IOS conference heard. Dr Rosaleen Lannon, Consultant Physician in Geriatric Medicine, St James's Hospital, Dublin, outlined a number of interesting case studies and discussed the impact of vertebral fractures on patients and the health service. While vertebral fractures are the most common type of osteoporotic fractures, 70 per cent remain undiagnosed, she said, stressing the need to address this to try to prevent a cascade of further fractures and morbidity through early diagnosis and commencement of bone protection medication.  A woman with one vertebral fracture has a 4.4 times increased risk of another and a 2.3 times increased risk of hip fracture, with further fractures far more likely to be more severe and to occur in multiples.
"As well as increasing your risk of further fractures, there is the worsening physical health and quality-of-life – they cause pain, kyphosis, reduced mobility and independence, height loss, and swallow and respiratory problems." Treatment can reduce the risk of fracture within 12 months by 50-80 per cent, while fracture liaison has been shown to reduce morbidity and mortality, Dr Lannon noted. Warning signs of a first vertebral fracture include the patient being older, having had a previous non-vertebral fracture, having a low BMD and or low BMI, being physically inactive, being a current smoker, and having a fall. Height loss of 2cm is also a key warning sign,  along with postural changes, such as their head becoming forward from their body, rounded shoulders or a Dowager's hump developing. Some of the reasons for under-diagnosis of vertebral fractures include that only a minority result from a fall, and the symptoms are often attributed to other causes by both patients and healthcare professionals. In addition when imaging is undertaken for indications other than back pain the spine may not be scrutinised or the referring physician may regard a vertebral fracture as incidental to the reason for referral, she said.
Diagnosis wise, DXA scans  with an LVA (Lateral Vertebral Assessment) have a very important role in detecting vertebral fractures and compared to radiography are more convenient, have less radiation and combined with a BMD score have better risk prediction accuracy, said Dr Lannon. Following diagnosis, appropriate treatment and follow-up is key to avoid further fractures, she concluded. Addressing the topic of physiotherapy for osteoporosis patients during the Covid-19 pandemic, Ms Aoife Ní Eochaidh, Clinical Specialist Physiotherapist, Women's and Men's Health and Continence, Bon Secour Consultants Clinic, Galway,  advised of the importance of informing patients on the significant advancements in incontinence in bowel and bladder care. This is not only important to prevent slips, falls and fractures, but also for their mental health, as the fear of embarrassment of an accident is very high.
Ms Aoife Ni Mhuiri, Chartered Physiotherapist, Chartered Physiotherapist, Founder and CEO, Salaso Health Solutions Ltd and Lecturer at Institute of Technology Tralee, relayed that for those cocooning, at least 30 minutes of moderate activity five days a week is advisable, pointing to the evidence on how appropriate exercise, including weight-bearing and resistance activities, helps reduce the incidence of frailty, pain, and falls as well as a myriad of other positive health benefits. "We really need to encourage older people to maintain activity for bone health," she stressed, saying that gentle encouragement and support is very helpful, adding that while walking is very beneficial it is not enough on its own. Ideally activity advice should be tailored to the individual patient and a 'one size fits all' approach avoided.