College of Psychiatrists of Ireland, Online Winter Conference, 6 November 2020
Prof Hugh Garavan, Professor of Psychiatry at University of Vermont, spoke at the College of Psychiatrists of Ireland (CPsychI) Online Winter Conference 2020, which took place on Friday 6 November, about his research into the effects of cannabis on the adolescent brain. This year's conference was titled, 'Future proofing psychiatry'. Prof Garavan's studies are focussed on adolescents, as this is a time of substantial changes in terms of general physical and emotional development, personality, interests, friendships, and also the physical development of the brain. In 2015 Prof Garavan published a study of 140 14-year-olds, half of whom had used cannabis and half whom had not. These two groups were matched on sex, age to the week, handedness, verbal comprehension and perceptual reasoning, pubertal development, socioeconomic status, lifetime alcohol and cigarette use, and which site they came from (as this was a multi-site study).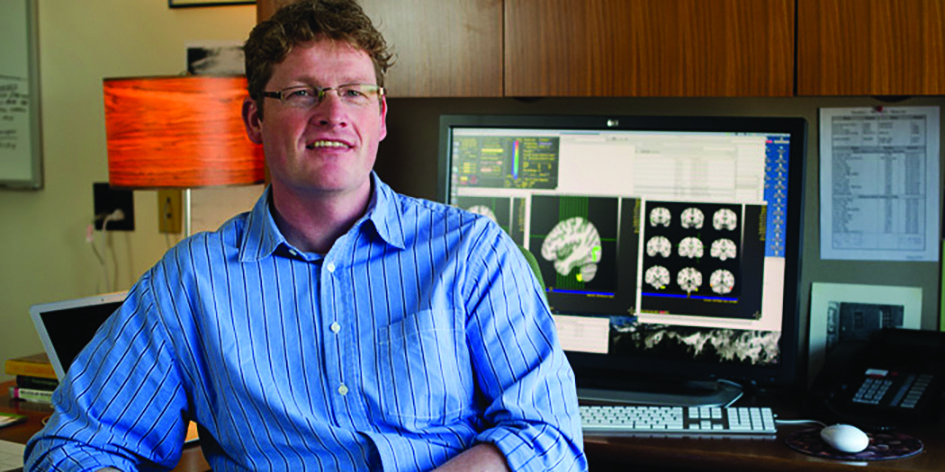 He found that the cannabis-using group had a heightened amygdala response, which is the area of the brain that is used for emotional processing. According to the study, cannabis-using 14-year-olds had a greater response to anxiety and threat signals. However, when five years later he followed up the 14-year-olds who had not used cannabis, it was found that the amygdala reactivity at 14 significantly predicted their level of future cannabis use. This demonstrated that amygdala hyperactivity may precede cannabis use rather than be a consequence of it. Despite this, changes were still observed between the brain development of the two groups; the group who used cannabis at the age of 14 seemed to have blunted amygdala development. In normal brain development, amygdala reactivity increases from the age of 14 to 19. This was not observed in the group of 14-yearolds who used cannabis; their amygdala reactivity didn't change during this time. Prof Garavan also wanted to determine the risk factors for teenage cannabis use, and the consequences of cannabis use in adolescents. For this, approximately 2,000 adolescents were followed over a 10-year period, starting at the age of 14.
Approximately 2,400 variables were collected from each of the study participants, including psychometric measurements, clinical symptoms, cognitive abilities, genetic variations, and brain structure and imagining. These measurements were taken at age 14, 16, 19, and 23. It was found that "two dozen or so" of these variables could be used to predict cannabis use between the ages of 14 and 16. These included psychometric variables such as personality, parent personality, and deviant life events, alongside brain structure variables. While some of the psychometric variables that predicted cannabis use overlapped in males and females, the brain structure variables were sex-specific. Furthermore, the psychometric variables for prediction of cannabis use also predicted alcohol use, while the brain structures were found to be cannabis specific. It was also easier to predict cannabis use in females than males, despite there being more males in the study. With regards to consequences of cannabis use, a study carried out by another research group demonstrated that a single administration of THC (the psychoactive agent of cannabis) disrupts brain plasticity in mice. As human adolescence is a time of rapid brain plasticity, Prof Garavan wanted to determine whether low level exposure to cannabis also affects adolescent brain development.
This study was focused on 16-yearolds. Once again two groups matched on age, sex, puberty level, handedness, verbal IQ, performance IQ, socioeconomic status, alcohol use, nicotine use, and total grey matter volume in the brain, but differing in cannabis use were formed. Prof Garavan said that in this low level exposure study they "weren't expecting much, but found lots". Individuals who had used cannabis once or twice at the age of 16 had a smaller brain volume in certain regions of the brain compared to the individuals who had never used cannabis. These regions were different to those that were found to be predictive of cannabis use in Prof Garavan's earlier study. Furthermore, these regions in areas of the brain that contained high levels of cannabinoid receptors, "which adds a certain level of plausibility to this being a cannabinoid mediated effect." The consequences of these structural changes in the brain are thus far unknown. To further investigate the consequences of cannabis use in adolescence, Prof Garavan carried out a study which followed 818 14-year-olds who were initially cannabis naïve, but who reported varying amounts of cannabis use by the age of 19.
Brain scans were taken at both time points. Although cortical thickness reduces in everyone from the age of 14 to 19, this reduction is accelerated in cannabis users in certain brain regions in a dose-dependent manner. Furthermore, the regions where accelerated thinning was observed are the regions that contain cannabinoid receptors. Other studies have demonstrated that this cortical thinning is not observed in adult cannabis users. In terms of phenotype, this study found that lifetime cannabis use at 19 was significantly associated with measures of negative psychotic symptoms, although these psychotic measurements weren't taken at 14 so they may have been pre-existing symptoms. Accelerated thinning in the right dorsomedial prefrontal cortex found to be associated with cannabis use was also related to increased impulsiveness at age 19.