Irish Cardiac Society, 71st Annual Scientific Meeting, 1-3 October 2020
The always highly-anticipated Brian Maurer Young Investigator Award, supported by Servier, this year featured a varied range of speakers and topics, ranging from ventricular arrhythmia to PCSK9 inhibition. This year's judging panel comprised Prof Jim Crowley, President, ICS; Prof Albert McNeill, Past-President, ICS; and Prof Ken McDonald, Past-President, ICS.
The finalist presenters and their topics were: Dr Ailis Pollock, St James's Hospital, Dublin, on 'Covid-19 and QTc: Is hydroxychloroquine worth the risk? A review of QT prolongation in hospitalised Covid-19 patients treated with hydroxychloroquine and azithromycin'.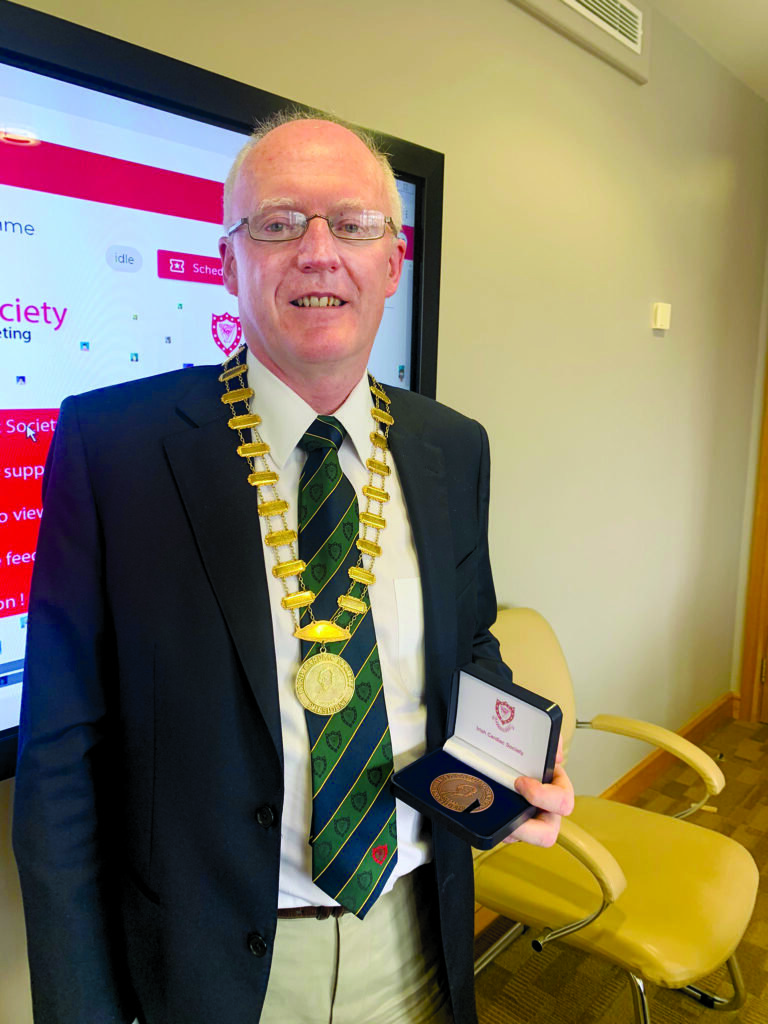 Dr Max Waters, Tallaght University Hospital, Dublin, Ireland, then delivered a presentation on 'A hierarchal analysis of eligibility for PCSK9 inhibition in Ireland: Bridging the divide between the NCPE managed access protocol and ESC/EAS guidelines'.
Next to present was Dr Angela McInerney, Cardiovascular Institute, Hospital Clínico San Carlos, IdISSC, Madrid, Spain, on 'Impact of morbid obesity and obesity phenotype on outcomes post-transcatheter aortic valve
replacement'.
The final presentation was delivered by Dr Bronagh Kelly, Adult Congenital Heart Disease Department, Royal Victoria Hospital, Belfast, Northern Ireland, who presented her observations on 'Predictors of ventricular arrhythmia identified from follow-up of tetralogy of fallot'.
During his closing comments at the conference, Prof Crowley announced that the winner of this year's award was Dr Angela McInerney. The Intervention Case Competition, held on the Friday evening of the conference and supported by AstraZeneca, also saw an extremely high standard of presentations and was chaired by Prof Aaron Peace and Prof Tom Kiernan.
The evening saw four presentations: Dr Jack Laffan on the topic 'It's stuck again: Retrieval of a retrograde equipment lodged in a vein graft during CTO angioplasty'; Dr Angela McInerney on 'IVUS-guided management of iatrogenic right coronary artery dissection'; Dr William Gibson and Dr Stephen O'Connor on 'Transcatheter aortic valve implantation reverses haemolytic anaemia in the setting of previous transcatheter mitral paravalvular leak closure'; and Dr Christopher Balfe on 'A narrow escape from a coronavirus Covid-19 mimic': First presentation of severe mitral stenosis and pneumonia during the coronavirus pandemic'.
The judging panel noted the high standard of all the presentations and decided that the winner was Dr Angela McInerney. "The originality and complexity of these cases was fantastic and there was great educational content in all the presentations," said Prof Aaron Peace in his closing remarks.
It was also announced at the meeting that the recipient of the Brian McGovern Scholarship this year was Dr Sean Fitzgerald. The organisers commented: "We were very fortunate this year, thanks to the continued support of Daiichi Sankyo, to be in position to award the Brian McGovern Scholarship once again and I am delighted to announce that the 2020 Brian McGovern Recipient is Dr Sean Fitzgerald," said the ICS in an announcement.
"Dr Fitzgerald has recently commenced an lnterventional Cardiology Fellowship at the Heart Centre Leipzig at the University of Leipzig, Germany, comprising both clinical and research components under the supervision of Prof Helger Thiele and we look forward to receiving his update at next year's meeting."