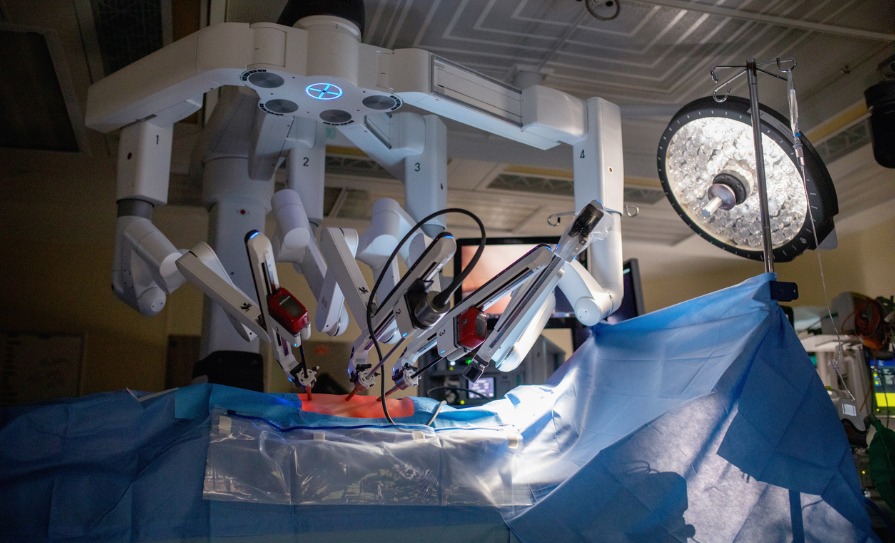 There will soon be national guidelines and a formalised training pathway for robotic-assisted surgery in Ireland, the ISG 2022 Winter Meeting heard.
Mr Colin Peirce, Consultant Colorectal and General Surgeon, University of Limerick Hospitals Group, gave a presentation on the advent of robotic-assisted colorectal surgery in Ireland, and the latest developments in technology and usage in Ireland.
University Hospital Limerick was the first Irish public hospital to introduce the technology in 2016 following a philanthropic donation to cover the cost of its Da Vinci Xi dual console robotic system, which cost approximately €2.5 million.
Mr Peirce, who carried out his formal robotic surgical training in the US and Europe, confirmed that the RCSI is finalising work on a formal national surgical training pathway with competency exams, governance, and national guidelines for robotic-assisted surgery in Ireland. There is also a recognised need to publish national data on robotic-assisted surgical uptake and outcomes.
"This will now become part and parcel of how we train the surgeons of the future. They will be getting training from the very initial commencement of their training programmes. There will be robotic surgery incorporated into that. That is very important, as clearly we have seen the advances, the introduction of more robots into the country, which is something our trainees are very excited about in that regard and we need to train them appropriately," Mr Peirce told the Medical Independent (MI).
He said that for current surgeons, who have a laparoscopic background, about 40 cases are needed to become competent in using robotic-assisted surgical systems, "so about two years, a reasonable workload."
Robotic-assisted surgery is now available in seven of the eight rectal cancer centres.
The remaining centre, University Hospital Waterford, is due to get a robotic surgical system next year.
There is now a total of 12 robotic surgery platforms currently across the country, which are also used in gynaecological surgery, Mr Peirce said.
Addressing criticism from the meeting audience that the technology does not lead to better outcomes, he said, in his experience and from the literature, robotic-assisted surgery does lead to a shorter length of stay.
Mr Peirce added it also results in better patient experience, and better sexual and uro-genital outcomes, though not necessarily better oncological outcomes.
"We have clearly shown that the robotic platform is superior to the laparoscopic platform in terms for the functional outcomes for patients, especially in male patients…."
He also pointed out that obesity is on the rise.
As well as being a risk factor for earlier development of disease, obesity leads to more challenging surgical cases.
"The robot is good for these patients – you don't lose a lot of blood doing it and it is also good for older patients."
He acknowledged that robotic surgery systems are very expensive.
In addition to the original outlay, they also need maintenance, which costs about €100,000 a year.
However, as more manufacturers come on stream, it is hoped costs will stabilise.
On balance, Mr Peirce believes robotic surgery systems are worth the expense and are here to stay, with continuing refinements and applicability advancements.
"More and more we need to look at patient-related outcomes," he told MI.
"What we are definitely seeing in the colorectal aspect is that these are improved [with robotic surgery], particularly in our younger patients. Unfortunately, it is younger patients that we are seeing a lot more colorectal cancer and disease in these days, so that is very important. We have also shown very good trends in terms of reducing length of stay for our patients, which is very important both for them and their families, and also for our under-pressure hospitals…. So you're saving on that end."