College of Psychiatrists of Ireland, Winter Conference, virtual, 4-5 November 2021
President of the College of Psychiatrists of Ireland, Dr William Flannery, re-iterated a call for over 800 consultant psychiatrists to be appointed in psychiatry by 2030, and urged publication of a crucial draft HSE/National Doctors Training and Planning (NDTP) unit plan for recruitment retention, in his opening remarks to the College's
Winter Conference 2021.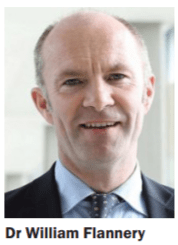 Speaking at the meeting, which took place on 4-5 November on a virtual basis, Dr Flannery referred to the recommendations for additional consultants, outlined in the NDTP unit medical workforce planning report on the specialty of psychiatry, and pointed out that progress has been slow. He added that the document in train on recruitment and retention would be crucial to "the challenges we all face in the workplace"
Training was the core of College's remit and although costing an estimated €1.9 million a year to fund adequately, he advised members that the College was due to receive €1.3 million for training which had represented an increase on previous funding. On the Mental Health Act, he said it had to be amended and was currently with the Attorney General's office. The Law Committee of the College was due to meet to identify four or five key areas from the College's perspective.
He complimented the Faculty of Medical Psychotherapy for its position paper, endorsed by the College. "That position paper is the development of services for treatment of personality disorder in adult mental health services. So now we have a position paper, the College can use this to get the direction we want," said Dr Flannery. He paid tribute to the work of colleagues, who had various roles in policies and operations, for their hard work and for working with him.