Niamh Cahill speaks to new IMO President Dr Ina Kelly about her priorities in the role
IMO AGM 2021, Virtual Conference, 17 April
To the fore of Ireland's Covid-19 response have been specialists in public health medicine. As experts in disease investigation, they have worked to help protect the public and their medical colleagues from severe illness
and death caused by SARS-CoV-2. For the coming year, Public Health Specialist at the HSE Midlands Department of Public Health, Dr Ina Kelly, will embark on a new challenge in assuming the role of IMO President at a time when the health service remains under significant pressure.
Such a responsibility could be viewed as another burden, not least because of the onerous workload facing healthcare professionals due to Covid-19. However, Dr Kelly considers her new role as a "privilege". Throughout the national emergency she has adapted to challenges in public health with determination and a dynamic work ethic – attributes she will no doubt bring to her remit as IMO President in advocating for a wellstaffed and resourced health service.
As a former Chair of the IMO public health committee, who has been a specialist in public health for over a decade, Dr Kelly is acutely aware of the difficulties facing the specialty in Ireland. Many of these obstacles existed before the advent of Covid-19. As an IMO representative, she was engaged in negotiations with the Department of Health in implementing the recommendations contained in the 2018 Crowe Horwath report.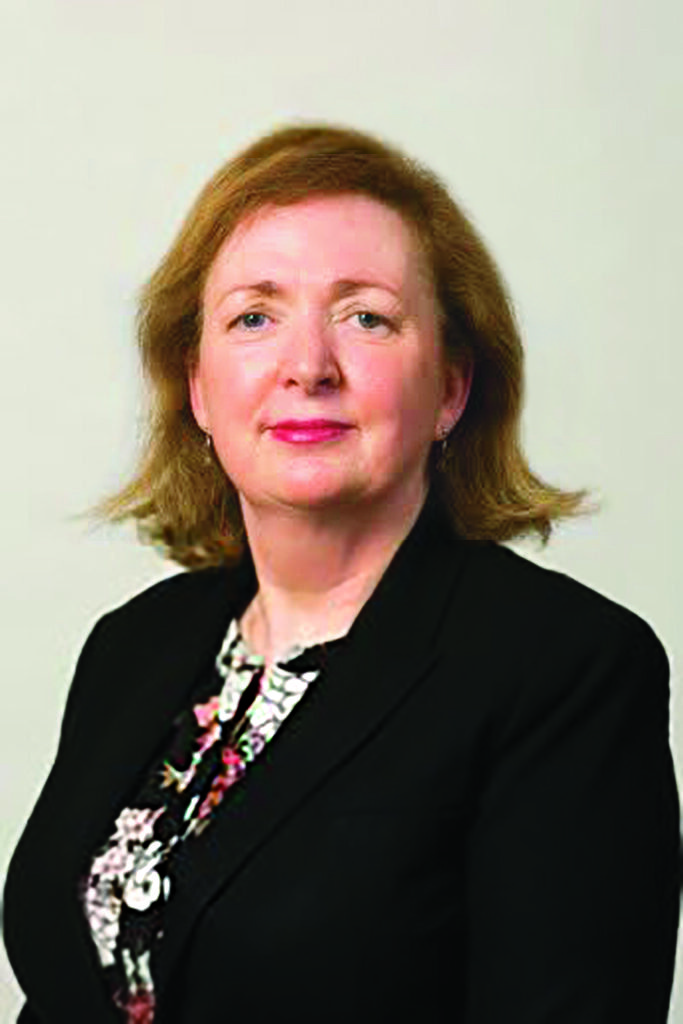 The national health crisis interrupted progress and it has taken a year to get the process "back on track", Dr Kelly told the Medical Independent (MI). In what can only be described as a watershed moment for the public health system, the Government finally announced a new model for public health, including consultant status for public health specialists,
ahead of the IMO AGM. After two decades of talks and disappointments, the news left some in the specialty in
tears after a gruelling year. Under the proposed agreement, the Department of Health and HSE have agreed to create 84 consultant-grade posts in public health.
Dr Kelly said Ireland's public health service was "under strength" and "less than ideal" when the pandemic began, with poor staffing levels and outdated IT systems. This is a situation she is keen to avoid in future and she welcomed the recruitment of a "small number" of administrative and clinical staff to public health departments in recent weeks. But she criticised slow recruitment processes and said very few clinical staff had been appointed since the pandemic began. Dr Kelly, who trained as a GP in Australia, wants to see multidisciplinary teams working in public health, comprised of research scientists, administrators, and analytical staff, among others, to enhance public health protection measures.
Covid-19 currently consumes public health, leaving other important issues largely ignored, said Dr Kelly. These include antimicrobial resistance, climate change, mental health and healthcare inequalities. Areas of particular interest to Dr Kelly and topics she plans to focus on during her presidency include mental health and women in medicine. Regarding the latter, the University College Galway graduate wants to support and encourage more female doctors to take up leadership positions in medicine. Ultimately, she wants the voices of women in medicine to be heard much more than heretofore.
Dr Kelly is eager to address the issues facing all the IMO's craft group members. "I want to be a listening President, helping and hearing the concerns of all doctors," she told MI. Indeed, she is well versed in the difficulties experienced by NCHDs, consultants, community health doctors, and GPs. Adherence to the European Working Time Directive is
a "number one requirement" for NCHDs, she said. Just 70 per cent of shifts worked by NCHDs are under 24 hours, IMO data shows. But the HSE says 80-to-90 per cent of NCHD shifts are under 24 hours, said Dr Kelly.
The discrepancy highlights the need for "accurate data" in this area, she said. International doctors working in Ireland should have greater access to training positions, while the pay disparity for consultants must be addressed if 700 consultant vacancies are to be filled, she argued. Moreover, urgent action is required to provide area medical officers with pay and conditions on a par with that of their senior medical officer colleagues, while access to part-time and flexible working hours should be facilitated for GPs. A mountain of matters await resolution. Luckily for the IMO, specialists in preventing and investigating disease outbreaks are skilled in completing insurmountable and overwhelming tasks.