Diffuse cystic lung diseases (DCLDs) are not as rare as commonly believed and are probably
underdiagnosed in Ireland, thus increased clinician vigilance is needed, the 2021 Irish Thoracic Society
(ITS) Scientific Meeting heard.
Prof Cormac McCarthy, Consultant Respiratory Physician, St Vincent's University Hospital, Dublin, who is an expert on DCLDs, spoke in detail on this diverse group of disorders characterised by multiple cysts and outlined a number of interesting case studies to showcase how they can present.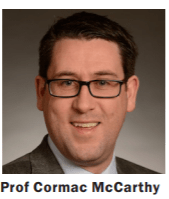 DCLDs are often multisystem diseases and can be broadly categorised based on underlying pathophysiology into neoclassic, genetic, developmental, lymphoproliferative, infectious, inflammatory, or smoking-related, and overlap. The major ones include lymphangioleiomyomatosis (LAM); pulmonary Langerhans cell histiocytosis (PLCH); Birt-Hogg-Dubé syndrome (BHD); and lymphoid interstitial pneumonia (LIP)/ follicular bronchiolitis (FB), "but there are a lot of mimics" and infections that must be ruled out, hence laboratory tests and a detailed family history are key.
Prof McCarthy noted that recurrent spontaneous pneumothoraces are common in DCLDs so clinicians should be vigilant about the possibility of underlying DCLDs when evaluating patients with a spontaneous pneumothorax. He advised offering pleurodesis following the first episode of pneumothorax rather than waiting for a recurrent event, explaining that the patient's scans will look like a normal lung "so you need a high-res CT; you won't pick these up on chest x-ray"
Prof McCarthy pointed out that spontaneous pneumothorax is not rare – the incidence rate is approximately 22.7 per 100,000 population, and recurrence is high; at about 70 per cent . "This is a huge burden on the health service – the median length of stay when admitted is seven days and a quarter of these will need some sort of intervention."
BHD accounts for approximately 5-10 per cent of patients with spontaneous pneumothorax, while it is estimated that
in women aged between 25-50 years, LAM accounts for 5 per cent of cases, he reported. Looking at Irish data, Prof McCarthy said there are about 1,160 reported cases of pneumothorax a year here.
"So there are probably a high number of undiagnosed cystic lung diseases out there. We estimate that about 40-to-50 cases a year are present with pneumothorax. That's not saying they all have severe underlying disease, but they may have underlying cystic lung disease that is not being screened for," he said, citing US data that shows screening all patients presenting with a spontaneous pneumothorax with a high-res CT is cost effective, and improves quality-of-life.
Discussing LAM, a rare systemic neoplastic disease due to tuberous sclerosis complex mutations, he said it almost exclusively affects females, particularly in the reproductive years, and a biopsy is not needed in most cases for diagnosis – serum VEGF-D (≥800pg/ml), non-contrast CT or MRI of the abdomen/pelvis, relevant family history, and positive cytology are usually sufficient to diagnose.
Treatment advances in recent years have led to the approval of mTOR inhibitors, including sirolimus, which was licensed by the US FDA in 2015 and subsequently in the EU, for the treatment of LAM. Oestrogen-containing therapies (eg, HRT) and, where possible, pregnancy should be avoided in women with LAM, while immunotherapy is now being explored as a potential treatment, Prof McCarthy said.
Looking at BHD, he explained that it is an autosomal dominant disorder characterised by formation of fibrofolliculomas, renal tumours (27-to-34 per cent prevalence) and pulmonary cysts, and is more common in older patients, and family screening and neoplastic monitoring is indicated.
Moving on to PLCH, Prof McCarthy said it is rare and heavily smoking-related, featuring irregular, bizarrely shaped cysts (sometimes 'Cheerio nodules'), with patients often having emphysema, bronchial wall thickening and centrilobular nodules, and it is associated with BRAF mutations. In terms of diagnosis, a transbronchial or tissue biopsy is usually needed, with core PLCH management involving smoking cessation and stopping marijuana inhalation. Screening for pulmonary hypertension is indicated and cladribine has been tried in PLCH with some success,
while targeted treatment with BRAF and/or MEK inhibitors may be useful, he reported.
With regards to LIP, he said it is commonly associated with auto-immune conditions, especially Sjögren syndrome, and while it can sometimes follow a benign course, monitoring is important as "there is a high risk of lymphoma transformation".
"There are no effective treatment options for the cysts. Sometimes ground glass changes are steroid-responsive in these autoimmune conditions, but the effects of the steroids are unclear." Prof McCarthy said while there are no clear guidelines on repeating imaging in LAM, he probably does it every two years and "if you get changes in the ground glass cysts or they get bigger they need to be biopsied".
Summarising, Prof McCarthy said he hoped he had explained why it is so important to distinguish individual DCLDs rather than just saying the patient has diffuse cysts. "We know treatments are available for LAM. Family screening is important in BHD and you need neoplastic monitoring that takes a different course depending on the underlying cause," he commented, adding that lifestyle modifications and prognosis is also different for the individual diseases.