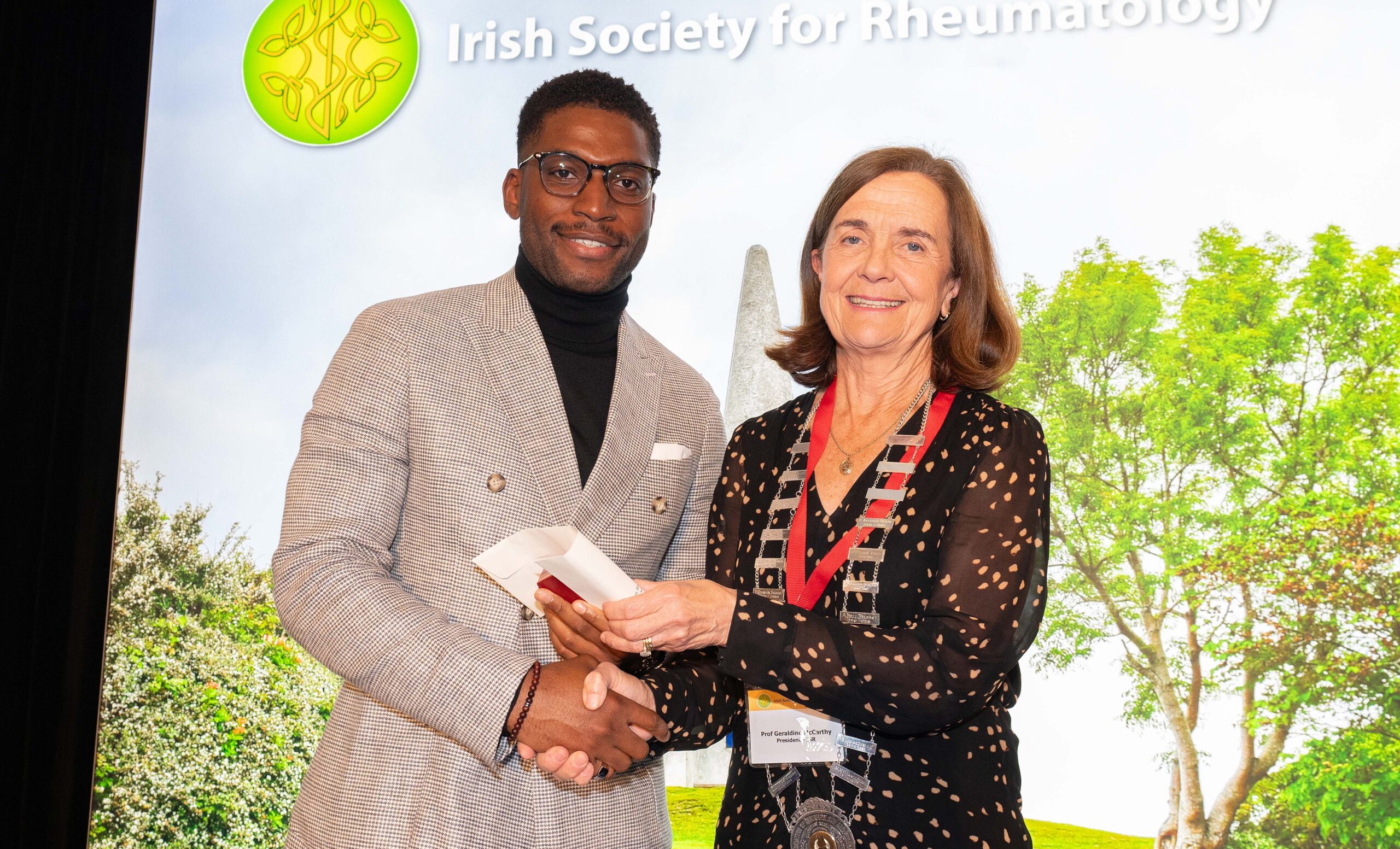 Last year, the Irish Rheumatology Society (ISR) changed the focus of the Bernard Connor award by inviting NCHDs to apply for it. The intention was to attract more interest in rheumatology as a specialty from medicine graduates early in their training. "I am delighted to report that we have had a surge of applications this year which is very encouraging," said outgoing ISR President Prof Geraldine McCarthy, as she praised the quality of the entries. The standard of submissions was so high, that as well as the overall winner, the ISR awarded four runner-up letters of commendation.
This year's ISR Bernard Connor Medal Winner was Dr Lenin Patrick Ekpotu, a second year BST trainee at Beaumont Hospital, Dublin, who won for his case study report on IL-17 and scleroderma pathogenesis.
The rare case report showed an atypical presentation of scleroderma in a patient treated with secukinumab (IL-17 inhibitor) for psoriatic arthritis (PsA).
The 55-year-old male army veteran with longstanding PsA (diagnosed 10 years prior based on small and large joint synovitis with widespread cutaneous psoriasis) presented to clinic complaining of a discrepancy in his forearm diameters. His PsA had been difficult to control with recurrent dactylitis and synovitis. Previous therapies included diclofenac, sulfasalazine, methotrexate, apremilast, and secukinumab at the time of presentation.
He had previously undergone multiple connective tissue screens over the course of his disease, including antinuclear antibodies and extractable nuclear antibodies, which were negative on repeated testing.
The patient underwent an MRI left arm and elbow, which showed evidence of subcutaneous oedema of unknown aetiology and an incomplete tear to biceps tendon, which at the time was deemed the possible explanation for symptoms.
He re-presented to clinic after nine months on secukinumab, with worsening of unilateral left arm symptoms, although his PsA was deemed to be in complete remission. He described increased skin tightening and numbness, dry skin, cold hands, recurrent splinter haemorrhages and aphthous ulcerations. On examination, dry and tight skin was noted with heaped cuticles and multiple cuticular haemorrhages bilaterally, worse on the left with a tendon friction rub. Autoimmune screen was repeated and this time was strongly positive for antibodies to Scl-70 (which were previously negative on many occasions).
A diagnosis was made of scleroderma based on his skin tightening, abnormal nail folds, tendon friction rub, and positive Scl-70 antibody. Secukinumab was discontinued and mycophenolate mofetil was commenced. Pulmonary function tests were normal, as was CT thorax and transthoracic echocardiogram.
Given that pathogenesis of scleroderma is poorly understood, the rare case outlined by Dr Ekpotu granted insights into the culpable cytokines, and their complex interplay. It highlights the need to review new signs and symptoms with an open mind in patients with a known rheumatic disease.