Ms Laura O'Connor, Research Co-ordinator (RLA projects), highlights the work of the Centre for Pain Research, based in NUI Galway
The Centre for Pain Research (CPR), based in NUI Galway, is an interdisciplinary research centre, which aims to advance the scientific understanding of pain. Co-directors Professors David Finn and Brian McGuire lead the Centre in carrying out research broadly arranged into pre-clinical and clinical clusters respectively, with each managing their own teams of research staff and students.
In the clinical cluster, Prof McGuire is currently leading a number of projects with a focus on treating chronic pain and its effects with innovative psychological treatments. The PRIME study, published in 2011, has set the scene for much of this work. In the large scale longitudinal epidemiological survey of 1,204 people in Ireland, 35 per cent reported pain that met the International Association for the Study of Pain (IASP) definition of chronic pain (ie, their pain had lasted three months or more). The average duration of pain reported was 7.6 years, with a wide range of responses from three months to 50 years. Effects of the pain were also wide ranging, with 12 per cent unable to work full-time, clinically significant depression appearing nearly five times more often in those with pain, and an average cost of €5,665 per patient increasing along with the severity of the pain.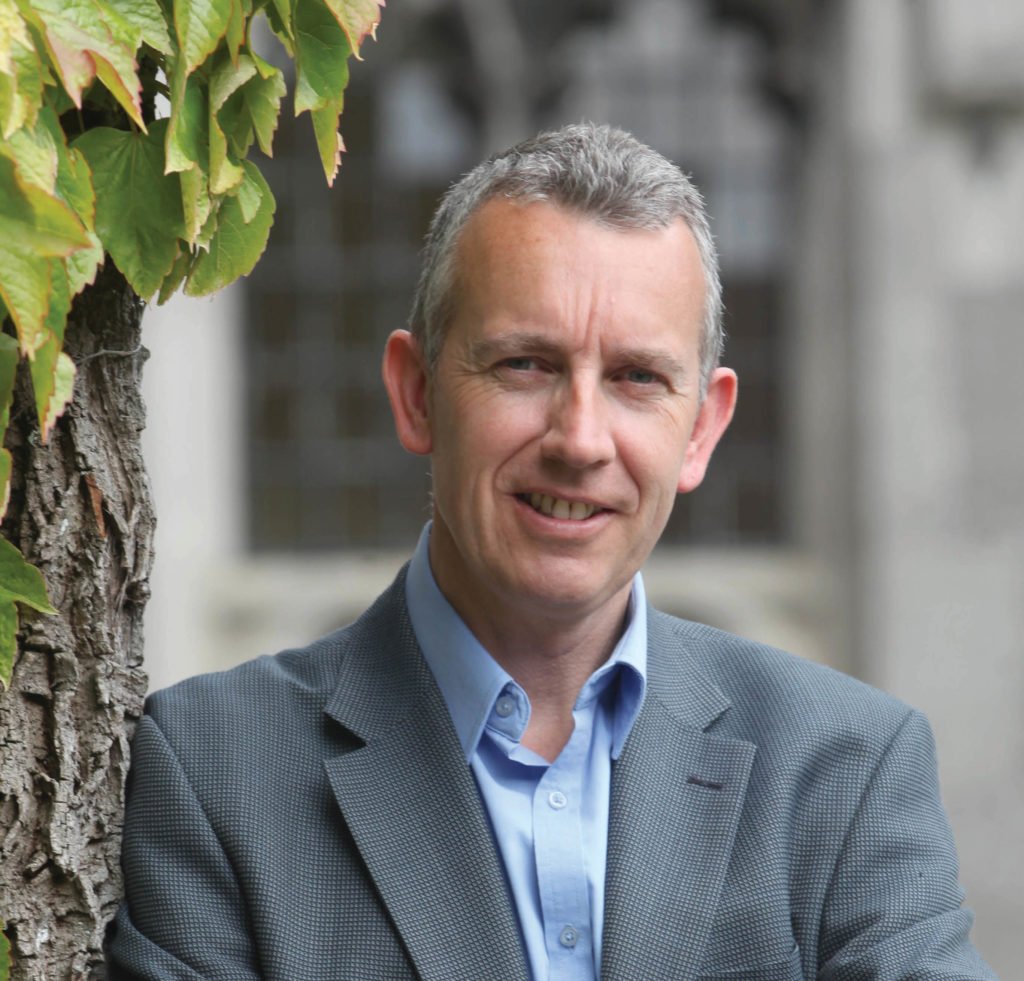 With an average wait of over two years to access any sort of specialist pain treatment, varying depending on location, and similar delays in accessing psychological services, online treatments represent a way to offer support to people in their own homes, incurring less costs and patient burden.

ACTION study

One study exploring this area is the ACTION study, part of a larger project funded by a Health Research Board (HRB) Research Leader Award (the RLA project). This project focuses on multimorbidity, leading researchers Dr Brian Slattery, Ms Laura O'Connor, and Ms Stephanie Haugh to develop the ACTION programme, consisting of eight weeks of customised content based on acceptance and commitment therapy and mindfulness, delivered entirely online. With multimorbidity becoming the 'new normal', particularly in older patients, and chronic pain featuring in many of the most common condition clusters, this programme aims to address an unmet need in the self-management of chronic conditions. Key to the design of this intervention was that the user be able to build it into their daily routine, a principle that has guided the development of other online interventions for chronic pain. Simple considerations like sending email or text reminders when new content is available and ensuring content can be viewed on mobile devices as well as PCs, have been received positively by participants, and preliminary analyses in the ACTION study are encouraging for the programme's efficacy in increasing health related quality-of-life.
As well as the ACTION study, the CPR is also conducting a pilot study called MiMS, an online mindfulness intervention for people with multiple sclerosis, led by Dr Christopher Dwyer and supported by MS Ireland.

Phantom limb pain

An even more novel use of technology the CPR is involved in is the use of virtual and augmented reality in the treatment of phantom limb pain. Phantom limb pain occurs after amputation in 50-80 per cent of amputees and can impact on daily activities, sleep, and quality-of-life. As part of a larger European randomised clinical trial, people with phantom limb pain will be recruited to try out a new treatment using virtual and augmented reality environments in order to execute movements of the phantom limb. The theory is that this therapy will lead to cortical reorganisation and consequently reduce phantom pain. The multi-centre trial co-ordinated by Prof Max Ortiz-Catalan from Chalmers University of Technology in Gothenburg, currently has sites in five countries including the Galway site, which is currently recruiting participants.

Younger people

A newer focus in the Centre's psychological research has been the development of treatments for younger people. In an offshoot of the PRIME study called PRIME-C, our researchers found that 10 per cent of five-to-12 year-olds in primary schools reported chronic pain. Just as with chronic pain in adults, this can lead to negative outcomes, with additional strain on the child and their family given the greater difficulty in accessing paediatric care. As such, the benefits of online interventions also transfer to this population, while also allowing parents to be involved throughout the process. Ms Angeline Traynor, a PhD candidate supervised by Prof McGuire, adapted the 'Feeling Better CBT' pain management manual into an online pirate-themed platform where children work through levels of pain management techniques, monitored by their parents. Results of a randomised controlled trial just completed showed that the intervention was successful in reducing the impact of pain on daily functioning and led to improved mood and confidence in the children.
Recently, further expansion into app-based technology has been enabled through collaboration with Dr Jennifer Stinson in SickKids hospital in Toronto, a leader in the field of paediatric pain. Currently, researchers on the 'Lending an Ear' team, Dr Siobhán O'Higgins and Ms Judith Burke are leading an evaluation of an Irish adaption to the Teens Taking Charge online programme and iPeer2Peer mentoring programme for teens with juvenile idiopathic arthritis (JIA). Some 1,200 children in Ireland live with JIA, and with Irish paediatric rheumatology services understaffed and centralised in Dublin, they may experience long delays in treatment along with misunderstanding of their condition from peers. Another complication for this population is that they are expected to transition to adult care at the age of 16 years, while also managing their education, future planning, and social lives with an invisible illness. The iPeer2Peer component in particular aims to address this by matching younger teens with JIA with an older mentor who has gone through this challenging time and can offer first-hand advice and support. In line with best practice, the target population is incorporated at every turn, with a youth advisory panel being consulted on all major decisions in the design of the study.
Another team at CPR is adapting the iCanCope PostOp mobile app to the needs of Irish teens who have recently undergone scoliosis surgeries, soon to be expanded with the addition of another team looking at post-operative pain in a broader orthopaedic surgery population. Approximately 15-25 per cent of adolescents experience problematic levels of pain after their scoliosis surgery, and iCanCope Scoliosis aims to provide support for adolescents in the days and weeks after their scoliosis surgery. Much like Lending an Ear, patients and healthcare professionals are integral in developing iCanCope Scoliosis and are currently working with our researchers, Ms Bláithín O'Grady and Mr Paul O'Reilly, to ensure that the app will be sufficiently adapted to the Irish context.

Furthering knowledge

However, research does not begin and end with interventions. Researchers in the Centre also seek to explore the experiences of people with chronic pain and ensure that their voice is heard by researchers, clinicians, policymakers, and the general public. An impact and burden study currently underway in pain clinics around Ireland involves collecting data from patients to get a snapshot of how multimorbidity affects this population. Preliminary analyses support the findings of the earlier PRIME study in terms of the impact of chronic pain and highlight the extra burden that multimorbidity can bring.
A recent Knowledge Exchange and Dissemination Award from the HRB is currently supporting the Centre to explore what happens after research; or, indeed, what does not happen. People with chronic pain and indeed many other chronic conditions, often report frustration with the pace of research, and how findings are not communicated back to participants in a timely or convenient manner. After experiencing this while carrying out data collection, researchers working on the RLA projects designed a complementary study, led by researcher Ms Michelle Hanlon, that will ask people with chronic pain to share their experiences with research, and give their suggestions for ways to share research findings with the general public in an engaging and useful manner. The end result of this project will be a resource designed by this group to share the results of the research conducted within the RLA project, with a secondary aim of creating a case study, which other researchers can learn from when disseminating their findings.
The CPR team has also worked with young children with chronic pain to produce an educational video for teachers to help them to support and respond to children with chronic pain to help them to remain engaged with school and with their peer group.
Later this year, the Centre hope to launch a course on the HSE's learning and development portal, HSELaND, offering education on pain management that will be free for all HSE staff to access. This course is currently being developed by the team within the Centre, in conjunction with the Health Intelligence Unit within the HSE.
Established in 2007 and now entering its 12th year, the CPR intends to continue building on the projects above to increase the body of knowledge around pain and how it can be treated. Issues such as multimorbidity and access to care will continue to affect people and eHealth will remain a priority area for exploration. In 2007, smartphones had barely hit the market and the idea of 'Googling' something was brand new. As technologies grow and change, research must keep up to make the most of the opportunities it offers. Additionally, the preclinical side to the Centre is hugely important and also likely to see major changes in the coming years. With the increasing focus on pharmacological treatments for pain, from opioids to CBD, their research into the development of novel therapeutic agents, and in particular Prof Finn's expertise on the endocannabinoid system, are likely to capture even more attention.
To find out more about any of these projects or to get in touch with us, please visit our website www.nuigalway.ie/centre-for-pain-research, or follow us on social media: www.facebook.com/centreforpainresearch and on www.twitter.com/CPainResearch.
Ms Laura O'Connor, Research Co-ordinator (RLA projects), NUI Galway