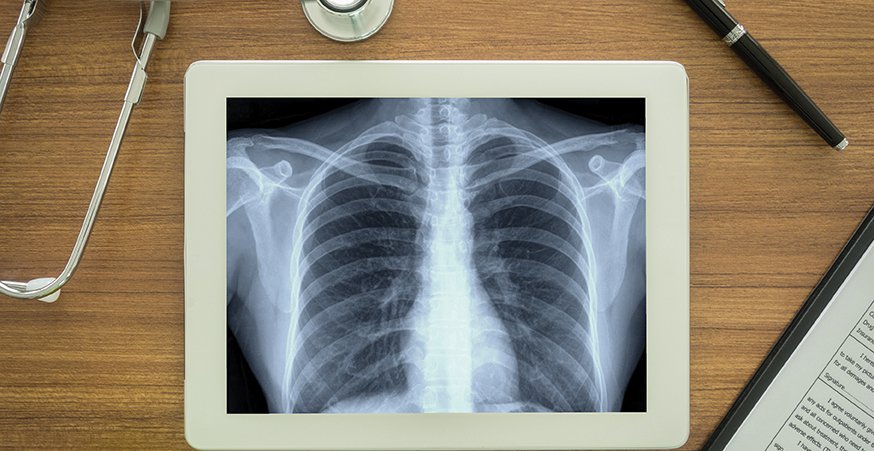 healthcare and medical concept. lung x-ray image of scan chest patient on digital tablet screen. top view.
Ahead of the Irish Thoracic Society's Annual Scientific Meeting in Galway, Sarah Gallagher spoke to Consultant Respiratory Physician and local organiser Prof Anthony O'Regan about the agenda and issues facing respiratory medicine
The lung disciplines are very broad, so we represent a huge community of patients, their relatives, and obviously our clinical practitioners around the country," according to Prof Anthony O'Regan, Consultant Respiratory Physician at Galway University Hospital and local organiser of the Irish Thoracic Society's Annual Scientific Meeting 2019.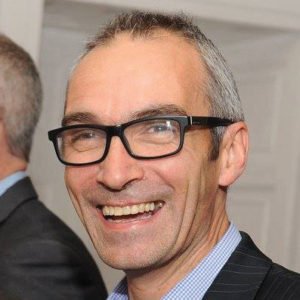 "One of our major challenges is the breadth of the illnesses that we see and the number of – in most disciplines – respiratory illnesses [that] are increasing in frequency rather than decreasing in frequency," continued Prof O'Regan, speaking to the Medical Independent ahead of the gathering in Galway on 21-23 November.
There are "definitely lots of challenges" facing respiratory medicine, he acknowledged.
However, Prof O'Regan noted that some of these challenges are associated with recent positive developments in the field.
Novel therapeutics
"There's a number of [challenging] areas I suppose; if you look at novel therapeutics coming into Ireland, access to that for patients can be very difficult. So one of our challenges is making sure that our patients get the best possible care, and it's sometimes difficult to fund those sort of treatments for diseases such as asthma.
"The second area would be the expansion of clinical care programmes, which is happening, but ensures that all the broad disciplines of diseases will get recognition in terms of health policy. And the third area … is supporting some of our endeavours such as registries, which is an area we've worked [on] in lung fibrosis where we try and look at collecting data on patients with a particular disease from all over the country."
He continued, "I think the positives are actually the things that I've listed as negatives as well. We have established a registry and I think that's a… huge undertaking for us, and it is up and running for lung fibrosis. We have a strong working group to try and support asthma funding… Maybe they would be the positive messages, and we just need to make sure: How do we sustain those sort of things? They are two areas we've worked on a lot in the Thoracic Society over the last year."
Broadly, the areas the Society has recently been engaged in include advocacy and access for treatment, ensuring the clinical care programmes have enough breadth to represent the relevant diseases, and advancing all aspects of patient care.
At this year's annual meeting, "the programme is at international standard, we have some very high-calibre speakers", according to Prof O'Regan. Three of the four keynote speakers at the meeting are travelling from the United States. "They're obviously going to be providing us with international updates on respiratory illness, ranging from infection to ICU-related disease, and including blue skies lung development and some very novel concepts, so it's ranging from basic clinical updates to huge innovative projects."
Prof Darrell Kotton, Professor of Medicine at Boston University, will be "talking about novel mechanisms in essentially manipulating lung development and using it for therapeutic endeavours", and Dr Bruce Trapnel, Professor of Medicine and Paediatrics at the University of Cincinnati, is "another world expert" who will be "talking on the therapeutics of rare lung disease".
Dr Camille Kotton, an infectious disease specialist at Massachusetts General Hospital, will speak about "specific aspects of atypical pneumonia". The last keynote speaker will be Prof John Laffey, Professor of Anaesthesia at NUI Galway, who will be discussing acute respiratory distress syndrome.
"Through the meeting there'll be two oral sessions with our own trainees providing scientific presentations, and then we have over 200 abstracts being presented at the meeting as well in terms of poster form, so there'll be a huge amount of work being done then on that front," outlined Prof O'Regan.
Multidisciplinary meeting
"It's a growing meeting… so we're expecting over 500 delegates at the meeting this year," he added. "So it has grown from a small meeting 20 years ago to a very large meeting. We're expecting very strong multidisciplinary engagement: Nurses, physios, respiratory physiologists, students, doctors… so that will be very important engagement."
Prof O'Regan stated that the major aim of the meeting is to update the multidisciplinary respiratory community on respiratory issues.
"We want to ensure that we're collectively engaged in promoting respiratory lung health in Ireland, and this is our major scientific meeting that brings all the disciplines together," he said. "I think those are the two major aspects."
Another element of this year's meeting is that the history of the Irish Thoracic Society, from 1946 to present day, has been compiled into a document, which will be relaunched at this year's meeting.
"There is a third thing we want people to go away with: Understanding where we've come from, and what the aims of the society are into the future through that avenue," outlined Prof O'Regan.
While Prof O'Regan does not want to speak on behalf of the Irish Thoracic Society or all of respiratory medicine, he stated: "I don't think that people would argue that what we're about is continuing to advocate for respiratory illness at a multidisciplinary level… that we ensure that we represent the specialty of respiratory medicine at all levels within Ireland, that we have a combined voice, and that we help to drive that clinical care interface with the HSE so that patient care is improved."
Prof O'Regan said it was also important to highlight the role of prevention, noting that advocacy also involves "early recognition and engagement with our population, particularly the younger population, for disease prevention".