Radiologist showing tomography scan of a patient's lungs over of CT machine. Treatment of lung diseases, pneumonia, coronavirus, covid, cancer, tuberculosis
Lung cancer screening with lowdose CT (LDCT) in high-risk populations has been proven to save lives, is cost effective and should be rolled out in Europe without further delay, the 2021 ITS Scientific Meeting heard from a renowned international expert in the area.
Prof Harry de Koning, Professor of Public Health and Screening Evaluation, Erasmus University Medical Centre, Rotterdam, gave a detailed presentation on the role and value of lung cancer screening, citing data from a number of trials and real world experiences.
Lung cancer currently kills more people worldwide than any other type of cancer, being responsible for 18.4 per cent of all cancer-related mortality. This is partly because 70 per cent of diagnoses are made at an advanced stage, with five-year survival of only 15 per cent.
In Ireland, lung cancer is the fourth most commonly diagnosed cancer, with approximately 2,750 cases diagnosed annually. Average life expectancy for lung cancer patients upon diagnosis is 200 days, but with appropriate LDCT screening this could be increased to 12.5 years, he said.
Prof de Koning designed and is principal investigator of the Dutch-Belgian NELSON trial, Europe's largest randomised lung cancer screening trial, which confirmed that regular screening for lung cancer would significantly reduce overall lung cancer mortality in current and former smokers (24 per cent in men and 33 per cent in women [up to 48 per cent in women in the earlier years])
He said the roll-out of LDCT screening in Europe could save at least 22,000 lives annually, and has now
been shown to be cost-effective, with the benefits outweighing the potential harms (over-diagnosis/-treatment). Quoting data from the NELSON trial, Prof de Koning said that in the control arm, 46 per cent of lung cancers were diagnosed at stage 4 while in the screening arm, particularly in the first five/six years, 60 per cent were detected at stage 1, while 10 per cent were detected at stage 4.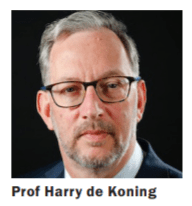 "So it works," he said. Prof de Koning also compared the NELSON results to the US NSLT lung cancer screening trial, which showed similar results in improved mortality rates, but had a much higher referral and false-positive rate.
"Whereas the NSLT trial referred about 20 per cent or more, we referred about 2 per cent for suspicious lesions. That
has to do with the volumetrics that we use, with having a completely different health system [in Europe]…."
He pointed out that the Covid-19 pandemic has significantly impacted lung cancer diagnosis and screening in countries where it exists, such as the US, which is already having a negative impact on outcomes. Optimal screening intervals for lung cancer are also an important consideration with yearly, two years, and 2.5 years among those studied, with current trial results and modelling supporting annual screening, Prof de Koning reported.
He noted that the US has recently changed its lung cancer screening recommendations – the US Preventive Services Task Force (USPSTF) now recommends annual screening for lung cancer with LDCT in adults aged 50-to-80 years who have a 20 pack-year smoking history and currently smoke or have quit within the past 15 years, though Australia is preparing
to roll-out a two-year screening interval programme for high-risk individuals.
However, annual lung cancer screening in high-risk individuals across Europe would probably mean some 142 million CT scans in the next 10 years, he noted, so it is being examined if the interval can be successfully lengthened without significantly impacting early detection rates. He added that coronary artery calcium scoring is a useful additional potential marker, which is also being studied in lung cancer screening.
Concluding, Prof de Koning said LDCT lung cancer screening has been shown to be at least as effective (and more in some scenarios) as longer established cancer screening programmes, and called for it to be rolled out across Europe as a priority, adding that "collaboration in the next few years would help come up with the best strategies".
"It is not necessary to delay initiating screening until all answers are in. You can always find an argument to postpone; that is not the issue. It is actually unethical to withhold potentially beneficial treatment from people who are likely to benefit, even if all the exact best approaches are not known."