Senior adult, female patient does arm exercises with her home healthcare nurse or physical therapist in nursing home or home setting
About 1 per cent of the population have RA, with three million people living with RA in Europe, and about 45,000 people in Ireland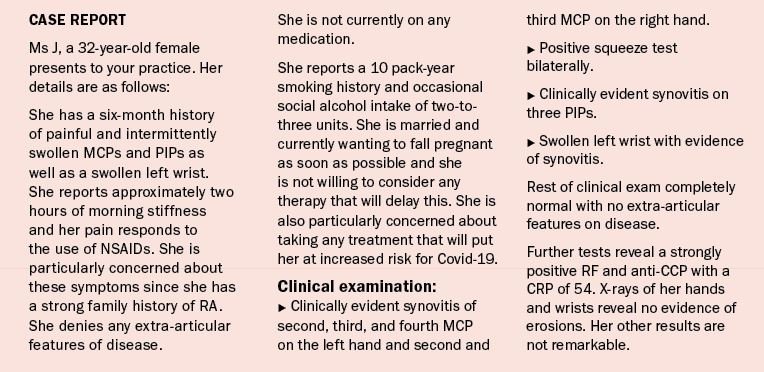 Rheumatoid arthritis (RA) is a chronic systemic inflammatory autoimmune condition with periods of exacerbation and remission, characterised by synovitis and joint destruction mediated by cytokines, chemokines, and metalloproteases.
RA can affect any body part, but most commonly the peripheral joints, proximal interphalangeal (PIP), metacarpophalangeal (MCP), and wrist, as well as the ankles and metatarsophalangeal (MTP) joints, leading to progressive destruction of articular structures and accompanied by systemic symptoms. Chronic inflammation results in progressive joint damage, which as a result, can end in arthralgia, joint deformity, decreased functional ability, prolonged disability, and in some cases premature mortality.
While RA mainly affects the synovial joints, many patients have extra-articular manifestations which can be serious. In particular, there is a substantial excess of infection and vascular disease; 50 per cent of deaths in RA patients are attributable to cardiovascular disease resulting in heart failure, stroke and myocardial infarction. These can shorten life-expectancy anything from three up to 18 years.
About 1 per cent of the population have RA, with three million people living with RA in Europe and about 45,000 people in Ireland. RA is twice as common in women as men and the usual age of onset is between 35-to-50 years.
Triggers and aetiology of RA are unclear, but hormones, genetics, stress, smoking and environmental factors are now recognised as contributing factors. Approximately 10 per cent of patients with RA have an abrupt onset, but in most cases onset is insidious and initial presenting symptoms can be vague, including fatigue, malaise, morning stiffness, weight loss, and low-grade fever.
Early diagnosis and prompt treatment are key to improving patients' symptoms and prognosis, with very good results and quality-of-life now achievable for most patients. Early institution of methotrexate treatment with aggressive treatment escalation to achieve disease remission achieves optimum outcomes. In those with severe RA, the ability to predict which biologic agent is best for each individual is a crucial goal of current research.