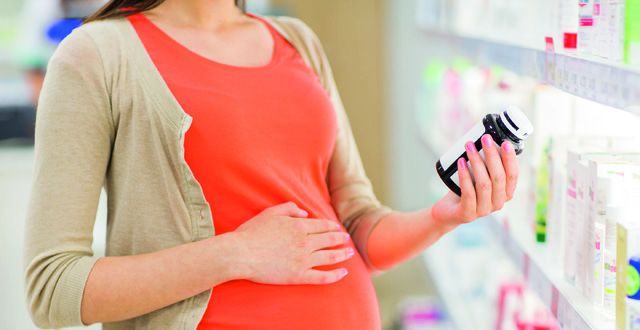 pregnancy, medicine, pharmaceutics, health care and people concept - close up of pregnant woman reading label on medication jar at pharmacy
Rheumatologists need to prioritise disease control in their pregnant patients and update themselves on the facts and recent changes in clinical approaches in treating this cohort, a leading UK expert in the area told the ISR Spring Meeting.
Prof Catherine Nelson-Piercy, Guys and St Thomas Foundation Trust, UK, gave a comprehensive presentation on treating pregnant women with rheumatoid conditions, in particular systemic lupus erythematosus (lupus) and rheumatoid arthritis (RA).
She stressed that disease control is the most important factor in dealing with pregnant rheumatology patients, and that "more harm comes to mothers and their babies from uncontrolled disease than the medications used to treat it".
"If you want a healthy baby, you need a healthy mother; if you want a healthy mother you need to control her disease. Active disease, be it lupus, rheumatoid arthritis, be it ankylosing spondylitis, will increase the risk of miscarriage, preterm delivery, smaller babies, prematurity and pre-eclampsia. So your job as rheumatologists is to control the disease, and stop the woman getting pregnant until the disease has been controlled."
Prof Nelson-Piercy quoted data also showing how active disease negatively impacts fertility in RA patients; "once the DAS-28 comes down they are more likely to get pregnant".
In relation to lupus, she pointed out that pregnancy is not risky in all these patients – it very much depends on their disease severity and activity, ie, high disease activity is associated with significantly increased risk of many poor obstetric outcomes. "You need to stratify them into low- and high-risk, and your low-risk women can be managed as normal." On the other hand, those who develop lupus nephritis are very high-risk, particularly for pre-eclampsia.
She also debunked the consensus that all female "rheumatoid patients go into remission when they become pregnant; that is not true". The Professor maintained that previous data was based on retrospective studies, which pre-dated the use of DMARDs, methotrexate and biologics.
"So women weren't managed properly before they got pregnant so in that situation pregnancy did probably help them a bit, but that is not modern rheumatology," Prof Nelson-Piercy stated, adding that modern data shows that about half of RA patients improve during pregnancy and about the same relapse post-partum, with axSpA patients less likely to improve during pregnancy and more likely to flare post-partum. She added that if it was suspected that a lupus patient was flaring during pregnancy, the best way to determine if it was a flare or a pregnancy-related symptom was simply to ask the woman herself what she thought.
Prof Nelson-Piercy stressed the importance of making female rheumatology patients of childbearing age aware of all this information before they decide to conceive children, and being thus advised on contraception too. "Hence it is the job of the rheumatologist to do this, not the obstetrician," she told delegates. She also stressed the need to thoroughly counsel women on the risks of taking and stopping the various rheumatology medicines (outside the ones that have to be stopped like NSAIDs) during their pregnancy and breastfeeding.
Regarding changing practices in drug therapy usage for pregnant rheumatology patients, she referenced the updated EULAR guidelines, noting that drugs such as steroids are safe to continue and there is increasing usage of biologics during pregnancy in rheumatology patients, as opposed to the previous approach of stopping before or at conception.
Biologics are not teratogenic and all are compatible with breastfeeding, Prof Nelson-Piercy stressed, promoting continued use throughout pregnancy where appropriate, with consideration to stretching out dosing schedules of infusions, for example, later in pregnancy to reduce foetal exposure. However, she pointed out that not all anti-TNFs are the same, with different levels of data on their long-term effects/actions and she advised against switching pregnant patients to biosimilars.
In addition Prof Nelson-Piercy cautioned that as biologics are immunosuppressive, children exposed to them during the late second, and third trimester of pregnancy should not receive live vaccines in the first six months of life, eg, BCG and rotavirus.
"The risk of the drug therapy to the foetus should be weighed against the risk of untreated maternal disease and, therefore, the risk to the baby and lastly and most importantly, any decision on drug therapy should be based on agreement between the clinician and the woman," she concluded.