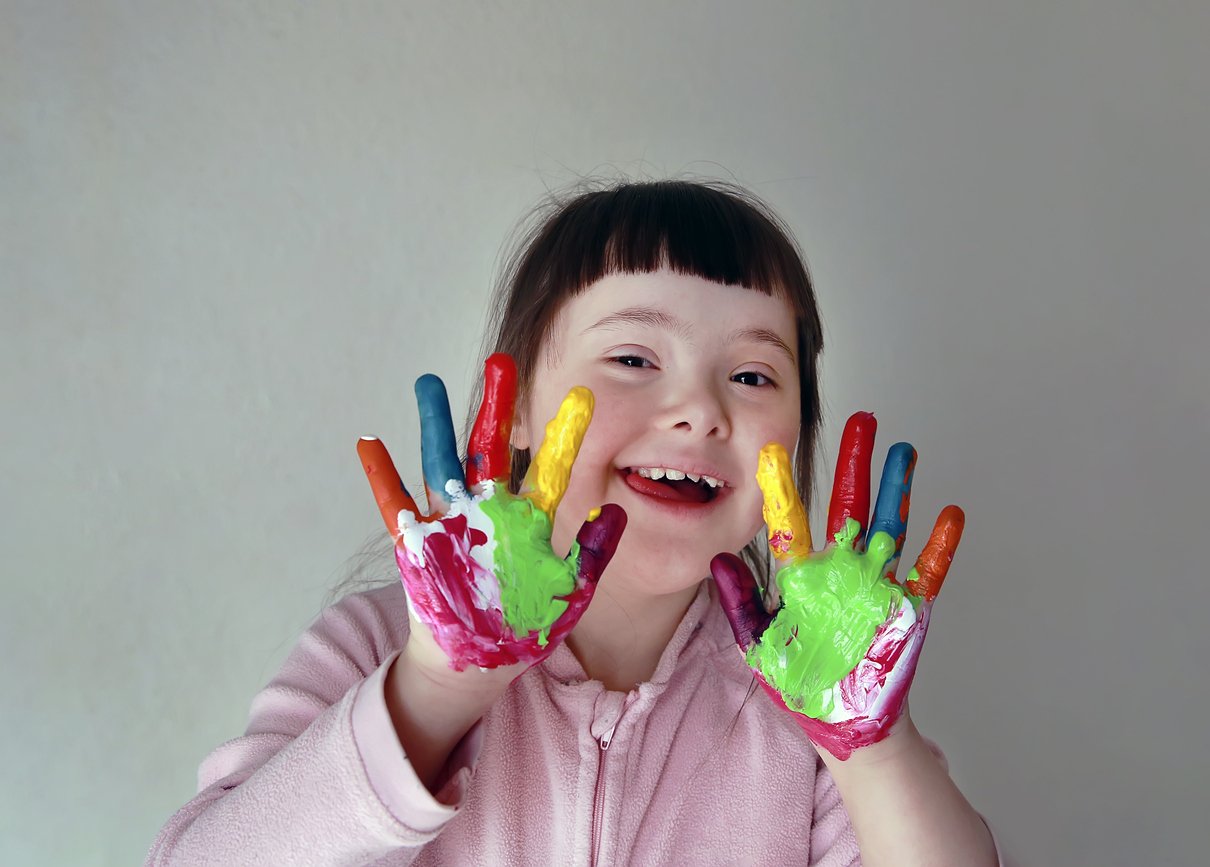 Cute little girl with painted hands. Isolated on grey background.
An oral scientific presentation entitled, "Increased T-cell responses, metabolic activity and invasive capacity of fibroblasts in children with Down's syndrome associated arthritis (DA) compared to juvenile idiopathic arthritis (JIA)", was delivered to delegates at the ISR meeting by a Phd student in Trinity College Dublin (TCD, Ms Serena Foo.
Ms Foo said that JIA is the most common inflammatory arthritis in children. She highlighted the increased risk of arthritis in children with Down's syndrome, with prevalence 20 times greater than JIA. DA, an inflammatory joint condition, is a more "erosive disease", she said, with altered immune cell response and infiltration at site of the disease. Research shows children with DA are at risk of long-term problems from the disease, due to delays in diagnosis and a lack of awareness and understanding of the condition. The study aimed to characterise immune cell responses and synovial fibroblast invasiveness in children with DA.
The results showed that frequency of T-cells was higher in DA compared to JLA, and T21, while B-cell frequency was decreased. The levels of T-peripheral helper (Tph) cells, Ms Foo said, were augmented in children with DA compared to all other groups.
"Analysis of primary synovial FLS demonstrated a more potent migratory and invasive capacity of DA-FLS compared to JIA-FLS, which was associated with elevated metabolic turnover, evident by the increase observed in both glycolytic and oxidative phosphorylation pathways," the study found.
"Culture of DA-FLS with T-cell associated cytokines TNF-a, IL-17A and IFN-g induced secretion of pro-inflammatory mediators including IL-6, IL-8 and MCP-1."
It was determined that DA is more common and more aggressive than JIA and is characterised by increased T-cell responses and a more invasive FLS phenotype compared to that of JIA, effects that mirror the increased erosive disease observed clinically.
The study involved participation of staff from a number of centres at Tallaght University Hospital, Dublin; Our Lady's Children's Hospital, Crumlin; St Vincent's University Hospital, Dublin; and TCD.