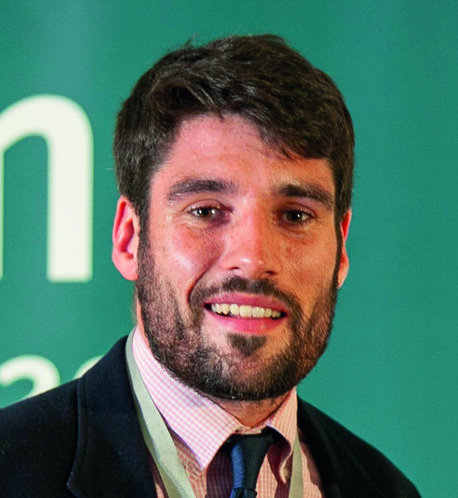 Dylan McGagh ( Winner of Bernard Connor Medal ) & Dr Sinead Hearney ISR President
The ISR established the Bernard Connor Medal to encourage medical student participation in rheumatology during their undergraduate education and to support student engagement with its activities.
This year's Bernard Connor Medal winner, Mr Dylan McGagh, a third-year graduate-entry medical student at Magdalen College, University of Oxford, UK, who graduated from Trinity College Dublin in 2016 with a gold medal and first-class honours degree in Human Health and Disease, gave a very well-received presentation at the ISR 2018 Autumn Meeting on his research, titled: 'Could patient-reported outcomes help to inform a holistic treat-to-target approach in rheumatology?'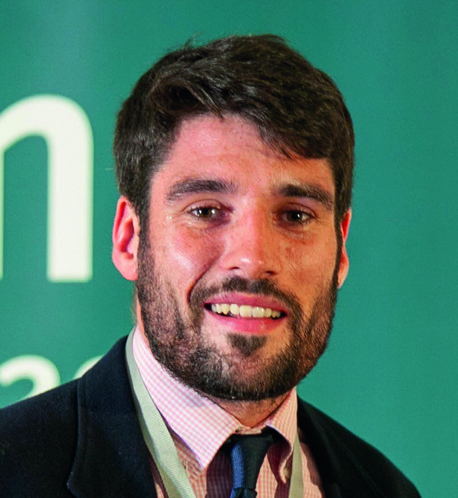 Mr McGagh explained how while undertaking a shadowing placement of a rheumatology clinic during medical school, he came to believe that the standard rheumatic disease measurement tools (BASDAI, the DAS-28 and the PsARC scoring tools) and their usage led to opportunities for discordance between treatment targets and disease activity. Essentially, they did not give a true picture of the patient's individual experience or tie in with the concept of treat-to-target.
From one-to-one discussions with patients, he found that placing an emphasis on patient-reported outcomes (PROs) and individual treatment goals as a core foundation of the patient journey was the best approach. Such an approach is especially suited to the specialty of rheumatology because of the effects rheumatic conditions can have on daily life, such as the pain, stiffness and fatigue associated with conditions such as rheumatoid arthritis and psoriatic arthritis (PsA), and ankylosing spondylitis, Mr McGagh stated. "The consequences that these symptoms can have on a person's confidence, independence and functioning provides a unique opportunity to measure these factors and provide an objective evaluation on subjective inputs, ultimately guiding holistic recovery, which is valued by those most important — the patient and their families and carers."
Mr McGagh reiterated that in order to best treat these chronic and complex conditions, patients should be placed at the centre of their care, also saying there is scope to utilise more detailed PRO questionnaires.
Summarising his research findings, Mr McGagh said: "For true targets to be reached in a holistic treat-to-target approach placing the patient as the central participant, the patient's perceptions need to be integrated with current objective measures of disease activity. As I had the privilege of exploring, people with rheumatic conditions have fears and desires for treatment regimens, which are integral to their sense of self. In order to truly treat these chronic and complex conditions, accounting for these individual factors, there is scope to utilise more detailed PRO questionnaires, either on digital platforms while patients await their consultation or via a regular diary between consultations.
"If the tools we employ work effectively and barriers to their functionality are removed, there is an opportunity to bridge the gap between the clinical and the patient worlds, only elevating the value we place on the clinical history and human interaction."
Thus, rheumatology clinicians should outline individualised goals with their patients early on and "target sustained remission or low disease activity in every patient", he concluded.
ISR President Dr Sinead Harney then presented Mr McGagh with the Bernard Connor 2018 Medal to a round of applause.
The meeting also heard from the ISR Young Investigator Award 2018 winner Dr Sarah Wade, who gave a presentation on her research project.
Dr Wade is an Arthritis Ireland postdoctoral researcher in the Molecular Rheumatology Research Lab at Trinity College Dublin. Her project proposed that microRNA, miR-125, modulates endothelial cell (EC) bioenergetics and orchestrates joint angiogenesis as characterised by ex vivo associations, in vitro assays and novel CRISPR/cas9 in-vivo zebrafish models.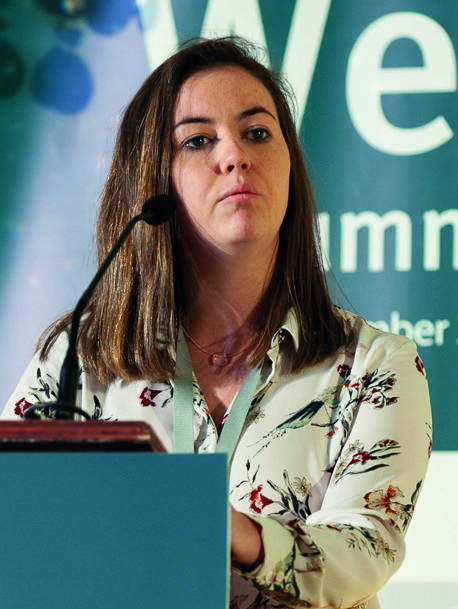 The findings to date are that decreased expression of miR-125 in PsA synovium and in vivo models is strongly associated with pro-angiogenic mechanisms. Elevated glycolysis following miR-125 inhibition enabled ECs to meet the increased energy demands for new vessel formation. Correcting these miRNA deficiencies and their resulting metabolic shift, either by conventional pharmacological or as novel drug targets, may provide therapeutic benefit, especially in early disease, she said.