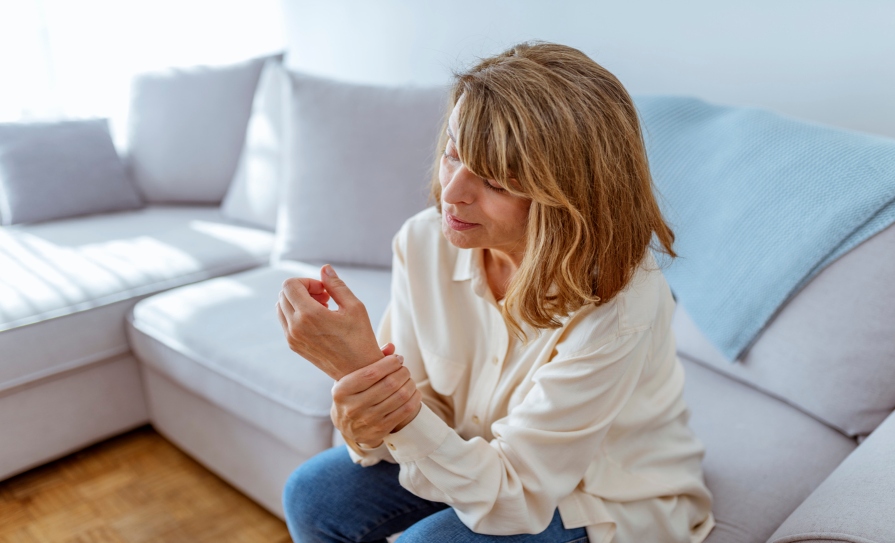 New research shows that over a third of Irish adults over 40 have experienced a fragility fracture, which may be an indicator of underlying osteoporosis
Findings from a recent survey found that one-in-five (22 per cent) adults have broken or fractured a bone since they turned 40 years of age. Over a third (35 per cent) of these patients reported to have had a fragility fracture. A fragility fracture is a broken bone that occurs due to minimal trauma, such as from a fall from standing height or less. Surprisingly, the rate of fragility fractures was high amongst 40 to 54-year-olds with almost one-in-five (18 per cent) surveyed having sustained a fragility fracture. This level of fractures would generally be expected amongst older age groups.
The research, which was commissioned by Athena Pharmaceuticals, surveyed 600 Irish men and women aged 40-90 to understand the occurrence of fragility fractures and awareness of appropriate nutritional supplementation for optimal bone health as people advance in age. The findings revealed a significant lack of awareness and confusion regarding the recommended daily allowances (RDA) of both calcium and vitamin D. The figures showed 85 per cent of adults are unaware of the correct amount of calcium they require daily and 90 per cent are unclear on the correct amount of vitamin D required for optimal bone health.
Diet is a major contributor to optimal bone health. Of those surveyed, over three-quarters (76 per cent) of men and women above 40 years old are not getting the appropriate amounts of calcium in their diet, only consuming <50% of the RDA. Worryingly, 80 per cent of adults who have a history of a fragility fracture are not consuming adequate calcium and, seven per cent report they are consuming none. The survey also found that 90 per cent of people are unsure of the daily vitamin D requirements.
Dr Miriam Delaney, Specialist in Osteoporosis, Metabolic Bone Disorders and Calcium Metabolism at the Galway Clinic and Athena Pharmaceuticals Spokesperson, told the Medical Independent (MI) the study was notable because it looked at a subset of the population across all ages.
"Osteoporosis is predominantly a disease of aging," Dr Delaney said. "This happens because the bones get weaker as we age. There are other risk factors that can make osteoporosis appear earlier. The problem with osteoporosis is not having a low bone density but that you can fracture, and have what is called a fragility fracture, which is a fracture with minimal or no trauma.
"Fragility fractures are maybe expected as a person gets older, but we are seeing them in a younger age group. To see that patients just over 40 not only have osteoporosis, but have also had a fragility fracture, is concerning."
Dr Delaney pointed out that the data is limited in that it was provided by patients and is dependent upon their understanding of what constitutes a fragility fracture, the definition of which was provided to them by survey interviewers.
"But, if this is correct, we are seeing a significant number of fragility fractures in the 40 plus age group. That is an important finding. We don't have that kind of data already."
Dr Delaney added the research also shows of those people who have already had a fragility fracture, only 40 per cent have had a bone density (DEXA) scan, and only 20 per cent are on a relevant medication.
"If you equate a fragility fracture with a heart attack, clearly, these people who have had a fragility fracture need to be on a medication, or at least evaluated. This is also important to know."
Dr Delaney highlighted how fracture is a predictor of future fractures.
"If you have had a fracture, you have a 25 per cent chance of refracturing in the next year, if you are not on treatment. So it has to be a red flag when people have had a fragility fracture. One of the messages we want to get across is if you have had a fragility fracture, you should speak to your GP."
Dr Delaney said it is vital that everybody realises the importance of bone health, even if they do not have osteoporosis.
"Every day we need to be getting calcium and vitamin D in our diet to maintain healthy bone, she said."
The survey revealed a need for education surrounding calcium and vitamin D intake in those over 40. While 62 per cent of adults over 40 surveyed buy over-the-counter vitamin supplements, 45 per cent of them don't seek expert advice. Since many people are unsure of the correct amount, this often results in incorrect dosing.
"People don't know how calcium they should be getting," Dr Delaney said. "People don't know how much vitamin D they should be getting. And of those taking supplements, very few are taking the correct amount. We have got a high number of people taking way in excess of what they need. Then we have some people taking none."
The Food Safety Authority recently published a paper on calcium and vitamin D recommendations for all ages.
Consultation with a person's GP and/or pharmacist regarding appropriate vitamins and mineral supplementation, especially vitamin D and calcium, is recommended.
The recommended allowances, as defined by the Institute of Medicine, are outlined in the table below.
TABLE 1. Calcium and Vitamin D dietary reference intakes by life stage