IMO Industrial Relations Officer for Consultants and NCHDs Mr Paul Maier writes about the major issues affecting NCHDs
In the past year, I've been travelling the country, visiting hospitals all across Ireland, talking to NCHDs and hearing about the issues that matter to them. I've been in some hospitals more than others, of course — it's an unfortunate fact that there are a few locations that require our attention time and time again.
But in every hospital I've been, three key issues are generally always highlighted: Change NCHD contracts; change how training is delivered; and change culture that devalues doctors. We've made significant progress in these areas, thanks to successes in organising and the work of the NCHD Committee, but there's plenty of work still to do.
Contracts — Common sense reform
One of our key findings was that the NCHD contract required common sense changes to better reflect the nature of being an NCHD today. As a result, a working group of IMO, HSE and Department of Health officials came together to negotiate contractual clarifications that better served NCHDs.
Some changes were purely practical in nature. Salaries were increased in the text, reflecting a series of salary increases related to the IMO's participation in a series of public service pay agreements.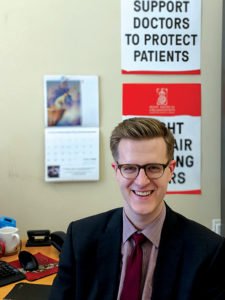 Other changes were based on reported issues. Section 5(n) was changed to reflect the need for rosters to take into account NCHD changeover periods. It now requires hospitals to make "every attempt" not to roster an NCHD on the Sunday prior to their move to a new, geographically disparate site, and if such a requirement is unavoidable, to communicate this to the new employer, who must work with the prior employer to resolve the rostering conflict.
Incremental credit
The most impactful change, however, was related to incremental credit. After struggling for years with language related to prior degrees that was highly restrictive and complex, agreement was reached to significantly expand eligibility for incremental credit for prior degrees. Now any NCHD who obtained a graduate qualification in the health sciences prior to becoming a doctor is eligible for a point of incremental credit, a benefit which amounts to a €2,000+ pay rise per year. This was negotiated as a way to benefit the increasing number of graduate-entry medicine students who often are faced with significant debts related to their medical education.
Training — Investing in the future
Perhaps the most common topic of discussion among NCHDs was the out-of-pocket expenses related to professional education. Under the Clinical Course and Examination Refund Scheme [CCERS], NCHDs can only claim for €450 per domestic exam or course, and only €650 per foreign exam or course, inclusive of travel expenses. Many other courses, conferences or exams are simply not covered at all, and only specialist trainees had access to a fund of only €500 a year for additional costs.
After lengthy negotiations with HSE-NDTP and the Department of Health, agreement has been reached to significantly expand access to training funds for NCHDs. The fee cap of €450 or €650 under CCERS has been eliminated, ensuring that an NCHD won't be required to pay for any of the essential courses or exams provided for on that list. In addition, a financial allocation has been provided to all NCHDs: €750 per annum for interns, €1,250 for SHOs and Registrars, and €2,000 for Higher Specialist Trainees, including GP registrars, specialist registrars and senior registrars. The financial allocation can be used for a variety of purposes, including travel and accommodation costs, conference fees, course fees and textbooks, and most other educationally-required expenses.
These increases are a substantial investment in the training and development of NCHDs in Ireland, and deliver on the request by NCHDs for additional training supports.
Respect — Charter to #RespectNCHDs
In 2017, after a year of engagement, the IMO, HSE, and Forum of Postgraduate Training Bodies signed the Respect Charter, a fundamental agreement which set standards for behaviour across the health service. It created a working group to identify the type of bullying and harassment experienced by doctors and to develop effective strategies to address poor behaviour and reduce barriers to reporting.
This is a good start, but respect is about more than just bullying. It is about being paid appropriately without needing to fight for every cent. It is about being able to live a balanced life that is not dominated by onerous and unpredictable hours. It is about treating NCHDs as valued professionals, not a commodity providing service for six months at a time.
With this in mind, we now turn to a new campaign, Respect NCHDs. One part of our campaign will be to continue our ambitious agenda of hospital visits, which schedules at least one IMO meeting in every acute hospital this year, assisted by a growing network of IMO reps across the country.
However, engagement with our members will expand beyond in-person visits. The #RespectNCHDs topic will allow NCHDs to define their own values and goals in real-time on Facebook, Twitter, Instagram, and beyond. It allows NCHDs to point out behaviours, good and bad, that they experience every day in their workplace, and share them with their colleagues, representatives, and decision-makers in the health service, making their voices heard and driving this campaign forward.
We encourage all NCHDs to participate in the Respect NCHDs campaign, and we look forward to hearing what #RespectNCHDs means to you.