There are "increasing stories" of junior doctors working shifts in excess of 36 hours, the IMO NCHD Committee Chair told the HSE National Director of Human Resources (HR) at the IMO AGM in Killarney.
Responding to a presentation by Ms Rosarii Mannion on HR matters, Dr Paddy Hillery said doctors continued to be "compelled to work hours in excess of what are the legal limits".
He outlined that "we are unfortunately hearing increasing stories of some areas where people are working in excess of 36 hours as juniors, so that interns are being forced to work… in a situation that is unsustainable. I thought this was something in the past".
Intern Dr Darren Brennan told the NCHD forum with Ms Mannion "we are still working 80-plus hours in a week".
He said the roster is for 50-plus hours before call or unrostered overtime was taken into account.
"That is just our normal working week, and then you are expected to do call on top of that."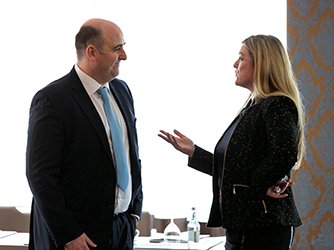 Dr Brennan suggested "culture change happens from the bottom" and that addressing issues affecting interns "would be a good place to start". Intern workload was impacted by inadequate roll-out of advanced practice in other grades, so that "everything seems to land on the intern… and it just adds up the hours".
In her presentation, Ms Mannion had acknowledged that task transfer was "still an issue" and "hasn't worked well in some places". She also identified advanced practice as one of the measures required to improve working conditions for healthcare staff.
At the NCHD national meeting preceding the forum with Ms Mannion, Dr Hillery said that University Hospital Kerry (UHK) "still does not have any form of timesheet or time recording system in place in the hospital, so they have no way of stating that their hours are compliant, despite the fact that every month they state they are 100 per cent compliant with EWTD [European Working Time Directive], with a fictional number they have made up, which is galling".
Ms Mannion told the forum that she was aware of issues regarding recording of hours at UHK and that colleagues were investigating the situation.
Speaking to the Medical Independent (MI), Dr Hillery said he was "disgusted" that EWTD compliance was a growing concern once again.
"This is something we have obviously been campaigning on for a number of years. We were delighted with the progress we were seeing on stats, but we have always raised significant concern with regard to the numbers… the actual validity of the HSE's figures."
The IMO undertook its own exercise last year and found marked variances with the official figures.
"Firstly this is a significant safety problem, we know that errors go up after eight hour shifts, let alone 24-hour shifts, let alone 36-hour shifts."
Asked by MI if she trusted working hour statistics provided by hospitals, Ms Mannion said: "We'd have no reason not to, in terms of any of the reports that come back, they are all audited and validated. Now we will obviously look into the issues that we have heard, and try and see what is behind those, but at the moment, absolutely, no issue."
She said the response of the hospitals to these matters needed to be obtained.