Paul Mulholland reports on details of the new GP deal between the IMO and Government, including the reversal of FEMPI and a package for chronic disease care, which was outlined to members at the IMO AGM
The recently announced deal between the IMO and Government on the reversal of FEMPI was naturally a subject of huge interest at the recent IMO AGM in Killarney. Such was the level of importance that most of the three-hour national GP meeting, which took place on Saturday 27 April, was devoted to the issue. The only motions discussed during the sessions related to the deal. The two motions were proposed by the IMO GP committee and were passed at the end of the meeting. The first motion read: "This meeting commends the work of the IMO negotiating team in reaching agreement with the State on a new deal for general practice. While it is a matter for each individual GP to decide whether to sign up to the agreement the opinion of this meeting is that the IMO GP deal represents a progressive measure, which will help return general practice to viability." The second also commended the agreement and "now calls for further investment and a new contract to underpin general practice and address the issues not included in the recent IMO GP deal including women's health programmes, out-of-hours services and services to patients in nursing homes".
FEMPI reversal
IMO CEO Ms Susan Clyne gave a detailed talk during the meeting about what the new deal means for GPs. The talk was similar in nature to those the IMO is giving across the country to brief their members on the development. The headline achievement of the deal is the reversal of FEMPI cuts. It also includes a new programme for chronic disease management and a base for negotiations on free GP care for children under-12.
In relation to FEMPI, over a 30-month period capitation rates, (excluding under-six capitation) will have increased by 48.5 per cent under the deal. There will be a 20 per cent increase in July 2019; a further increase of just under 3 per cent in January 2020; a 10.2 per cent increase in January 2021; and a further 9.2 per cent increase in January 2022.
As revealed recently in the Medical Independent (MI), the total value of funding is €120 million but this increases to €132 million when superannuation fund payments are taken into account. There is to be a €2 million per annum investment to support GP practices in areas of high deprivation.
Additional payments relating to maternity and paternity leave have also been agreed. The contribution to locum costs for GPs is to increase to €2,760 per week (from €1,300 per week) to fund locums to stand in for GPs on maternity leave from January 2020. For paternity leave, the contribution to locum costs is to be available for up to 14 days (currently it is three) at the same rate as maternity benefit from January 2020.
Community healthcare networks and e-health
GPs who sign up to the FEMPI reversal offer will have to comply with new initiatives and productivity measures. These new measures largely relate to structural reform and e-health. Regarding structural reform, the focus is on community healthcare networks (CHNs). There will initially be nine pilot sites. After a year of these sites being established, it is then expected to roll-out networks to a further 40 sites and finally to the remaining sites, which will give a total of 96 networks overall. Each network will comprise of a population of approximately 50,000.
There will be between 30/40 GPs in a network and each network will have a GP lead. There will be two planning meetings every year, which will allow the opportunity for allied health professionals to be recruited. The networks will also allow for 12 clinical meetings per annum, or one per month. These will be in a GP's surgery or near the GP's surgery.
"They are to be focused on complex cases that GPs can discuss with other allied health professionals, including the network manager and what other relevant social professionals may be needed," Mr Val Moran, Director of Industrial Relations, General Practice, Public and Community Health, told MI.
"Hopefully that will help deliver a better level of care to these complex patients."
On the e-health side, the individual health identifier (IHI) will be an important "building block", according to Mr Moran.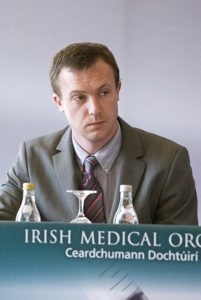 "The IHI, from a GP point of view, will actually be quite straightforward initially, in that there will be a download for GMS patients from the PCRS [Primary Care Reimbursement Service], so it will automatically populate into their practice management systems. At a point in time, GPs will also allow their private patients to be populated with an IHI as well. Thereafter, IHIs will be gathered by new patients as they present."
The IHI will aid the development of e-prescribing. It is expected to take between 18-24 months to develop an e-prescribing system and it will take further time to roll that out. In the first phase, printed prescriptions will still be used, as the move towards fully paperless prescriptions will require a change in legislation. Ordering diagnostic tests through the National Integrated Medical Imaging System (NIMIS) and the expansion of e-referral also come under this part of the agreement.
It also has specifications around the development of a summary care record and shared care record. These are developments along the road to a full electronic healthcare record. They are intended to facilitate GPs in an out-of-hours setting or a doctor in an emergency setting with basic health information when a patient presents who they are not familiar with.
"So you will have a very basic set of information, the patient's name, major diseases, procedures, allergies, known vaccinations. Again this needs to be developed and will be subsequent to e-prescribing; there are data protection issues that need to be resolved," according to Mr Moran.
Other elements
While community healthcare networks and e-health form the main part of the obligations under the agreement, there are other elements included. One relates to Children's First training, which Mr Moran said most GPs are already undertaking. Another relates to the new waiting list validation programme run by the National Treatment Purchase Fund (NTPF). Premises standards in the under-six contract would apply for every GP who signs up to the deal. Also, the disputes and resolution procedures in the under-six contract would apply for the GMS contract. Both of these obligations will require a contractual amendment.
A working group will be established to develop a scheme for violent and/or abusive patients.
"The idea behind this is that you do have a small number of patients who can be violent or abusive; we have GPs who have been attacked and beaten in many cases," Mr Moran said.
"We want to have a system, similar to what they have in the NHS, where actually you can put such patients on. Obviously, everybody has a right to healthcare and you have to balance these competing rights on any scheme."
The issue of succession planning is also to be addressed.
"We will have a working group to look at various issues surrounding that. We are looking really to reduce the time and the complication involved in a GP succeeding another GP in the GMS," according to Mr Moran.
"At present, a partnership has to be in existence for three years… There are certain other criteria. And if one GP leaves the GMS, well, the list may revert to the remaining partner. There are a number of different circulars over a number of different years. It is quite a complicated process. We would like to streamline that into a single updated circular, which would make it clear to everyone what the rules around succession are."
Chronic disease
A new programme for chronic disease also forms part of the agreement, with a funding package of €80 million (which brings the total funding to €210 million when combined with the €130 million FEMPI reversal). It will initially be available in January 2020, starting with patients over 75 years of age. The programme will cover four main disease areas: COPD; asthma; cardiovascular disease; and type 1 and 2 diabetes. It is weighted for multi-morbidity. For example, a GP seeing a patient with one disease would receive a capitation of €210, excluding superannuation at 10 per cent for that patient. A GP seeing a patient with two diseases would receive €250 in capitation and €300 for seeing a patient with three diseases.
"You would still have the same number of visits per annum, which in the treatment programme is two GP visits and two nurse visits, but obviously if they have got a number of different diseases, their visits are more complex, and take longer," according to Mr Moran.
There will be a screening programme, which will be introduced in 2021. This will allow GPs to screen patients on their list using certain risk criteria and see whether they would be suitable for the chronic disease treatment programme. A fee of €60 per screening would be paid. There is also what is called 'a high-risk programme' for pre-diabetics and hypertensive patients. Under the terms of the agreement, they are entitled to an annual GP visit. GPs would be paid a fee of €82, again excluding superannuation.
"It is an exciting thing for general practice to be able to do chronic disease management," Mr Moran said.
"It is best dealt with in general practice. The worry around it certainly is capacity. It will be important that GPs are able to manage their practices in this regard. It is to be a nurse-led programme. There's €9 million allocated for additional nurse funding for general practice as part of this programme and we would hope that these nurses would be able to be hired to help with that capacity issue, where GPs choose to do it."
Eligibility
The issue of eligibility also comes under the agreement. Specifically, it concerns free GP care for children under-12.
"It is not our preferred road of travel," according to Mr Moran.
"It is not the direction we would have wanted to go in terms of increasing eligibility, but nonetheless that is Government policy. We have agreed as part of this agreement that we would discuss the under-12 roll-out with them. The discussion obviously hasn't taken place. There has been no resourcing agreed on it."
Mr Moran pointed out that the resources for any agreement would be separate to the €210 million. Discussions are due to commence in 2020 on the issue. He added that if agreement is reached, it would likely be a phased roll-out over three years.
Next steps
"The process now is that we will finish off our meetings with members over the next number of weeks," according to Mr Moran.
"We will then put a ballot out to members. That ballot will be whether they want the IMO to enter into the agreement with the State."
If the ballot is in favour of the IMO entering the agreement, the Organisation will sign up to the deal. Following this, circulars would be issued from the HSE to individual GPs. The first circular to be issued would concern the FEMPI reversal. GPs will then decide whether they want to agree to the terms on an individual basis.
"If they indicate that they do they will be paid the new capitation rates from the first of July. Before that they will have to comply with the productivity measures." Mr Moran stressed that some of the new productivity measures will not be introduced immediately.
Similarly, the other elements, in relation to chronic disease and eligibility also will be optional for individual GPs.
In general, there was a very positive response to the deal at the AGM, although some concern was expressed about the capacity of GPs to take on the chronic disease programme, for example. The IMO stressed this was only the first step and a new contract was a priority for the Organisation.