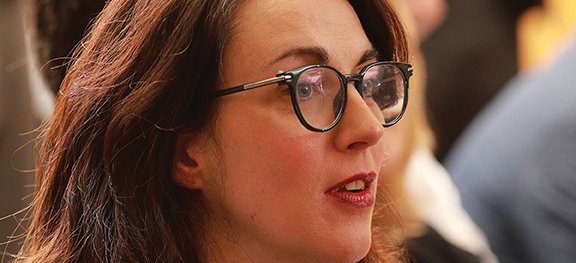 The importance of explaining to people with functional neurological disorders (FND) the nature of their condition was underlined in a presentation at the recent INA update meeting in Belfast.
Clinical Research Training Fellow at the University of Edinburgh Dr Ingrid Hoeritzauer made the point during her talk on recent developments in FND diagnosis and treatment.
FND is a medical condition in which there is a problem with the functioning of the nervous system and how the brain and body sends and/or receives signals, rather than a structural disease process, such as multiple sclerosis or stroke. FND can encompass a wide variety of neurological symptoms, such as limb weakness or seizures.
Speaking to MI, Dr Hoeritzauer said: "In order to understand functional neurological disorders we need to understand the mechanisms behind them, which are abnormal self-directed attention and a lack of urgency.
"We need to communicate that well to patients, how we make the diagnosis. We need to make the diagnosis on positive evidence, such as Hoover's sign of functional leg weakness, where there is weakness of hip extension that normalises with contralateral hip flexion. The kind of thing you can show to patients to demonstrate exactly why you are making the diagnosis."
Dr Hoeritzauer said there was "a raft of really exciting treatments" being developed for people with FND.
"There has been a £2 million pound trial of cognitive behavioural therapy for dissociative seizures and that is going to be reported over the next couple of months.
"There is also a new 'physiotherapy for functional motor disorders' trial that has gained over £1 million pounds, funded by NIHR (National Institute for Health Research), which is currently ongoing in the UK. So there is starting to be a much better evidence-base, which makes a massive difference to patients."
Dr Hoeritzauer said 14-year follow-up shows only 20 per cent of people get better without treatment, whereas with treatment over 70 per cent of people improve.
However, she described current treatment for FND patients as "ad hoc".
"Some people are getting treated with physio, some people are not getting reviewed," according to Dr Hoeritzauer.
"It is a bit of a hit and miss service at the minute. I think what is important is to get [clinicians] enthusiastic about functional disorders, getting them to understand exactly the mechanisms behind them, and getting them to demonstrate positive evidence of functional disorders to patients to explain the diagnosis. A lot of these positive signs demonstrate the ability of the nervous system to function normally. That is a very powerful thing to show patients.
"Even for a second, if I can demonstrate to you that you can get power through that leg, or we can stop that tremor, it is massive. I think a lot of people, they come to neurologists and they have been told over and over 'we don't know what is wrong with you'. To make a positive diagnosis, to explain it to someone, is a very helpful thing."