The new GLB crossover SUV from Mercedes Benz looks like the lovechild of an A-Class hatchback and that posterboy for rugged luxury, the G-Wagon. It's a crossover SUV with a little more to offer than its rivals in the seating department, as it comes with a seven-seat option.
That's right boys and girls, a seven-seater crossover, for all your offspring transportation needs. This GLB, which sits between the GLA and GLC in the Mercedes SUV range, is built on the same MFA2 platform as the A-Class hatchback. For a seven-seater it's rather maneuverable and sprightly around town, thanks to its less than behemoth footprint.
The GLB I tested had a 1.3litre, 165hp petrol engine, which can achieve 0-100km/h in 9.1 seconds and on to a top speed of 207km/h. According to Mercedes, the combined motorway and city driving fuel consumption figures are 5.9-6.2l/100km.
The interior was wrapped in acres of black leather, the exterior was painted in 'Galaxy Blue Metallic' and it was fitted with some lovely 19" AMG, five-spoke alloy wheels. My test car had a steering wheel-mounted automatic gearbox and produced 134-141g/km, putting it in the €390 Band C road tax bracket.
In order to impress the Medical Independent's readership, my test car was loaded with AMG bits and bobs, like brushed stainless steel sports pedals, a multifunction sports steering wheel in nappa leather, and a diamond radiator grille with pins in chrome, to name just a few. The interior was tastefully finished with a usable, but relatively small MBUX multimedia system, which is navigated via touchpad and comes with the 'Hey Mercedes' command system as standard.
During my time at the helm of the GLB I had the misfortune of having to drive over a range of mangled, pockmarked, deserted Irish roads, and I must report, it absolutely devoured them. It was such a blinding pleasure to cruise along misery-inducing byways with peaceful ease.
The steering is responsive and the car handles very well for a vehicle of its size. Its seven-speed dual-clutch automatic transmission is very unintrusive and clever; I didn't find myself overruling it with the pedals, as I tend to do with test cars I'm not used to.
Something I noticed, however, was the GLB's willingness to spin its front tires, a lot like a 17-year-old in a borrowed Micra. Now, when I felt the tires the threads seemed fine, so I'm not sure if it was my overzealous right foot, which is entirely possible, or perhaps the slack roads in winter. But if this was not my fault, then I'd be asking questions about the GLB's tire consumption or the availability of a four-wheel drive version.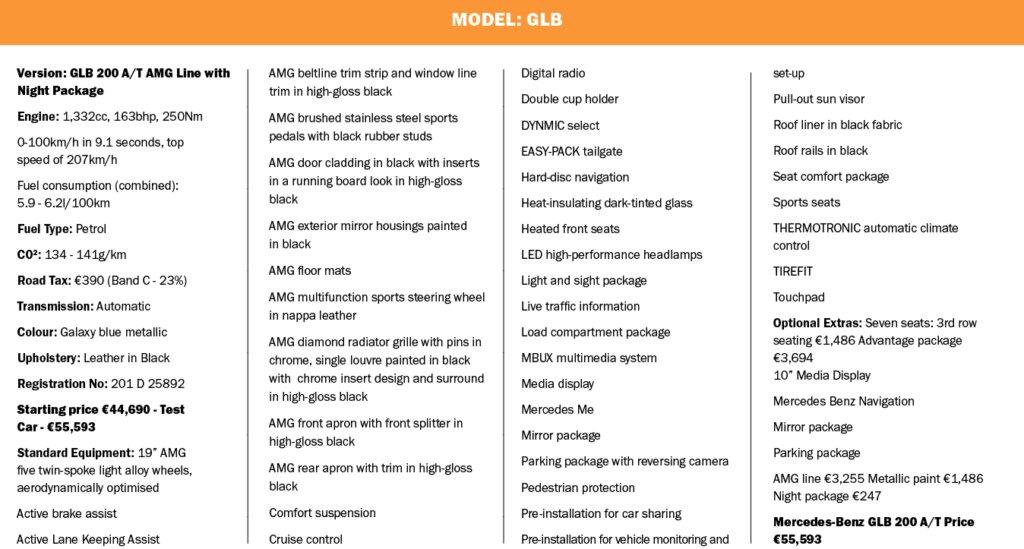 The interior was surprisingly spacious for a seven-seat SUV based on the same platform as a small hatchback. The seats are big and there's plenty of space within the front two rows. With the third row of seats down the GLB has a respectable 560 litres of boot space, however, this drops down to 130 litres when the seats are in use. The back row will be fantastic for transporting a flock of children, but don't go thinking you will be able to comfortably get adults back there.
For a premium crossover SUV, the GLB has a lot to offer, especially with a starting price of €44,690. The model I tested cost €55,593, but did come with the seven-seat pack, AMG pack, and other fancies. This car is definitely worth a test drive if your family-related vehicular requirements are an additional row of seats, but you also want a compact crossover SUV.