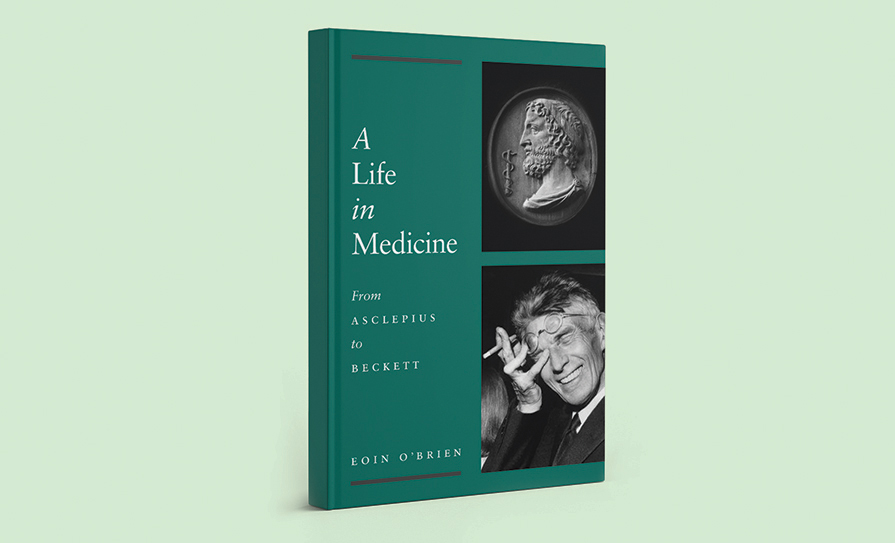 TITLE: A Life in Medicine: From Asclepius to Beckett
AUTHOR: Prof Eoin O'Brien
PUBLISHER: Lilliput Press
REVIEWER: Prof Seamus O'Mahony
Although I have never met him, Eoin O'Brien is a friend. Nearly 10 years ago, he phoned me out of the blue to tell me that he liked a piece I had written for the Dublin Review of Books; since then, we have emailed each other intermittently, sharing opinions on books and medicine. I naturally looked forward to reading Eoin's memoir, A Life in Medicine: From Asclepius to Beckett, hoping it would fill many gaps in my knowledge of him. I wasn't disappointed: The book is an immensely enjoyable chronicle of a long and well-lived life. Eoin is one of the few remaining specimens of that now near-extinct phenomenon: The Man of Letters. He has somehow combined the roles of medical historian, publisher, medical journalist, essayist, Beckett scholar, and editor with a distinguished career as a cardiologist and prodigiously productive hypertension researcher.
O'Brien's choice of career was no great surprise as both parents were doctors. His father, Gerard Thomas ('GT') was a chest/TB physician, whose life was blighted by alcoholism; his mother, Muriel Miriam ('Moo'), after a brilliant undergraduate career, abandoned medicine while still only in her 20s, following the death of a young boy to whom she had administered chloroform. O'Brien studied medicine at the RCSI (he switched after a brief dalliance with dentistry), and then interned at the old Richmond Hospital. His friend Patrick Rafferty persuaded O'Brien to join him in general practice in Smethwick, Birmingham. "General practice," he recalls, "humbled me," but it was not for him; he returned to a research post at the Richmond, and then to a registrar job with the eminent gastroenterologist Alex Paton at Dudley Road Hospital in Birmingham. Paton, who died in 2015 aged 91, was a kind but irascible man. Although Paton encouraged O'Brien to pursue gastroenterology, he opted instead for cardiology, training initially at Dudley Road and later at Manchester Royal Infirmary (MRI).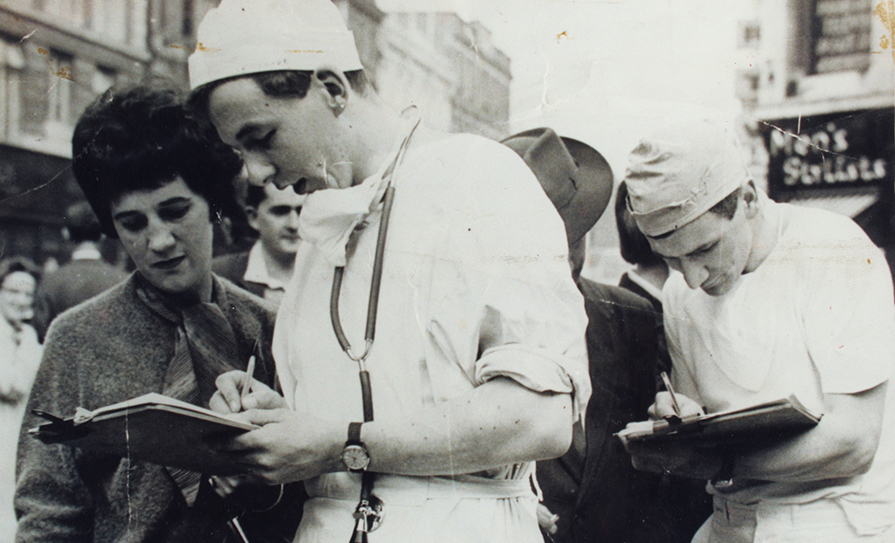 His time in Manchester was unhappy: "I decided to start a new life away from medicine. This incomprehensible decision may have been a symptom of frustration with specialist medicine…. I wanted to write." On a drive from Birmingham to Manchester, O'Brien and his wife Tona decided that he should abandon medicine and move to Cyprus to become a full-time writer. He handed in his notice at MRI, sold his house in Manchester and began preparations for the move. But just then, "fate intervened." His father fell gravely ill; O'Brien returned to Dublin, where he witnessed his dying father "turn to the wall". The jolt of his father's death caused him to abandon his move to Cyprus and the life of a writer. He was appointed to a locum position at the Richmond Hospital, and later, to a substantive consultant post at Jervis Street.
When that hospital closed in 1987, its services and doctors were transferred to Beaumont Hospital, where O'Brien worked until 2004. "It was," he writes, "an unhappy hospital," cursed by what he calls "consultant hubris". O'Brien has repeatedly called out this hubris: In 1979, he wrote a piece for the Irish Medical Journal, posing the question: "What is a professor?" in response to what he saw as the demeaning of the stature of professorships by the endowment (by a pharmaceutical company) of two chairs in cardiology in University College Dublin. In 1982, he wrote his most-quoted polemic, 'Towards Being a Scientific Doctor and the Dangers of the Dublin Disease' for the now-defunct Journal of the Irish College of Physicians and Surgeons, in which he decried the preference of the city's consultants for private practice over research. In 1987, when editor of the Irish Medical Journal, he wrote a leading article criticising doctors for going on strike; the journal was the official organ of the IMO, the trade union which had called the industrial action. Rather than firing O'Brien, the IMO took the highly unusual step of closing the journal down – claiming it was losing money – and then reopened it a few months later under a new editor (Margaret Thatcher similarly rid herself of Ken Livingstone in 1985 by abolishing the Greater London Council).
In 2011, O'Brien challenged both the RCSI and the RCPI over their silence on the torture and imprisonment of doctors in Bahrain. Wondering aloud how he had fallen out of love, so late in his career, with two institutions for which he had such affection, his friend the barrister Paddy McEntee told him: "Eoin, you are merely sensing what perhaps you did not have the time or the wisdom to heed hitherto – the corruption of privilege."
O'Brien has enjoyed and nurtured long friendships with artists, musicians, poets, and writers, including Nevill Johnson, Niall Sheridan, Malcolm Arnold, Brian O'Doherty, Gerald Dawe, Robert Ballagh, and – most famously – Samuel Beckett. His 1986 book, The Beckett Country: Samuel Beckett's Ireland was recognised as a major contribution to Beckett studies; during his regular trips to Paris, O'Brien established enduring friendships also with Con Leventhal and Edith Fournier, both intimates of Beckett. With Fournier, he edited Beckett's unpublished first novel Dream of Fair to Middling Women, which was eventually published by O'Brien's own Black Cat Press in 1992 and by Faber & Faber in 2020.
The only other medical contemporary – at least in Ireland – who could match O'Brien's polymathic and cosmopolitan artistic interests was the late Petr Skrabanek (1940-94), the Czech provocateur who lobbed grenades at the medical establishment from Trinity College Dublin's Department of Community Health. While other doctors were out golfing, Skrabanek and O'Brien, along with the linguist Richard Walsh and the composer Gerald Victory, met every Saturday morning in the distinctly prosaic environs of the Leopardstown Inn, to work on a translation of Le Chants de Maldoror by the French-Uruguayan writer Isidore Lucien Ducasse, a long prose poem published in 1868 and 1869 under the pseudonym of the 'Comte de Lautréamont'. The work was eventually completed, but remains unpublished; O'Brien is the only one of the four translators still alive. When Skrabanek was posthumously awarded the Stearne Medal by the RCPI in 2018 – the irony of being feted by the establishment he had so excoriated would have greatly amused him – the most notable absentee from the ceremony in the marble halls of 6 Kildare Street was Eoin O'Brien, the doctor who had confronted the corruption of privilege, and resigned his Fellowship of the College.