Resident Mindo cartoonist Dr Eoin Kelleher provides an inside account of how his new illustrated book, Journey Through The Body: A Visual Exploration, was conceived and developed
In school, I loved art. Despite not being a gifted artist, I wanted to be a cartoonist when I grew up. In pursuit of that dream I even wrote to Martyn Turner, the cartoonist of Irish Times fame. He was kind enough to write back with some encouraging words and sensible advice – 'get a day job'. And so, here I am many years later, as an NCHD.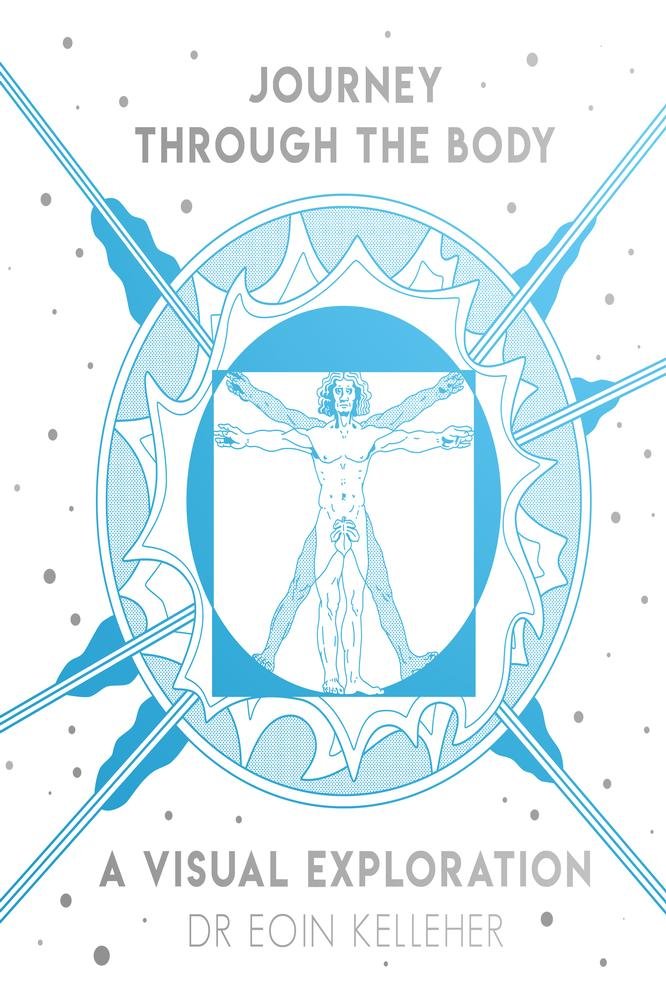 While I may be (slightly) better known on these pages for my fortnightly editorial cartoons on healthcare in Ireland, I have always nursed a love of art and drawing more generally. A few years ago, I was very fortunate to been part of a project creating a glorious book about neuroscience, Journey Through The Brain.
Together with a group of researchers in the RCSI, Mary Cannon, David Cotter, Lorna Lopez, and Helen Coughlan, we created an illustrated book about the brain for children and whoever else happened to be interested. That book has been translated into Irish, Italian, and Finnish, and since the print copies ran out, it has been downloaded thousands of times.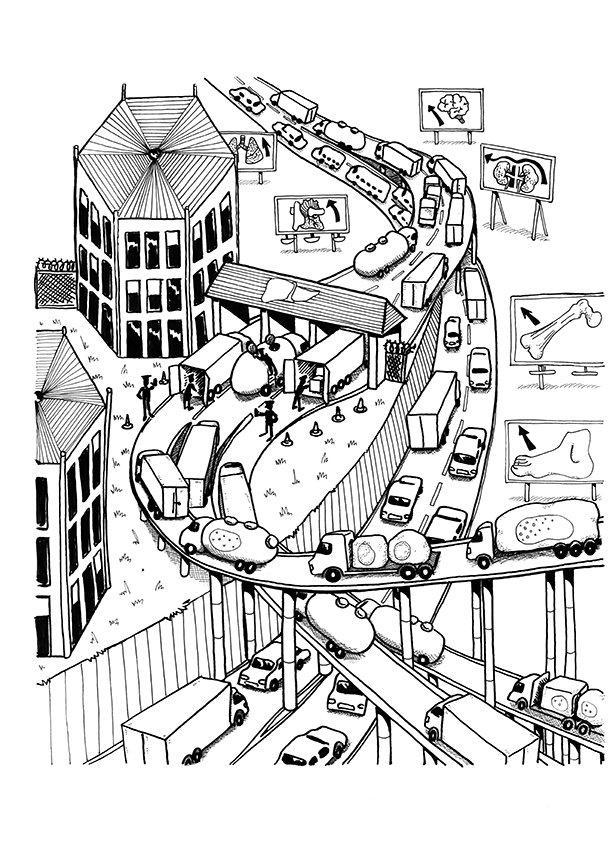 Illustrating Journey Through The Brain highlighted for me the power of art to unlock key concepts. From there, I knew I had to extend the idea to the rest of the body, and thus Journey Through The Body was conceived. Mercier Press were willing to take on the project. The year spent creating the book was a whirlwind. What felt like every waking moment outside work (and working for my FCAI exams) was spent either at my drawing desk or reacquainting myself with medical school physiology and anatomy. Nevertheless, it was a hugely enjoyable process.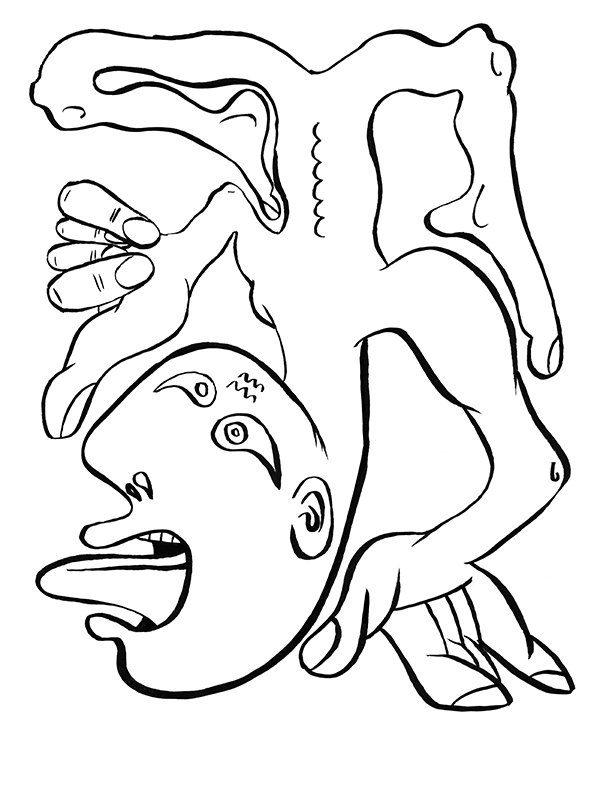 The musician Jack White once said that he deliberately imposes restrictions on himself – tight deadlines and a restricted choice of instruments, which The White Stripes are known for – to foster creativity. While perhaps not as steadfast in my restrictions, working to a deadline and limiting myself to black and white line art certainly did help the creative process.
The more fantastical the imagery, the more likely the illustration and the concept in question would lodge in a reader's mind. Small pilots captaining red blood cells in a blood vessel are used to represent laminar flow. The portal circulation of the liver is depicted as a customs checkpoint for nutrients entering the systemic vascular system (with a small nod to Brexit!). The bony pelvis is shown as a basin with a drain at the bottom (something they both have in common!).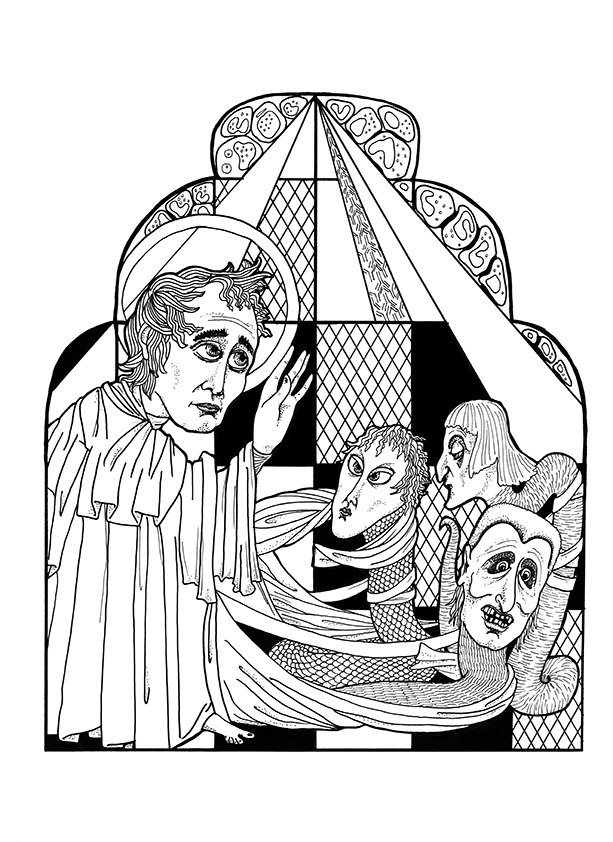 Each illustration is accompanied by enough text to further explain the concept depicted and most have a short factbox at the end of the page. These factboxes have extra nuggets of information to explain the link between the illustration and any outside reference. For example, the macrophage is illustrated in the style of a Harry Clarke stained glass window as a priestly figure engulfing snake-like pathogens. The factbox explains how Harry Clarke himself died from complications of mycobacterium tuberculosis, which itself infects macrophages.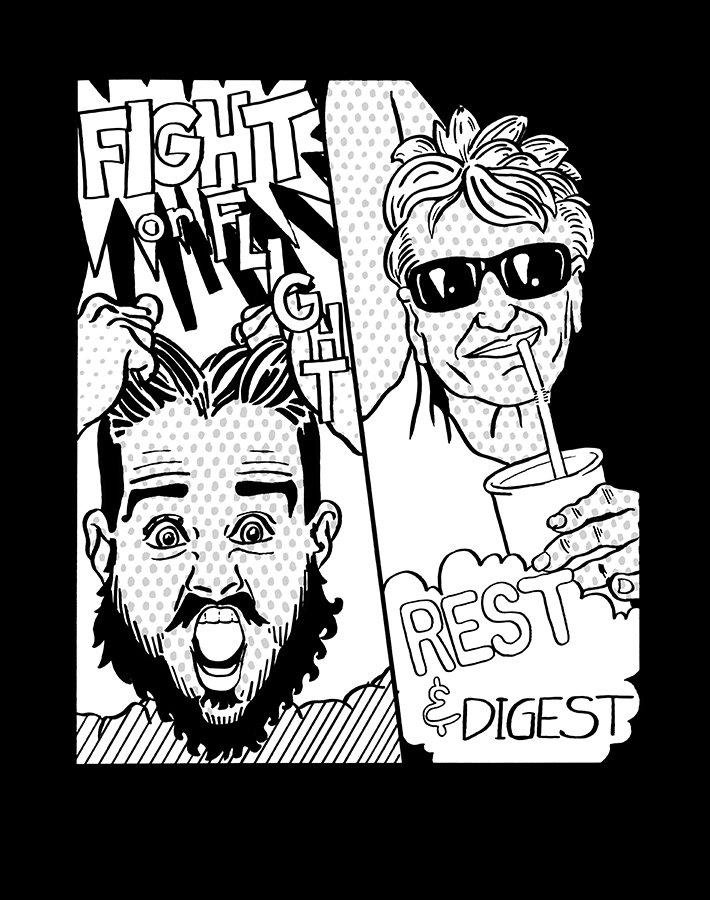 While the book does cover almost all organ systems and a large chunk of gross anatomy, it is by no means comprehensive. The book merely sets out to capture some of the most interesting concepts in medicine. However, anatomy and physiology aside, the human figure fascinates and inspires us. For millennia, humans have experimented with different ways of representing or depicting it. The human form is used to represent gods across a whole variety of religions. Parts of the body have been used to symbolise emotions or more abstract concepts, such as the heart and love, or the brain and intelligence. The subject of the human body has been a favourite subject of artists for many centuries, driving our knowledge of human anatomy along the way.
With that in mind, I also sought to reference art movements or artists who depicted the body. For instance, the book contains an illustration about the role of sleep with a nod to surrealism and one in which the autonomic nervous system is rendered in a pop art style.
Over the course of the book (and with the examples on this page) I hope to shed some light on some of the more interesting parts of the body. Some are inspired by artists or art movements; some are just idle creations of my imagination. I have not set out to write a comprehensive tome of physiology and anatomy, but if I inspire others to look further into the body you inhabit then this book will have been a success.
Dr Eoin Kelleher's cartoons for Mindo are available to view at mindo.ie