Irish Cardiac Society 72nd Annual Scientific Meeting and AGM, virtual, 7-9 October 2021
The ICS 72ndnAnnual Scientific Meeting and AGM heard the much-anticipated Stokes Lecture 2021, which was delivered by Prof Ken McDonald and was titled 'The transformation of heart failure: From nobody's child to driving healthcare change'. The lecture was chaired by Prof Vincent Maher, who provided a brief outline of how Prof McDonald has "transformed heart failure in this country" in terms of treatment and prevention. Prof McDonald provided an overview of the development of heart failure studies, diagnosis and treatment over the past 35 years and the current challenges. He also addressed the prospects for heart failure prevention and treatment in the near future and the varied opportunities heart failure presents for cardiology graduates.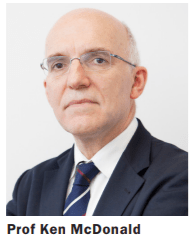 He briefly discussed how the first heart transplant was performed in 1985 by Mr Maurice Neligan and how at that time, "heart failure patients didn't have any access to cardiology care, but there was relatively little we could have done at that stage anyway. So it truly was a terminal illness then, if you were not that lucky one who 'hit the jackpot' and could get a heart transplant." However, following that, a number of studies emerged that advanced the understanding of heart failure and how it is possible to alter the natural history of the condition.
Regarding what he described as the "clinical trial era" in heart failure, Prof McDonald commented: "It can be rightly said that the clinical trial era in heart failure is probably one of the most impressive clinical trial programmes, not just in cardiology, but in medicine. It powers ahead even now and it has brought such a tangible improvement in outcomes for patients, predominantly with HFrEF [heart failure with reduced ejection fraction]."
He provided an overview of current therapies and discussed the need to better personalise treatments for heart failure more effectively, as well as the importance of disease management programmes. Prof McDonald also emphasised the importance of a multidisciplinary team led by a cardiologist with access to other specialists, including specialist nurses and allied health professionals.
He described the transition of heart failure from being a terminal illness to a chronic disease, and told the attendees: "It behooved us to develop strategies of care delivery which could be delivered more and more with specialist influence within the community, and not necessarily with hospital-dominated care," said Prof McDonald. "We understood that heart failure was the exemplar chronic illness and anything we developed for heart failure would have ripple effects in other chronic diseases, because there is a generic aspect to managing chronic illnesses."
Prof McDonald concluded: "I think we need a focused, risk-defined heart failure prevention strategy. We also need diagnostic pathways to minimise delays, and heart failure expertise needs to be given to everyone. "We also need a policy," he added. "We can see how things are moving at a pace. When we see a heart failure patient today, we need to have the capacity to be able to re-engage with that patient to ensure their therapies are being continually updated as care evolves. "For cardiology, I think these are exciting times and for our trainees, and I think heart failure or related areas are particularly exciting," he added.
"As we train cardiologists, we need to consider that we are presenting this as a real sub-specialism, although that term might engender some debate. But there is great potential in this area and within the integrated care programme within the HSE, this has been a staggering development. We have only heard the negatives about Sláintecare recently because of people resigning, but behind that engine there have been very real developments for cardiac opportunities for our graduates, with 16 new positions now coming online in this country in the south of Ireland.
These will be hospital appointments, but they will also be looking outwards to try to integrate the care for patients." Prof McDonald recalled: "I remember back in the 1980s when Brian Maurer arrived into the lab with the VHef study under his arm. He subsequently said, 'The time is now for heart failure, not just in St Vincent's and not just on this island, but internationally'. Not for the first time, he was right on the money."