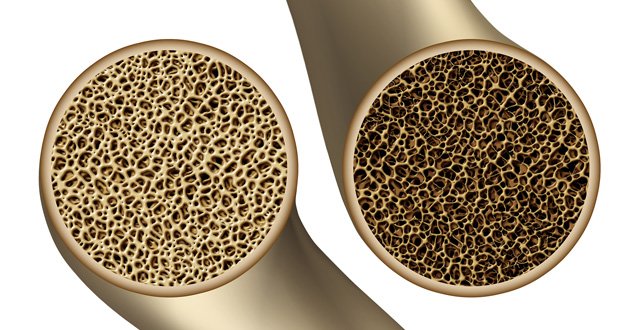 Quality-of-life in osteoporosis is currently not measured adequately and this needs to change to improve outcomes in these patients, the ISR Autumn Meeting heard.
UK expert on quality-of-life in patients with arthritis and osteoporosis Dr Marwan Bukhari, Consultant Rheumatologist and Clinical Lead for Rheumatology at the University Hospitals of Morecambe Bay NHS Foundation Trust, pointed out how quality-of-life measures in more symptomatic diseases like rheumatoid arthritis (RA) are seen as important but not so much in osteoporosis, where fracture incidence/prevention is the primary measurement.
"People without a fracture [who have osteoporosis] are really quite rare and in fact the definition of osteoporosis is quite interesting, because it was in post-menopausal women above the age of 50. Now, how many of you will have seen a DEXA scan of someone aged 40 of -2.5 and called them osteoporotic? Probably everybody, and how many of you have seen a bloke with a T-score of -2.5 anywhere and called them osteoporotic? Probably all of you again. Are you actually classifying the disease and diagnosing it? Probably not. So the disease is actually not well quantified… "
He noted that quality-of-life data is key in regards to calculating quality-adjusted life years (QALY) for measuring medicines' reimbursement thresholds. Thus, quality-of-life data should be better used when licensing osteoporosis drugs, Dr Bukhari maintained.
"In osteoporosis, the problem is that in every single intervention, the outcome measures are fracture prevention or an increase in bone mineral density. Nobody has actually looked at patient-reported outcomes, mainly because it is quite difficult to measure and people with the disease don't feel ill until they've had a fracture," he commented.
In addition, as osteoporosis is a disease of ageing, where there will be a decline in quality-of-life and movement typically as someone ages anyway, accurate quality-of-life measurement can be complex, but there are measurement systems which give more insight than what is currently used in osteoporosis.
Speaking to the Medical Independent (MI), Dr Bukhari said that there are good treatment and prevention options now widely available for osteoporosis, so more proactive diagnosis and early treatment of these patients needs to happen to keep them fit, moving and minimise fractures.
"If they've got suspected osteoporosis and they're not fractured yet, you should really ask them is there any impairment of their mobility, what's been happening, are they frailer and not moving as much. The important thing really about treating osteoporosis is lifestyle measures. So things like activity, weight-bearing exercise, walking, doing more are always important. Once they've had a fracture though, and quality-of-life goes down, it is important to realise one fracture begets another, so you have to think about treating the disease. Nowadays, with alendronic acid and its generic form, you can treat it fairly easily, and not to forget the importance of vitamin D.
"It is important to measure quality-of-life after someone has had a fracture and make them understand that if they do exercise, it will help them as much as any pharmacological intervention, so hopefully they will improve that way. Yes they are scared, they have brittle bones, but it is important to get these patients moving and keep doing weight-bearing exercise to help their bones get stronger," he told MI.
Dr Bukhari also addressed ISR delegates during a satellite symposium about disease scores in rheumatology.
"I discussed the fact that measuring RA is easy when you are looking at swollen and tender joints but when looking at remission, we have to take into account other features and what the patient wants. The other features that we don't usually measure are that we ask the patient global [questions but] we don't differentiate pain from inflammation and pain from damage; it is all lumped together. So that is why it is very difficult for us to get lots of patients into remission, as what we are asking is a composite of several things. Therefore, remission is very difficult to do. But on the other hand, we have five mechanisms of action, after lifestyle advice, etc, to go for once people have active disease. And access to healthcare and access to disease-modifying drugs early is the key to getting patients into remission. So the distance between symptom onset and starting the first drug is the important one and that is probably not answered in this country, as there is a huge wait to be seen in the public sector."