The Clinical Director of the National Centre for Pharmacoeconomics (NCPE) will soon submit a document in opposition to a proposed legislative amendment to allow for the fast-track of orphan drug assessments.
Speaking to the Medical Independent (MI) following his address at the recent Access to Medicines Ireland annual conference in the RCSI, Prof Michael Barry said the amendment to the Health (Pricing and Supply of Medical Goods) Act 2013 would have negative consequences if passed.
He told the conference he had written a submission on the amendment. "I will be submitting it… to suggest that this is a really bad idea."
"The amendment suggests, or proposes, that we wouldn't use the normal evaluation process for drugs for rare diseases," Prof Barry told MI. "So we wouldn't assess the cost-effectiveness of those medications. That's a pretty fundamental change.
"The problem I have with it – I believe if we are using taxpayers' money to pay for any medicines, we should know the value of those medicines and we should assess the value of those medicines.
"It becomes particularly important for drugs for rare diseases, because they are very expensive medications, sometimes over €500,000 per patient per year, with budget impacts running into the millions."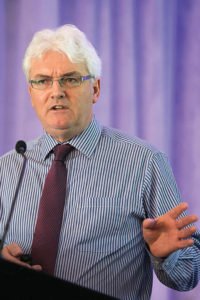 The amendment is proposed by Fianna Fáil spokesperson on Primary Care and Community Health Services, Deputy John Brassil.
Prof Barry said the amendment was "well-intentioned", but "unfortunately I think it is going to do the opposite of what it is trying to achieve".
"If we are not assessing a big group of drugs, with high cost, high budget impact, then by definition if we make them available, we will be paying more – so we increase drug expenditure," he said.
"That means there would be less money to pay for drugs going forward. So that will reduce access to drugs, including drugs for rare disease."