A spokesperson for Unite has said it "remains to be seen" whether the union can come to an agreement with the NAGP regarding representing GPs in the future.
Last month, it was announced the NAGP had entered into voluntary liquidation. In a member update from NAGP Directors Dr Andrew Jordan and Dr James Stacey on Wednesday 22 May, it was noted that the "business part" of the company was being wound-up.
The union part of the association, known as the Alliance of Family Doctors (AFD), would continue to operate and "may be joining one of the large trade unions", according to the communication.
"Unite were approached by the NAGP and have met with that organisation," Mr Brendan Ogle, Unite Senior Officer, informed the Medical Independent (MI). "Future meetings and discussion document(s) are envisaged.  Unite represents workers and it remains to be seen if any arrangement is possible but Unite is happy to explore this matter further."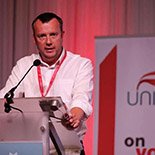 MI asked Unite whether it foresaw any possible difficulties representing GPs via the AFD, as the IMO is affiliated to the Irish Congress of Trade Unions (ICTU), with which Unite is also allied.
"Unite is constantly aware of various interpretations of representation rights within the ICTU, in many areas, and Unite always gives these matters due consideration before determining its own course," stated Mr Ogle.
Separately, a poll running on the National GP Forum showed a majority of respondents voting 'yes' to the statement: 'The future of general practice requires the formation of a new fully transparent organisation to exclusively represent grassroots GP industrial relation issues'. The National GP Forum is a closed online group of GPs in Ireland. As of Sunday 26 May, 220 GPs had voted 'I agree' to this statement, representing over 80 per cent of respondents. Just over 19 per cent of GPs (52) voted 'I disagree'.
MI asked the IMO if it had any comment on the talks between the NAGP and Unite but it had not responded by press time.
Last month, MI reported that a number of former council members of the Association had submitted complaints to the Office of the Director of Corporate Enforcement (ODCE) regarding alleged NAGP practices. An ODCE spokesperson said it does not comment on individual cases.