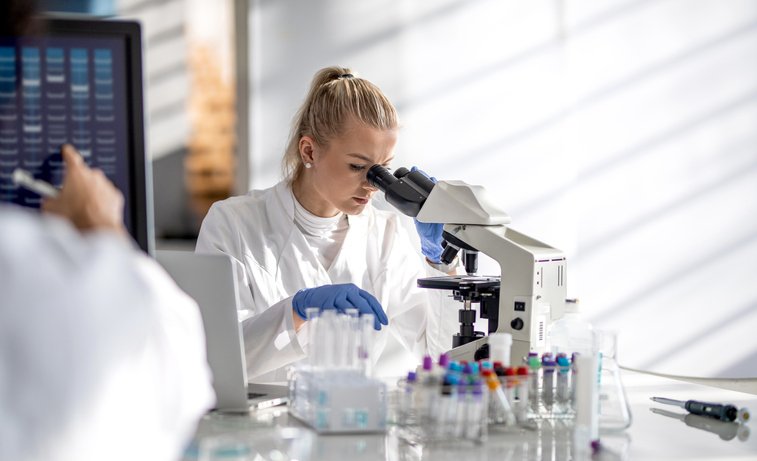 Female scientist looking through a microscope
The Irish Haematology Society (IHS) wrote to the HSE National Director of Acute Operations last year to express a "lack of confidence in the current cytogenetics service available to adult patients with haematological cancers", the Medical Independent (MI) can report. The letter, which was sent on 8 May 2020 and obtained by MI through Freedom of Information law, stated the service based at Children's Health Ireland (CHI) at Crumlin had "deteriorated progressively" over the last decade.
"The range of tests that are provided as well as the speed with which the results are available is clinically unacceptable," according to the letter. "Frequent tests requested by consultant haematologists are not performed." A report was commissioned jointly by CHI at Crumlin and the National Cancer Control Programme (NCCP) in 2018 to review the cytogenetics service for cancer patients.
"We are very concerned that there has been little progress with the implementation of those recommendations and the routine service remains unacceptable with long delays, arbitrary decisions made about testing without discussion with the requesting consultant, resulting in significant clinical risk to patients whose treatment is stratified on the basis of cytogenetic results," according to the letter.
As a result of the service's deficiencies, an increasing number of hospitals had taken to sending their cytogenetics testing overseas.
"In essence this means that the Department of Health/HSE are paying twice for these outsourced tests; once in a failing service and then for the tests to be done abroad."
The IHS believed the service required a "fundamental change" and that consideration should be given to relocation and ultimately separation from the paediatric component. The letter, which requested an urgent meeting of the main stakeholders, was signed by Dr Denis O'Keeffe, Consultant Haematologist, University Hospital Limerick, and President of the Society, and other members. The CEO of CHI Ms Eilish Hardiman wrote to the HSE National Director of Acute Operations Mr Liam Woods about the IHS's concerns on 25 August last.
While acknowledging the Society's chief issues, she also stated that since June 2020 the turnaround times for adult haematology samples had been operating within European guidelines. A response to the IHS from Mr Woods was sent on 6 October 2020. Mr Woods apologised for the delay, saying the letter had not been delivered by post and he had only received a copy recently by email. He admitted the cytogenetics laboratory service needed investment in its health technology and IT infrastructure.
Mr Woods referred to recent improvements in the service, including the appointment of key staff, but noted that the
haematology clinical lead position sought by the NCCP had yet to be filled. He stated Ms Hardiman's intention to meet with the Society and discuss its concerns. See news feature, p10.