The IMO has received around 240 pay claims from interns in relation to work they did prior to or adjacent to induction week in 2019.
IMO Industrial Relations Officer Mr Paul Maier said this was work done outside the agreed 39-hour week for induction, for which payment was introduced last year. Activities included completing advanced cardiac life support (ACLS) courses and e-learning modules mandated by intern networks.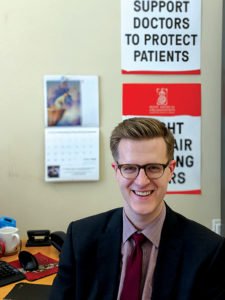 Mr Maier said he understood many other grades of staff were paid for this time.
He estimated that the claims were worth greater than €50,000. Mr Maier added there was no issue in respect of activities that took place within the 39-hour induction week.
As MI went to press, the union was about to file these claims with the Workplace Relations Commission (WRC). It had also filed claims for induction pay with the WRC prior to an agreement reached with the health service last year.
Mr Maier said this agreement with the HSE outlined that induction would be conducted over a 39-hour week, which would be paid.
Meanwhile, following a mediated agreement, all former interns who attended induction in 2018 are eligible to receive a payment of €110, with an application deadline of 29 February. Different arrangements apply to those who took WRC cases.