Emergency departments (EDs) have recently been experiencing large numbers of presentations during the current phase of the pandemic, Dr Fergal Hickey, President of the Irish Association for Emergency Medicine, has told the Medical Independent. "If you look at the HSE and Government statements, they seem to focus exclusively on ICU admissions," said Dr Hickey, who warned there had been less attention on the "enormous number" of patients coming through EDs.
Dr Hickey said EDs were facing a heavy workload for the foreseeable future. He referred to factors such as the difficulties posed by the recent NCHD changeover; the impact of Covid-19 on staffing levels; and the challenge of "having to process large numbers of people coming in with both overt Covid symptoms and those who present with a different problem, but turn out also to have Covid".
He said that the high numbers of patients on trolleys was "a 12 months of the year problem, it is not just a winter problem". Pointing to longstanding bed capacity shortfalls in the hospital sector, Dr Hickey said these deficiencies had made the situation more difficult during the pandemic. "The sad thing is we knew we had inadequate bed capacity coming into this pandemic," he added.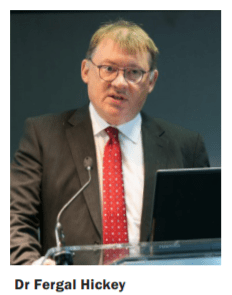 Dr Hickey cited 2019 figures that showed Ireland had the highest bed occupancy level in the OECD and that the number of acute beds per 100,000 of population was well below the OECD average. He also noted that the bed capacity review has stated that 2,600 beds were needed immediately for the hospital system. Dr Hickey underlined that a significant increase in bed capacity was required. Despite elective activity having dropped substantially because of Covid-19, the issue of high numbers of patients on trolleys remained, outlined Dr Hickey, who also noted experts' warnings of future pandemics.