Irish Medical Organisation, Annual General Meeting, Aviva Stadium, 28 May 2022.
The "dam has broken open" in terms of NCHDs feeling able to publicly share experiences of unsafe working hours, NCHD committee Chair Dr John Cannon has told the Medical Independent (MI).
Speaking after the NCHD national meeting at the IMO AGM on 28 May, Dr Cannon said the 'Standing up for NCHDs' campaign "has exceeded our expectations" in terms of NCHD engagement. "People are not afraid anymore to say, 'because I was working these long hours, I was in a car crash'. The public are shocked, doctors aren't, but I think this campaign has finally given doctors permission to share their stories," Dr Cannon told MI.
NCHDs are currently balloting on taking industrial action, up to and including strike action, in support of their campaign on unsafe and illegal working hours, and breaches of contract. The ballot will close on 9 June.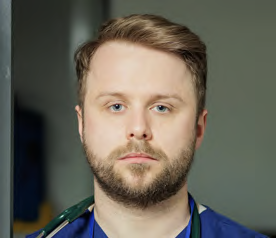 At the NCHD meeting, a motion was unanimously passed calling on the Minister for Health and the HSE to engage with the IMO on "resolving contract breaches and the development of a new NCHD contract that supports training and the safe delivery of care". IMO members also unanimously passed an "emergency resolution" in support of the NCHD campaign.
The IMO outlined "immediate issues to be addressed", including "the systemic and persistent contract breaches around unsafe and illegal hours"; implementation of "transparent verification and payment systems"; guaranteed access to annual and study leave; and measures to address the financial burden associated with training structures. Additionally, the union is seeking "a full contract review that will recognise the changing demographic of the NCHD workforce".
Speaking for the NCHDs' motion at its national meeting, anaesthesiology SpR and NCHD committee member Dr Gabriel Beecham said a lot of the required reforms should not be difficult to implement.
"How much of this is about people intentionally taking advantage of a compliant temporary migratory workforce?" he asked.
NCHD committee member Dr Rachel McNamara said she had a European Working Time Directive-compliant roster for the first time since qualifying in medicine. "And it has been life-changing in so many ways. I have been able to clean my house, and I have been able to get a dog, and I have been able to complete a diploma in my spare time. I would not be here if this AGM happened last year, I would either be working, coming off nights, I would be too tired and too disenfranchised, and too burnt out to even see a way forward…."
"I know I am speaking on behalf of many of the empty chairs in the room that are coming off 28-29-hour shifts, who are working for a fourth weekend in a row… they don't have the capacity or energy to speak out for themselves…."
Dr Jamie McGettigan, NCHD committee member and medical SHO, said the HSE did not treat NCHDs with humanity. "It is time we stopped letting them use us as fuel for the failing machine of the HSE, because it is burning us all out."
In a subsequent address at the AGM, Minister for Health Stephen Donnelly said NCHD working hours and conditions were "not acceptable" and he was "committed to fundamental change and reform".
The Minister said he had written to the HSE "asking that they engage with you" and had been assured "they will work collaboratively" with the IMO "to address these issues". He announced €600,000 to provide improvements to on-site NCHD facilities and a pilot programme for a network of clinical education leads at site level. He also referred to work beginning with postgraduate training bodies to identify more job-sharing posts.
Responding to the Minister's address, IMO CEO Ms Susan Clyne said NCHDs "need to see action" on contractual breaches and illegal and unsafe working hours. She said the indications were that the ballot would receive overwhelming support from NCHD members.
"No doctor ever wants to take industrial action, we want to go in and negotiate, we want to make things better, but if we have to take industrial action, we will."