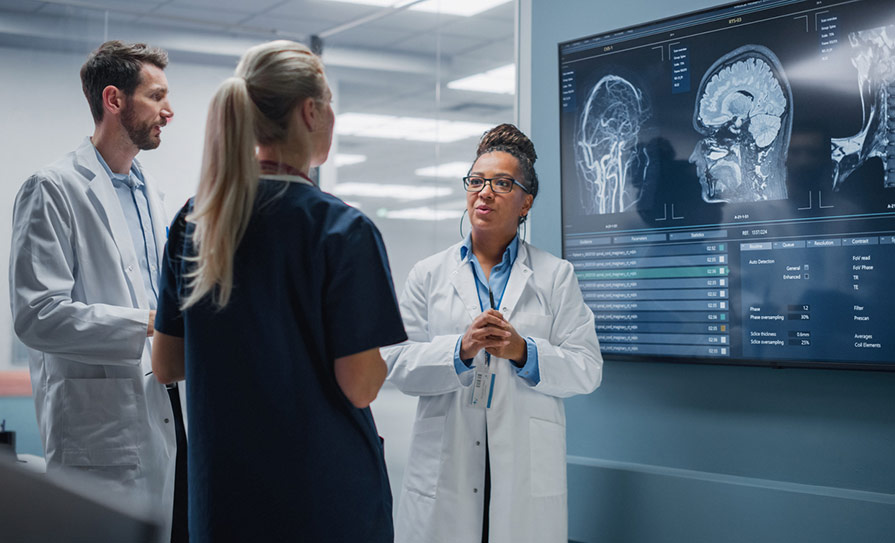 The combined conference of the Irish Neurology Association and the Association of British Neurologists later this month promises to be an exciting event for the specialty
 A joint meeting of the Irish Institute of Clinical Neuroscience's (IICN's) Irish Neurological Association (INA) and the Association of British Neurologists will take place from 10 to 12 May 2023 in the International Convention Centre, Belfast.
The INA President Dr Raeburn Forbes, along with Dr Tom Warner, Dr Carolyn Gabriel, and Dr Richard Davenport at the Association of British Neurologists (ABA), have put together a wide-ranging programme of neurology education and new developments in the specialty for the event.
A training day will be held on Tuesday 9 May. On Wednesday 10 May, the main conference will begin with a welcome by Dr Forbes and ABA President Dr Warner.
Pathogenic mechanisms
A plenary session will then take place entitled 'Pathogenic mechanisms in neurological disease'.
It will feature three presentations. The first presentation is on 'the genetics of neurodegenerative diseases'. It will be delivered by Prof Sir John Hardy, Professor of Neuroscience at the Institute of Neurology, University College London (UCL), UK. Prof Hardy was the first scientist to describe a mutation in the amyloid precursor protein, which stimulated a whole field of research into the genetics of Alzheimer's disease and other neurodegenerative diseases. His group was also the first to describe mutations in the tau gene. He has collaborated widely and is interested in many of the major steps involved in the amyloid cascade, which are leading to potential therapies. More recently, he and his lab have deposited whole genome association data for Parkinson's disease, Alzheimer's disease, ischaemic stroke, bipolar disease and controls in an open access format. His work has been recognised with the awarding of a number of major international prizes.
The second presentation is on 'neurogenetics and the pathophysiology of migraine'. It will be delivered by Prof Zameel Cader, Director of the Oxford Headache Centre, UK. He is also a Consultant Neurologist at John Radcliffe Hospital. Prof Cader's research focuses on understanding the mechanism underlying neurogenetic disorders, such as migraine and nerve degeneration. He is Director of the Oxford Headache Centre and of StemBANCC, a major public-private partnership aiming to develop the resources and expertise for successful drug development on a stem cell platform. The final presentation of the session is on mechanisms/seizures in epilepsy. It will be delivered by Prof David Henshall, Director of FutureNeuro. In early 2004, Prof Henshall joined the RCSI as Senior Lecturer in Molecular Physiology and Neuroscience. Prof Henshall has authored over 195 papers and 10 book chapters. He is the Chair of the International League Against Epilepsy Neurobiology Commission's Taskforce on Genetics/Epigenetics and a Benchmark Steward for the National Institutes of Neurological Disorders and Stroke. He coordinated the European FP7 large-scale collaborative project EpimiRNA (2013–2018) and co-organised the international conferences EpiXchange I and II, which brought together Europe's major epilepsy research projects and which is now supported as a flagship 'Cluster' by the European Brain Research Area.
ABN medallist
After lunch, the ABN Medallist Lecture will take place. It will be delivered by Prof Mary Reilly, Professor of Clinical Neurology and Consultant Neurologist, UCL. Prof Reilly has longstanding research interest in the inherited neuropathies with an emphasis on translational research. The title of the lecture is 'Known unknowns and unknown unknowns'.
Neurotherapeutics
The lecture will be followed by the second plenary session, which is on the subject of neurotherapeutics. The first talk will be given by, Dr Sarah Tabrizi, Director of the UCL's Huntington's Disease (HD) Centre. The presentation will concern 'genomic therapies in neurodegeneration'. In addition to basic bench science, which focuses on basic cellular mechanisms of neurodegeneration in HD, Dr Tabrizi also leads a large translational research programme in HD that is working towards finding effective disease-modifying treatments. She has published over 350 peer-reviewed publications to date. Dr Tabrizi serves on several expert panels including for the UK HD association, and the European HD Network. She co-founded the UK All-Party Parliamentary Group for HD in 2010, and was elected a Fellow of the UK Academy of Medical Sciences in 2014. In 2017 she received the seventh Leslie Gehry Brenner Prize for Innovation in Science awarded by the Hereditary Disease Foundation.
In the next presentation, Prof Peter Kelly, Consultant Neurologist, Mater Misericordiae University Hospital, Dublin, will provide an update on stroke management. Prof Kelly is Director of the UCD neurovascular research unit and Lead Investigator of the Irish stroke clinical trials network.
The final talk of the session is on the management of gliomas. The talk will be delivered by Dr Fiona McKevitt, Sheffield Teaching Hospitals, UK. Dr McKevitt is a member of the South Yorkshire Neuro-Oncology Group. The Group is an accredited brain tumour multi-disciplinary team that practices within government regulations to review and determine optimal treatment of patients with malignant brain tumours including gliomas and metastases. The service offers world-class clinical opinion and treatment on all aspects of brain and spinal tumour management including awake craniotomy, 5-ALA guided surgical resection, intra-operative monitoring, and opportunities for recruitment into numerous clinical trials.
Challenging scenarios
On Thursday 11 May, the day will begin with a plenary session on 'difficult management issues'.
Dr Shazia Afridi, Consultant Neurologist, Guy's and St Thomas' NHS Foundation Trust, UK, will discuss the hormonal aspects of migraine.
Dr Afridi was appointed as consultant at Guy's and St Thomas' in 2013 and established the headache service in the neurology department. She also sees patients with neurofibromatosis.
She has been on the council for the British Association for Study of Headache and is a trustee for the Migraine Trust. She is also visiting Senior Lecturer at King's College and has published over 30 peer-reviewed papers.
The next speaker is Prof Aisling Ryan, Consultant Neurologist, Cork University Hospital (CUH). Prof Ryan's presentation is on drug-resistant inflammatory neuromuscular disorders.
She has extensive clinical experience in the management of patients with demyelinating and other neurological diseases and has served as an investigator in several multiple sclerosis (MS) clinical trials based at CUH. Her research interests include both demyelination and neuromuscular diseases with experience in laboratory-based research, clinical and epidemiological research, and collaborative translational neuroscience projects.
The initial management of clinically isolated syndromes and radiologically isolated syndromes in relation to MS is the subject of the final presentation in this session. It will be delivered by Prof Chris McGuigan, Consultant Neurologist, St Vincent's University Hospital, Dublin.
Lectures
The next item on the agenda is the Gordon Holmes Lecture. The title of this year's lecture, which will be given by Prof Samden Lhatoo, is 'Mortality and SUDEP [sudden unexpected death in epilepsy]: Observations to targeted interventions'. Prof Lhatoo is Director, Texas Comprehensive Epilepsy Programme, US. He trained in neurology at the Radcliffe Infirmary at Oxford, Frenchay Hospital in Bristol and the National Hospital for Neurology and Neurosurgery (NHNN) at Queen Square in London, UK. He received his board certification (UK) in neurology in 2002, and trained in epilepsy with a two year Fellowship at NHNN and a further epilepsy research Fellowship in EEG at the Cleveland Clinic Foundation.
The ABN President Lecture will take place later in the day. The lecture will be delivered by Dr Richard Davenport. Dr Davenport is Consultant Neurologist, Royal Infirmary of Edinburgh, Scotland. While very much a general neurologist, Dr Davenport undertakes NHS first seizure, movement disorder and motor neurone disease clinics.
The title of the Sydney Allison Lecture, which will be held on Friday 12 May, is 'Modern day gladiators and concussion research.' It will be given by Prof Michael Farrell, Consultant Neuropathologist, Beaumont Hospital, Dublin.
The final plenary session of the conference takes place following the lecture. The session is on the subject of neurology through the ages. It will feature discussions on smartphone technology, the teratogenicity of drugs in epilepsy, and frailty in relation to stroke.
In addition to the plenary sessions and keynote lectures, there will be a variety of other symposiums and talks, in addition to case presentations and poster sessions.