Unhealthy diets and poor lifestyle behaviours have led to a significant rise in preventable, potentially blinding diseases, with a lack of awareness among the public about the risks, a special session on nutrition and age-related macular degeneration (AMD) at the 2019 ICO Annual Conference heard.
Dr Arjuna Ratnayaka, Lecturer in Vision Sciences, University of Southampton, UK, discussed the 'Cellular Consequences of an Unhealthy Diet — Trafficking Defects in the Retinal Pigment Epithelium (RPE)'. His research is looking at how disease-causing pathways triggered by poor nutrition could impact RPE cells.
Damage to RPE cells occur at the onset of AMD, making them less equipped to support the eye's photoreceptors, the cells in the retina which respond to light. The death of photoreceptors leads to permanent sight loss.
Discussing the published results of his team's work to date, Dr Ratnayaka said: "Although the effects of poor nutrition in eye health have been studied in large populations, how this actually brings about disease-causing changes in retinal cells is less well understood.
"We also found that some lysosomes appeared to remain undamaged, even in such stressed RPE, suggesting an altogether new way in which damaged cells could be rescued to prevent eventual sight loss.
"As our results showed how the waste disposal system of the RPE becomes damaged by unhealthy diet-driven disease pathways, our next step is to find out whether this type of damage can be reversed through better nutrition and if stressed or damaged, RPE cells can possibly be rescued." Potential new therapies developed along these lines could offer new treatments for some AMD patients.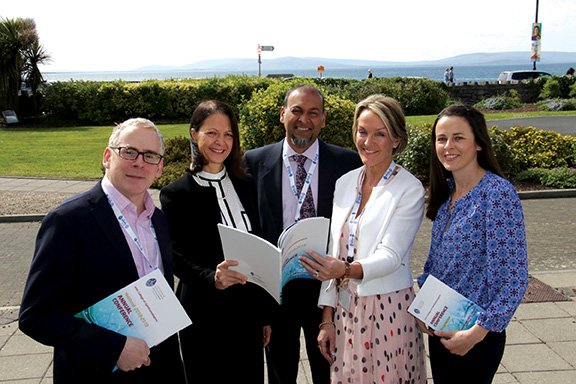 Also speaking during this session was Dr Sinéad C Corr, PhD, Assistant Professor in Microbiology, The Moyne Institute of Preventive Medicine, Trinity College Dublin, who discussed how human health is influenced by the gut microbiota, with increasing associations with disease, including inflammatory bowel disease. Despite extensive research efforts, how the microbiota impact development of disease is not completely understood, but it is clear that a two-way communication exists between the microbiota and the immune system, she said. Understanding this crosstalk will enable development of novel therapeutic strategies to promote health and reduce disease. Much of Dr Corr's talk focused on her team's recent research on identifying a novel regulator of the gut microbiome, mir21, which when its expression is lost, leads to a protective effect against intestinal inflammation, specifically by altering the microbiome towards a healthier profile, enhancing the presence of beneficial members. Understanding how the host and its microbial inhabitants interact is important to allow the targeting of the microbiome in disease settings, she noted.
In a similar vein, also speaking during this session, Ms Monique Hope-Ross, Honorary Consultant Ophthalmic Surgeon at the Birmingham and Midland Eye Centre and Good Hope Hospital, UK, emphasised how a healthy gut microbiome with diverse species is critical for health and wellbeing and conversely, a less diverse microbiome is associated with non-communicable diseases. The microbiome is altered by many factors, one of which is nutrition, she pointed out, with the typical modern Western diet lacking in diversity, with inadequate plant and fibre consumption for our needs.
She said a so-called junk-food diet, largely based on processed carbohydrates and little, if any fibre, is highly associated with the development of obesity and non-communicable diseases.
She added that a diet high in vegetables with less processed food and meat is associated with better long-term health outcomes. Changing to a low-carbohydrate diet, for example, has been shown to induce remission in many people suffering from diabetes, and hence reduce the risk of diabetic retinopathy, Ms Hope-Ross said.