irish doctors abroad and recently-retired doctors have vowed to play their part in the fight against Covid-19.
The IMO has said "scores and scores" of doctors working abroad have made contact about returning to work in the Irish health system at this time of crisis.
"We are assisting people to the greatest extent possible," Mr Anthony Owens, Director of Industrial Relations, Consultants and NCHDs, told the Medical Independent (MI).
"A lot of that is about informing people what kind of service they are going to be coming back to because it is not the service they remembered," he outlined.
Mr Owens also said many retired doctors have been in contact with the IMO about returning to work.
"They are certainly what you would identify as an at-risk group by virtue of their age," he said, "despite the fact that many of them would be very healthy. But the expectation is and the understanding and assumption is, they would not be put in any kind of jeopardy or any kind of needless danger when it comes to seeing patients. They have a huge range of expertise and skills that they could deploy in other roles across the service."
A recently-retired consultant who volunteered his services told this newspaper: "I'm scared, but I didn't hesitate when the call went out for volunteers."
The consultant, who spoke on 23 March, did not know where they would be deployed. They had questions around where retired doctors stood in terms of de-skilling and litigation.
GP Dr Ken Egan is another doctor who is coming out of retirement to help the health service.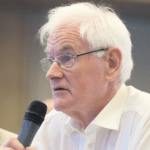 The Mayo GP hopes to assist with telephone triage in general practice and at out-of-hours co-op Westdoc.
"I've a stent, pacemaker and diabetes," he told MI on 25 March.
"There's no point putting someone like me on the frontline. I'd just be taking a respirator off them."
On 26 March, the Medical Council stated that 121 doctors had re-joined the medical register in little over a week. This was in addition to doctors returning to practice or coming home to Ireland who remained on the register.
Of the 121 doctors, 55 per cent are returning to Ireland and 45 per cent are retired doctors re-joining the register.
Recently, the Medical Council launched a dedicated pathway for doctors to re-join the register of medical practitioners as part of the national Covid-19 response, with all registration fees being waived.
The Council has also launched a dedicated Covid-19 web page for doctors — www.medicalcouncil.ie/covid-19.
President of the Medical Council, Dr Rita Doyle, said: "I am heartened to see the huge response we are seeing from colleagues who are coming out of retirement, returning to medical practice or returning home to Ireland in response to the national response to the challenges our country faces with the Covid-19 pandemic."