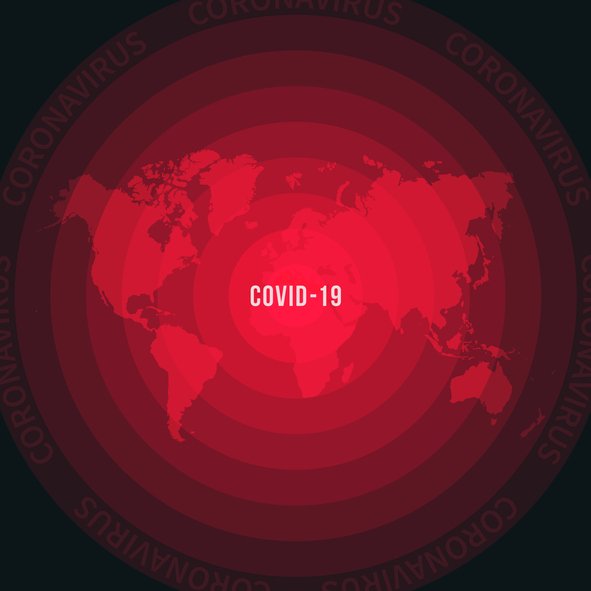 Coronavirus pandemic reported on the map of World. Spread of COVID-19 represented with red circles on a black background, like a radar screen. Conceptual image: coronavirus detected, quarantined area, spread of the disease, coronavirus outbreak on the territory, virus alert, danger zone, confined space, closing of borders, area under control, stop coronavirus, defeat the virus. Vector Illustration (EPS10, well layered and grouped). Easy to edit, manipulate, resize or colorize.
In the previous issue of the Medical Independent (MI), we published a feature asking what the memory of previous pandemics tells us about how Covid-19 might be remembered. Dr Claas Kirchhelle (PhD), Lecturer in the History of Medicine in University College Dublin, raised the point that while previous pandemics had an impact on policy in the shortto medium-term, financial and political support was rarely sufficient to sustain reforms, as other concerns displaced fears over infectious disease. Although he outlined reforms made as a result of the 1968 'Hong Kong flu' pandemic and other outbreaks, Dr Kirchhelle stated: "One of the reasons for this relative neglect of infectious disease preparedness is that, in the absence of widespread mortality resulting from communicable disease, the public health sector has had a hard time defending the need for a well-funded surveillance and preparedness infrastructure on a crowded political marketplace." In this issue of MI, we have a feature on the negative health consequences of climate change. It discusses whether the current pandemic means that tackling climate change will be further neglected, or whether Covid19 has highlighted the importance of future-proofing against potential threats to our health.
In our feature, Dr Andrew Harmer (PhD), Senior Lecturer in Global Health Policy at the Centre for Global Public Health at Queen Mary University of London, said the reason combatting the negative health effects of climate change does not receive the support it warrants is because it is 'a tragedy of the horizon'. This means the consequences of climate change are "beyond the vision" of the current generation. Many public health threats are of this nature. The current pandemic caught the world by surprise. The scale of Covid-19 is unlike anything since the 'Spanish flu' 100 years ago. While experts call for preparedness, until a crisis occurs, politicians and public services are unlikely to listen or devote the necessary resources. Public health is often about stopping problems before they occur, or before they deteriorate.
This can make ascertaining the success of public health initiatives difficult at times; if a situation does not become as bad as predicted due to early interventions, it might lead to the incorrect conclusion that the problem was exaggerated in the first place. We can even see with the current pandemic how some dispute its seriousness and criticise the measures of governments to limit its spread. However, Covid-19 is demanding the world's attention in terms of public health policy. How long this will continue to be the case is difficult to predict. The imminent arrival of vaccines is eagerly awaited by a public desperate for a return to normal. Whenever this return to normal occurs, it should not mark a return to complacency with regard to public health. Whether it is future pandemics or climate change, Covid-19 shows that the unimaginable can be all too real and can arrive faster than we think.