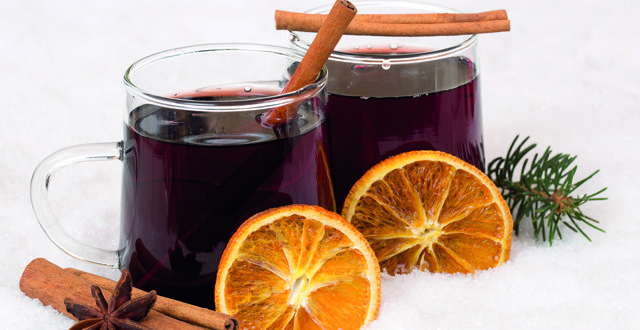 Mulled wine drinking on Christmas in winter alcohol drink in snow
I heard my first Christmas carol this year on 12 November. Am I the only one who would prefer if Christmas songs were embargoed until 1 December?
Now, before this column enters the slippery slope of Christmas grinchery, I must say I like most Christmas carols and songs. Which is just as well, as in the run-up to Christmas, we're subjected to a daily barrage of festive music — on the radio and television, in shops, train stations, restaurants and bars.
Slade get an annual outing with Merry Xmas Everybody. The Pogues' song Fairytale of New York and Mariah Carey's All I want for Christmas is You are perennial favourites. Such is the earworm effect of festive music, it's not unusual to find yourself humming a tune as you wrap your Christmas presents.
'Earworms' are songs that get stuck in our heads — and while research suggests about two-thirds are pleasant or neutral, some can become quite annoying. The specific songs that evoke earworms are different from person-to-person. Yet at Christmas, we are all generally listening to a much smaller pool of musical options.
White Christmas by Irving Berlin is the best-selling song of all time. It has the characteristics of an earworm, according to the experts. Bing Crosby's 1942 recording of White Christmas has been described as "a cultural event transcending the insularities of the three [white, black and country] streams" of the American recording industry. This, frankly, is a description that could quickly damage the song's decades-long popularity, as well as being a poor reflection on academia.
Sticking with the boffins for a tad longer, they say the pattern of liking for an individual song over time fits an inverted U-shape curve. So, when we first hear a new piece of music, we tend to not like it very much. But repetition breeds liking — and repetition both within a song and through repeated listening over days, weeks and months will usually increase our liking in a linear way.
Thankfully, there's a limit to this repetition effect. By the time we're taking down the Christmas tree in January, we've all become thoroughly sick of Mariah and Slade. We put them away in the attic, to be dusted off — and, amazingly, thoroughly enjoyed — again next year.
Meanwhile, Christmas traditions vary hugely across the world. Many have proved resistant to globalisation. Some are downright weird and even a bit gross. In Catalonia, in the north-eastern part of Spain, there is an ancient and popular tradition called Caga Tió, which translates as the 'Poop Log'. It's a log, traditionally hollowed-out, with a happy face on one end and wearing a bright red Catalan hat. Beginning on 8 December, the log is pampered by the children and draped with a blanket to keep it warm. On Christmas Eve, they hit it with a stick while singing a special song, instructing it to 'poop presents' for them. Then the blanket is removed to reveal presents (stealthily placed by mom and dad) of candy, tourrón nougat and small gifts.
This wacky tradition had to have been started by a gastroenterologist. A specialist who became traumatised by carrying out too many colonoscopies, I reckon. In fact, the bizarre practice should encourage Spain to support Catalonian independence and not block it.
Again, forgive the borderline Christmas grinchery, but what about the festive traditions tolerated by family doctors? You know, the mad rush of consultations and script requests in the week before Christmas. Not to mention the request for 'just in case' antibiotics by mothers who insist their child 'has to be well' on Christmas Day.
However, one of the welcome traditions that still persists is that of gifts from patients. Who among us doesn't appreciate a gesture from a family, whose relative with multiple chronic illnesses has occupied a lot of your professional time?
My personal favourite occurred in my trainee GP year. I did regular house calls to a house-bound man in his 60s, whose wife ran a small turkey-fattening business. When I was about to finish my Christmas visit, the woman said: "Don't go yet, doctor." She stepped out to the back yard, where there was an avian kerfuffle, followed by a loud screech. She came back in and presented me with a still warm, plump turkey.
I just about got the bird into the boot of my small car. However, as I arrived home to proudly present my prize to Mrs H, when I opened the boot, the bird's neck slowly unwound and fell out, almost wrapping itself around the car exhaust. The long-suffering Mrs H took one look and announced, somewhat firmly, "that thing is not coming into my house."
Happy Christmas to all my Mindo readers. And may 2018's festive season leave you with some joyous memories.