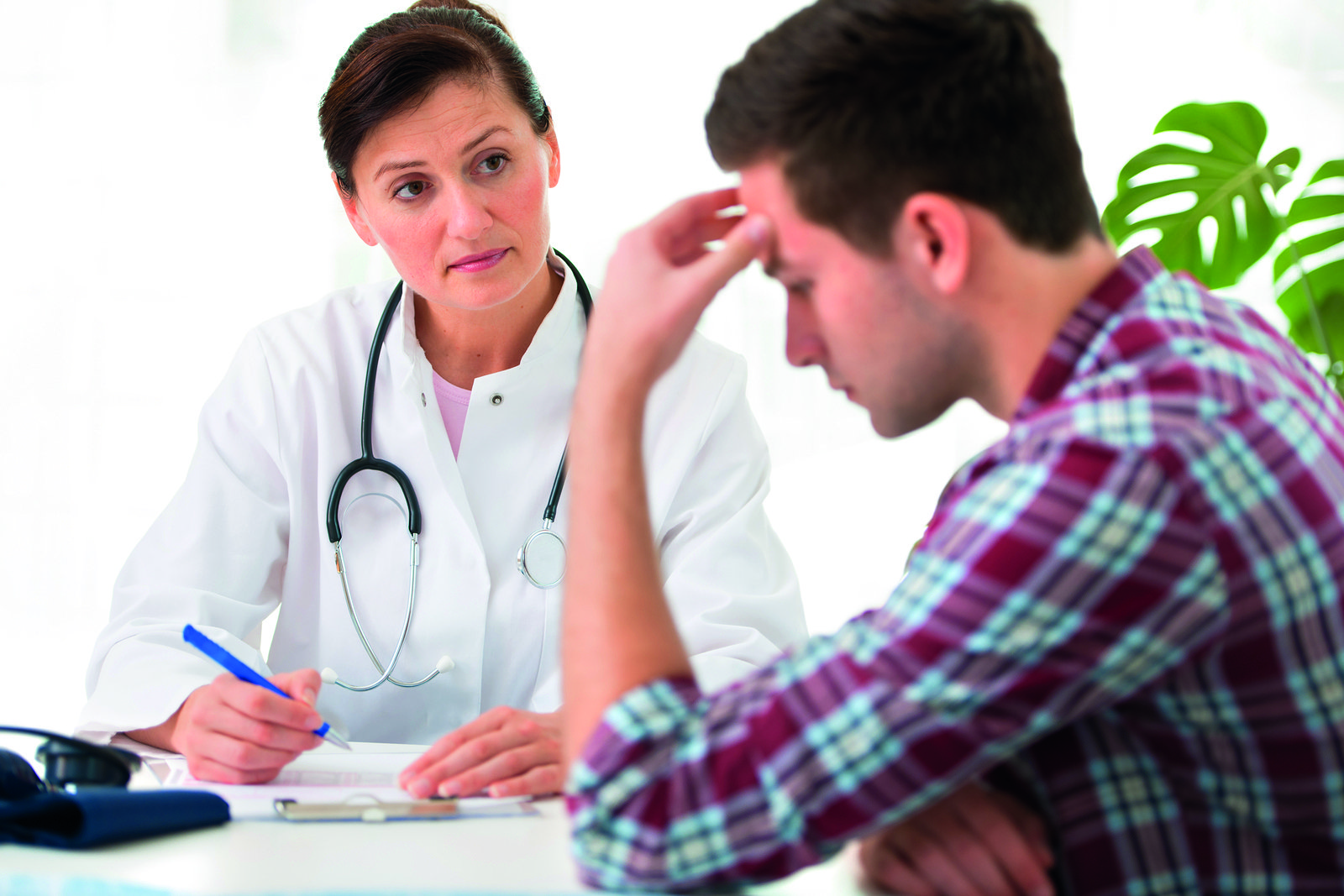 doctor talking to her male patient at office
Lengthening the time doctors spend with patients should be a priority for the health service, writes Dr Muiris Houston
Family doctors in Ireland work under severe pressure. The notional 10 minute consultation is inadequate. But imagine you were working in Pakistan, where the average consultation length is one minute 45 seconds!
Comparative national consultation length figures were highlighted recently in the Royal College of General Practitioners Fit for the Future report.
In 2017 Cambridge University researchers found that British patients spend an average of 9.22 minutes with their doctor.
This ranked just 29th out of 67 nations, with most other wealthy countries including the US, Australia, New Zealand, Canada, and Japan having longer.
Even countries such as Peru, Bulgaria, Latvia, Poland, and Croatia had longer GP appointments than in these islands, the study found.
The longest was in Sweden, where average appointments are 22.5 minutes and the shortest in Pakistan.
The RCGP report calls for manageable GP workload and 15-minute consultations in general practice by 2030.
The report sets out the College's vision for general practice in 11 years' time, with the hope of making the profession 'fit for the future'.
The College says the goals set out in the plan are dependent on general practice receiving at least 11 per cent of the NHS budget and on increasing GP workforce by thousands.
The report says face-to-face GP appointments would last for at least 15 minutes by 2030, with more delivered remotely through digital and video channels.
RCGP chair Prof Helen Stokes-Lampard said: "It is abundantly clear that the standard 10-minute appointment is unfit for purpose. It's increasingly rare for a patient to present with just a single health condition and we cannot deal with this adequately in 10 minutes.
"GPs want to deliver truly holistic care to our patients, considering all the physical, psychological and social factors potentially impacting on their health. But this depends on us having more time to spend with patients and the resources and people to allow us to do this."
There will be a greater use of technology, the report predicts. It sees artificial intelligence (AI) being used more to 'improve triage systems that assess the severity of a patient's health needs'.
At the report launch Prof Stokes-Lampard said: "Ours is an ambitious vision, but it is not a pipe dream."
Well I reckon more than a few Medical Independent readers will disagree about the pipe dream bit. And what maddens me most is the aspiration to improve consultation times by 2030. Why not now?
Okay, I accept that manpower is an issue in the short-term, but equally the current consultation length already poses a danger to patient safety as well as threatening doctor wellbeing.
We know the number of patients who have more than one long-term health condition has been rising by eight per cent per year since 2003. And most primary care consultations do not involve just a single health condition, but multiple conditions. These simply cannot be dealt with adequately in 10 minutes. In addition, estimates show the number of people with a chronic illness rose by 4 per cent per year between 2003 and 2016.
Throw in the incessant decanting of patients from hospital to general practice along with an ageing population and the anachronistic 10-minute appointment, makes the job well-nigh impossible.
I have to admit also that looking for more consultation time per patient flies in the face of "improved throughput" and "enhanced productivity", which are the alpha and omega of industrial relations negotiations these days. So asking for more time to see fewer or even the same number of patients will not be an easy sell. Especially when consultation time is the result of algorithms that prioritise meeting the demand for access to available clinicians over offering enough time for unhurried consultations.
But we must acknowledge that time is the elephant in the room. In an era where shared decision-making is a priority and many patients have multiple chronic diseases, time is crucial.
Ironically, shared decision-making is often most limited during clinical encounters. In general practice, the 10-minute consultation continues as an unattainable goal that leaves doctors running chronically late and patients extremely frustrated. It's often not much better when seeing a specialist, especially in the public system.
In progress reports from the Sláintecare implementation team, we need to hear much more about the importance of time in healthcare. And every medical representative body – ICGP, IHCA and IMO – must move the time issue to the centre of their public advocacy and put it on the agenda at every Ministerial and Departmental meeting.
Time is the oxygen of our health system. Let's value it.