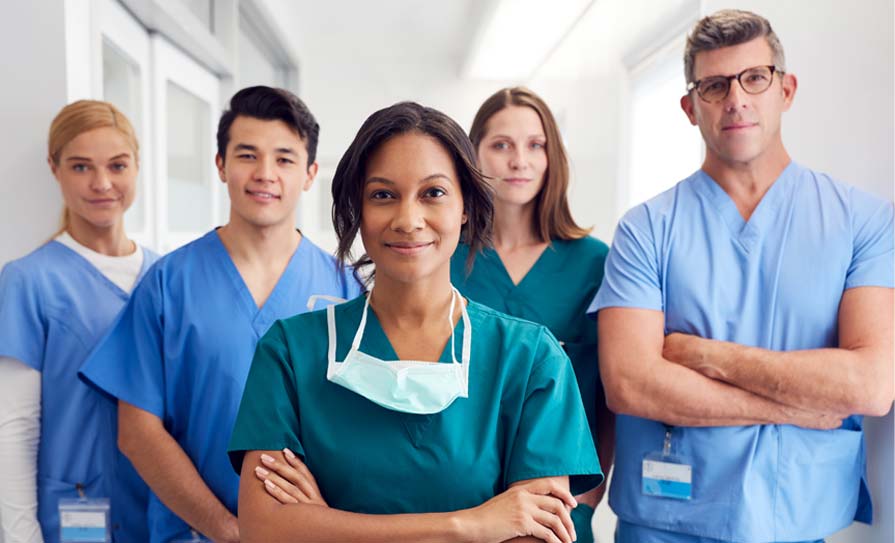 The Universal Covid Scrubs Uniform has joined our profession together in a welcome sartorial unity nobody predicted
My children go to three different schools. One is ridiculously strict about the uniform, persisting with that irritating and exclusionary practice of insisting on branded overpriced items from a single retailer, which requires a pre-booked and a sturdy overdraft.
The other two schools are less pernickety, and one has recently caught up with the welcome trend of allowing generic items, which can be bought from Dunnes or wherever, with just the school tie being "bespoke" (seems an odd word to use about a thin strip of cheap nylon with an overstretched elastic hoop, but you know what I mean).
Everyone in my family is a bit fabric-phobic and we all fare far better on the days that we are wearing clothes that don't drive us mad, so the genericising of the uniform is a relief. The Sultans of Ping famously lamented the loss of a favourite sweater made of pure new wool and perfect stitches ("not the type of jumper that makes you itches"). The importance of comfortable clothes cannot be overstated.
And so I ponder, as I sit in meetings in front of a bargain basement webcam, making earnest faces to show how much I am concentrating (and how much I am NOT playing Happy Colour on my phone at the same time) and how am I ever going to return to a workplace where I cannot spend all day in my fluffy slippers? In fact, I suspect I may have to make it a condition of my employment, that I will never have to wear shoes again. We all made jokes during Covid about dressing from the waist up and wearing leggings for two years, but most of the rest of the world has had to return to some semblance of decency as they return to normal life. I have, instead, regressed to the point where a jumper over my pjs is acceptable grooming on lazy mornings.
The attire of doctors has gone through many phases over the years. For centuries it was very straightforward, because doctors were always wealthy white men so they just wore whatever was the fashion for wealthy white men at the time. Ridiculous beards were standard, with optional elaborate wig and fancy shoe buckles. Bow-ties soon emerged as the neckwear of choice, particularly among the paediatricians and neurologists. Surgeons had the impeccable shirts reminiscent of a former Taoiseach and every male senior registrar ever known has owned a pair of highly polished brown pointy shoes.
Historically, white coats emerged around the same time as antibiotics, reflecting the new awareness around cleanliness and antimicrobial vigilance. For centuries, doctors and nurses wore black to reflect the seriousness of the clinical situation they were entering. Pre-1900, if a doctor was called to treat you, chances were high that you were in pretty precarious health, so he was suitably dour in his dress code (that did not preclude the aforementioned ridiculous beard). The transition to white coats must have at least been visually positive for the ailing patients, if not actually indicative of any real change in their prognoses.
We know now, of course, that a "white" coat is one of the least clean items in a hospital, particularly one that started life back on an eager med student and is still being worn 15 years later by the impoverished NCHD they became. They had been phased out, I believe, long before the welcome arrival of the Universal Covid Scrubs Uniform, which has now led our profession into a sartorial unity, which we could never have previously predicted. Now all grades, all specialities, all genders and all body types have the delight and luxury of elasticated waists, sweat-wicking fabrics and – joy of all joys! – more pockets than an army commando unit. The option of self-expression is still there; you can choose to buy the very fancy scrubs, with the monogrammed chest pocket and the elegantly tapered waistline, or you can go full-scale cheapskate and resurrect the ones you stole from the CUH theatre changing room in 2001… *cough. Whatever scrubs you choose, you will now be universally accepted as a healthcare professional who takes the matter of infection control very seriously and, besides, is far too busy and pragmatic to waste time caring about fashion. There are no footwear choices to be made here; the only shoes that can be worn with scrubs are trainers (no, not Crocs. Never Crocs. Please.)
So we have found ourselves a profession-wide uniform that saves us time, money, and brain-space, and best of all, doesn't makes us "itches".