Commercial Feature
What is tear trough deformity?
The tear trough deformity was first described in 1993 by Flowers et al.1A prominent tear trough deformity is the sunken appearance of the lower eyelid region, which casts a shadow that is resistant to cosmetic concealment. Patients usually describe a tired appearance, and although associated with ageing changes to the skin and subcutaneous tissues, it can present early in those with a genetic predisposition.
The aim of treatment is to establish a smooth transition between the pre-septal and orbital portions of the orbicularis
oculi (OO) muscle and continue into the upper malar region without a definable transition point.2,3
However, my guiding principle is not to treat the area in isolation, but to take into account its interactions with adjacent regions, such as the temple and mid-face.
Approach to revitalisation
Periocular revitalisation has many challenges: Thin skin, complex blood supply, and ligamentous anatomy, rendering the area particularly unforgiving for the novice injector. Attention to technique and a comprehensive knowledge of the anatomy are critical to provide an optimal result.4,5,10 Here we describe a case study in periorbital revitalisation using the DefinisseTM range of dermal fillers.
Our pre-treatment consultation involved a comprehensive medical history to exclude medical contraindications, and a discussion of the patient's concerns – most patients describe 'tired-looking' eyes. This process should be extensive and the potential benefits, complications and limitations of treatment (ie, extensive periocular pigmentation that requires other treatment modalities) discussed.
Clinical assessment
A 51-year-old lady presented with extensive mid-face and periocular volume loss, including the tear trough and temple regions. She was otherwise well with no potential contraindications, good skin elasticity, minimal pigmentation, and no fat prolapse. Treatment protocol Informed consent was obtained and clinical photographs taken. The patient's skin was cleansed with Clinisept, 4 per cent lidocaine and ice packs used for vasoconstriction and analgesia.
The patient was positioned at 45 degrees, as lying flat can obliterate the deformity and hence make targeted injections difficult. DefinisseTM Filler range, the novel soft-tissue fillers made of hyaluronic acid combined with lidocaine, and BDDE cross-linked was used as follows to restore the deep volume loss at the temple and mid-face, deal with hollowing in the tear trough and lateral orbitals, while also using skin boosters to optimise skin appearance. All three variants Definisse™ core filler + lidocaine, Definisse™ restore filler + lidocaine, and Definisse™ touch filler + lidocaine are produced with exclusive and proprietary eXcellent Three-dimensional Reticulation (XTR™) technology, resulting
in a unique rheological characteristic as described in Table 1.11
Treatment was administered in two sessions:  Session 1 DefinisseTM core filler + lidocaine to restore mid-face and temples: For mid-face, I administer DefinisseTM core filler + lidocaine pre-periosteally into the prezygomatic space using a 25G cannula to provide appropriate support to the periorbital area. Temple volume defects are poorly recognised by patients, but can confer significant benefits to rejuvenation of the face, as well as raising the lateral tail of the eyebrow. With age, there is bony and subcutaneous volume loss, leading to temporal fossa hollowing
Temple filler was administered using a 27g needle with a 90-degree angle of entry into a 'safe zone', defined as 1cm superiorly along temporal fusion line and 1cm inferiorly. The plane of injection is pre-periosteal (effectively intramuscular due to the close adherence of temporalis to underlying bone). It is the shallowest part of the temporal fossa and most likely to be free of important vasculature.6,7,8,9 I choose DefinisseTM core filler + lidocaine, as its high G prime (G') produces good lift and minimises the risk of uncontrolled migration. This is my personal preference, as I find more superficial subdermal filler has a risk of contour irregularity. The end result should ensure an acceptable subtle concavity, particularly in females, to prevent masculinisation that occurs with a convexity or overcorrecting of the temple.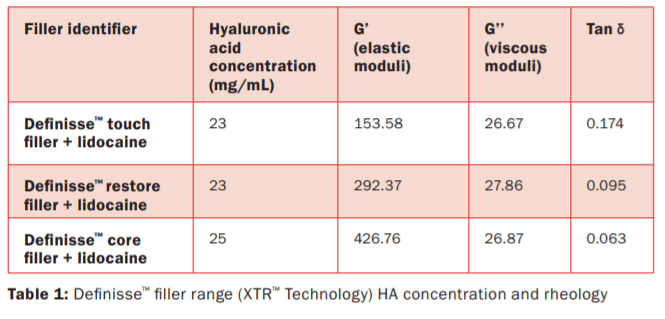 Session 2
A sandwich technique to the periocular area using deep dermal filler and superficial skin boosters: DefinisseTM restore filler + lidocaine using a 30G needle in microboluses to the lateral orbit and to soften the transition to the temple. DefinisseTM touch filler + lidocaine with the lowest G' among the three DefinisseTM filler range, to tear trough via a 25G cannula (TSK) deep to SOOF using retrograde microboluses at the level of the orbital rim. Patients are asked to look up while keeping eyes open to prevent squeezing the eyes, which would raise the cheek and obscure the tear trough. After injection, gentle massage along the tear trough region allows the product to be distributed evenly. A maximum of 0.5ml is used per side.4,5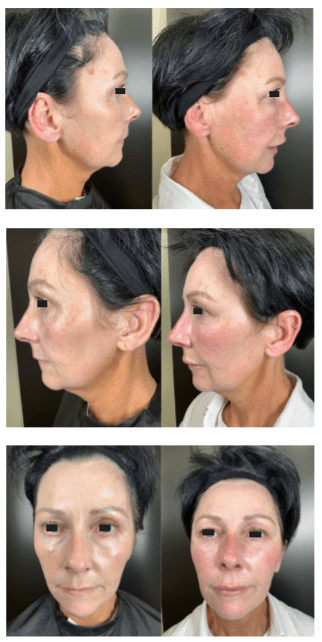 DefinisseTM hydrobooster, with established clinical benefits of hyaluronic acid (HA, 18mg/mL) non cross-linked and glycerol (20mg/mL), is used to improve skin hydration, skin tone, and elasticity after being administered to the dermis in the periocular area using 32G mesotherapy needles.12
Aftercare
The patient was sent home with standard post-dermal filler aftercare. They are advised to avoid heavy exercise, extremes of heat, make-up, and blood thinners, such as NSAIDs. The technical features of the products are well appreciated, such as the glass syringes used on Definisse™ fillers for better haptic grip, minimal risk for plastic contamination, better stability and preservation of the products with the additional benefit of reducing plastic waste.13 Clinical photographs were taken two weeks after the second treatment.
References
Flowers RS. Tear trough implants for correction of tear trough deformity. Clin Plast Surg 1993;20(2):403-15
Hirsch RJ, Carruthers JD, Carruthers A. Infraorbital hollow treatment by dermal fillers. Dermatol Surg 2007;33:1116-9
Hirmand H. Anatomy and nonsurgical correction of the tear trough deformity. Plast Reconstr Surg 2010;125:699-708
Haddock NT, Saadeh PB, Boutros S, Thorne CH. The tear trough and lid/cheek junction: Anatomy and implications for surgical correction. Plast Reconstr Surg 2009;123(4):1332-40
Viana GAP, Osaki MH, Cariello AJ, et al. Treatment of the tear trough deformity with hyaluronic acid. Aesthet Surg J 2011;31(2):225-31
Carruthers J, Humphrey S, Beleznay K, Carruthers A. Suggested injection for soft tissue fillers in the temple. Dermatologic Surgery 2017 – Vol 43, Issue 5; p756-757
Onorati, H. Best Practices for temple rejuvenation. Dermatology Times 2013
Cotofana S, Gaete A. The six different injection techniques for the temple relevant for soft tissue filler augmentation procedures – Clinical anatomy and danger zones. Journal Of Cosmetic Dermatology 2020
Swift A. Dr Arthur Swift's personal "one up, one over" technique to treat signs of aging in the temple hollows. From Upper face: Clinical anatomy and regional approaches with injectable fillers. Plast Reconstr Surg 2015;136(5S):204S-218S
Gladstone HB Cohen JL. Adverse effects when injecting facial fillers. Semin Cutan med Surg 2007. 26:34-39
Salti G, Fundarò SP. Evaluation of the Rheologic and Physicochemical Properties of a Novel hyaluronic acid filler range with eXcellent Three-dimensional Reticulation (XTR™) technology. Polymers (Basel). 2020;12(8):1644. Published 2020 Jul 24. doi:10.3390/polym12081644
Wong V (2021) Resurface, Retone and Reboost: A Multi-Modality Approach for Prejuvenation of Millennial Patients. J Clin
Exp Dermatol Res. S8:549
Wong V, Malgapo DMH. Reharmonise: Aesthetic modalities founded on the concepts of restoring, reshaping, and resurfacing for
the comprehensive treatment of millennials.
J Clin Exp Dermatol Res 2021. 12:562