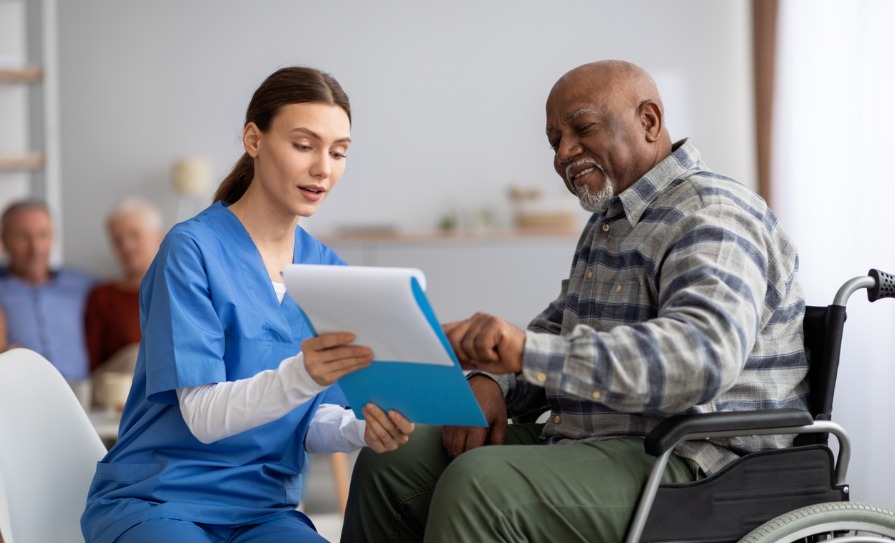 The establishment of a nationwide Fracture Liaison Service could dramatically reduce fracture rates in elderly patients over time
Fragility fractures, fractures that occur after simple falls, are common in people with osteoporosis, a condition that affects over 300,000 people in Ireland.
It is estimated that 30,000 non-hip fragility fractures occur annually in Ireland. These fractures are associated with a substantial reduction in both quality- and quantity-of-life, as well as enormous healthcare costs – the treatment of fragility fractures accounts for approximately 2 per cent of the total healthcare spend in Ireland and costs the health service over €400 million per annum.
Up to 50 per cent of people who sustain a major fracture (eg, a hip fracture) would have had a previous non-hip 'warning fracture'. Ireland has one of the highest rates of hip fractures per head of population in Europe (Kanis, 2021).
Data from the Irish 2019-2020 Major Trauma Audit demonstrates that 62 per cent of major trauma resulted from a fall from a height of less than two metres, ie, resulting from low force, simple falls. Fractures are the main serious injury from these falls, which could be prevented with safe, simple, clinically- and cost-effective measures.
There is now significant evidence that ensuring all adults presenting with fragility fractures are assessed and managed to improve their bone health reduces their risk of further fractures with significant benefits for patients, their families, the healthcare system, and society.
Despite this, most patients with a broken bone are not flagged for bone health checks and falls management. Most of these patients do not get screened, or treated at that point, for osteoporosis. An assessment of their risk of falling, which might help prevent future fractures, is also not carried out at the time of their initial fracture.
The establishment of a nationwide Fracture Liaison Service (FLS) could dramatically reduce fracture rates in elderly patients over time. A key tenant of an FLS is the early identification and management of those at risk of a subsequent fracture through clinical assessment, additional investigations when indicated, and commencement of the appropriate treatment. A national FLS would provide a system for assessing people over 50 years of age who sustain a low-trauma fragility fracture, to diagnose osteoporosis and identify those most at risk of future falls and more serious fractures, such as those of the hip or spine.
The development of such a service is recommendation 15 of the HSE's 2018 report A Trauma System for Ireland – Report of the Trauma Steering Group.
Progress to date
The FLS database was established in 2020 by the National Fracture Liaison Services Steering Committee under the governance of the RCSI National Clinical Programme for Trauma and Orthopaedic Surgery. The FLS database is aligned with the International Osteoporosis Federation's 'Capture the fracture' initiative, which aims to improve access for patients to comprehensive fracture liaison services globally.
The FLS database published its first national report on fragility bone fractures in Ireland in recent months. The report also recommends the establishment of FLSs in hospitals throughout the country, which it says could lead to major reductions in the number of fractures suffered by people as they age.
This report analysed secondary prevention of fragility fractures in eight out of the 16 hospitals that currently manage patients presenting with fractures, and specifically analysed the treatment received by over 2,000 patients during 2021. The low proportion of patients identified and treated demonstrates that Ireland is a long way from adequately managing these patients, in line with international best practice standards.
Prof Frances Dockery, joint Clinical Lead for the FLS database, said: "This report provides a benchmark for future service developments in Ireland. The lack of investment in a national FLS needs to be addressed as a matter of urgency so that all 16 hospitals that receive trauma patients with fractures in Ireland can establish a fully-staffed FLS, and contribute data to the National FLS database to monitor the standards of care their patients receive."
The FLS Steering Group also welcomed the appointment during 2022 of eight Advanced Nurse Practitioners (ANPs) to deliver FLSs through funding from the HSE via the Office of the Nursing and Midwifery Services Director (ONMSD).