Attendees at UCD's Charles Institute Seminar Series heard a presentation by Dr Mitesh Kumar Dwivedi of the
Uka Tarsadia University in Gujarat, India, who discussed the complex role of regulatory T-cells in vitiligo and
how they can present opportunities for therapeutic strategies
The Charles Institute, Ireland's national dermatology research and education centre, hosts a range of guest speakers who cover a variety of topics ranging from skin cancer to psoriasis, among many others. The series, which is sponsored by RELIFE (part of the A.Menarini group), is designed to provide expert advice from a range of distinguished national and international experts in their respective fields and is chaired by Prof Desmond Tobin, Full Professor of Dermatological Science at UCD School of Medicine and Director of the Charles Institute of Dermatology.
The seminars are broadcast to attendees with a special interest in dermatology and cutaneous science in other locations, who access the talks remotely via an audio-visual link. The seminars are held using a hybrid model, combining in-person attendance with interactive online access. Attendees heard a presentation by Dr Mitesh Kumar Dwivedi of the CG Bhakta Institute of Biotechnology, Faculty of Science, Uka Tarsadia University in Gujarat, India. Dr Dwivedi delivered a presentation titled 'The Role of Regulatory T-Cells in Vitiligo: From Pathogenesis to Therapeutics'. Among a wide range of distinctions, Dr Dwivedi has been editor of seven books, has written 15 book chapters and has been contributing to research into vitiligo for the past 14 years and has published 54 research papers in a wide range of highly reputable journals.
Among Dr Dwivedi's research areas, he has a special interest in the immunogenic and therapeutic aspects of vitiligo, rheumatoid arthritis, sickle cell disease, and the role of probiotics in human health and disease.
Autoimmune hypothesis
Providing a basic overview of the condition, Dr Dwivedi explained that vitiligo is an acquired hypomelanotic skin disease that results from the loss of functional melanocytes from the epidermis, which leads to white patches on the skin. A number of theories have been offered in an effort to explain the melanocyte destruction that occurs in vitiligo, however many consider the autoimmune hypothesis to be the most persuasive theory. Antibodies against melanocytes and autoreactive T-cells have been found in the skin and blood of vitiligo patients, which suggests that a hyperimmune response towards melanocytes may lead to melanocyte destruction, said Dr Dwivedi. However, he explained that the exact immune response triggering mechanisms are not fully understood at this time.
The role of regulatory T-cells, or Tregs, has been suggested to control the ongoing immune response in healthy individuals, but in vitiligo patients, both the number of Tregs and the suppressive function of Tregs were found to be decreased, especially in active cases of the condition. Therefore, Dr Dwivedi focused much of his talk on the deregulation of these Tregs and the potential factors involved in this process, such as NFATs and FOXP3, as well as the therapeutic effects of Tregs in vitiligo.
Dr Dwivedi provided an overview of the different types of vitiligo: "Generalised vitiligo is an autoimmune skin depigmenting condition, characterised by bilateral, symmetrical depigmented patches over the entire body," he said. He went on to discuss the generation of autoimmune responses against melanocytes and explained that Tregs play an important role in maintaining peripheral tolerance through the active suppression of self-reactive T-cell activation and of their expansion. "Deficiency or dysfunction of Tregs is associated with impaired immune homeostasis and the development of autoimmune diseases," said Dr Dwivedi, "and studies of murine melanoma have suggested a role for Tregs in progressive depigmentation of the skin."
He also provided synopses of research in which he has been author, with one study suggesting that reduced levels of natural Treg cell population may lead to a global expansion and widespread activation of the CD8+ T cell population, which could result in the destruction of melanocytes in vitiligo patients. "Our findings suggest that the dysregulated CTLA-4 expression in vitiligo patients results from variations at the genetic level," Dr Dwivedi told the seminar.
"For the first time, we showed that the 3'UTR and CT60A/G polymorphisms of the CTLA-4 gene influences both fulllength and soluble CTLA-4 mRNA levels in vitiligo patients, and thus this genotype-phenotype correlation of CTLA4
supports the autoimmune pathogenesis of vitiligo."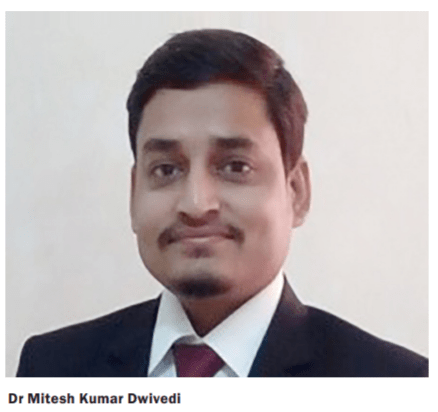 Calcium
Among his recent findings, Dr Dwivedi pointed out that calcium treatment boosts Treg-mediated suppression of
CD8+T cells, and calcium controlled NFATc1 activation enhances the suppressive capacity of regulatory T-cells
in patients with generalised vitiligo.
"Altered calcium homeostasis may be responsible for decreased Treg suppressive capacity in generalised vitiligo," he told the attendees. "The Treg suppressive capacity can be enhanced through modulating the calcium-NFATc1 signalling pathway, and NFATc1 can be a novel target for developing Treg-based therapeutics. Specifically, GSK-3β and DYRK1A could be potential targets to increase NFATc1 activity in Tregs, and thereby enhance the Treg suppressive capacity," he explained.
Dr Dwivedi briefly discussed the role of Treg cells as therapeutics for vitiligo, pointing out that GD3 antigen-specific CAR Treg cells, in particular, can enhance vitiligo control. In addition, he pointed out, MicroRNA-21-5p has been found to protect melanocytes via targeting STAT3 and the Treg/Teffector balance. "There are other approaches that can be used for the induction of regulatory T-cells in vitiligo," Dr Dwivedi told the attendees. "Increased expression of the chemokine receptor CCR5 on Tregs enhances Treg function and vitiligo control in vivo, with an enhanced killing activity of the regulatory T-cells," he said. "In addition, IL-5 can promote the induction of antigen-specific CD4+, CD25+ Tregs that suppress autoimmunity."
Prevention of melanocyte destruction
Dr Dwivedi provided a brief synopsis of research in the area, as well as other approaches for the therapeutic induction of regulatory T-cells. "Acidic polysaccharide of Panax ginseng (APG) promotes the generation of immunosuppressive Tregs through the activation of FOXP3," he said. "Also, cholecalciferol (vitamin D) applied topically can induce different subsets of regulatory T-cells, and Treg-boosting compounds targeting the key transcription factors NFATs and FoxP3 can enhance the Treg immune suppressive capacity."
Concluding, Dr Dwivedi told the seminar: "Decreased frequency and function of Tregs might be involved in the T-cell mediated pathogenesis of vitiligo and its progression," he said. "It's important to note also that calcium-controlled NFATc1 and FOXP3 expression plays an important role in Treg cell function in vitiligo. The failure to suppress the ongoing immune response to melanocyte self-antigens by Tregs may contribute to progressive depigmentation of the skin in vitiligo patients.
"Therefore, re-establishment of the functional Tregs in vitiligo patients can control the melanocyte destruction." During an interactive Q&A session following the presentation, Prof Tobin and Dr Dwivedi discussed what is often a somewhat confounding aspect of how we understand auto-inflammatory disease. Prof Tobin commented that much of the data presented in the seminar reflects the circulatory immuno-phenotype in vitiligo, ie, from assaying patient blood. He asked Dr Dwivedi: "To what extent do you feel that vitiligo is a systemic condition? Do you feel a similar immune perturbation may occurlocally in the skin itself?"
Dr Dwivedi responded: "This is a very apt question. Currently, we are working on skin experiments to see if these changes also can be seen in the skin. We will use melanocytes cultured from the skin as well as CD4+ and CD8+ T lymphocytes to see if similar changes occur locally in the vitiligo skin."
RELIFE has had no input into the content of this article or
series of seminars