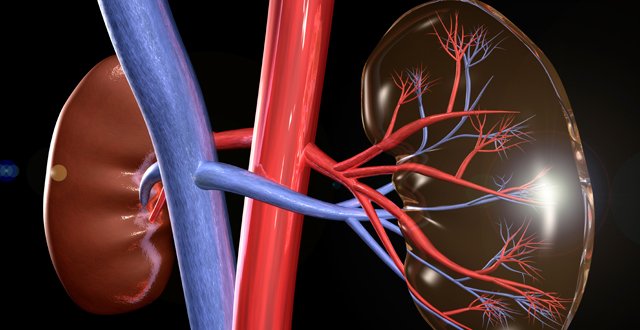 No improvement in disease-free survival (DFS) with adjuvant pazopanib (a VEGF tyrosine kinase inhibitor) was observed for patients with no evidence of disease following metastasectomy for renal cell carcinoma (RCC) when compared with placebo, according to results of a phase 3 trial presented at the 2019 ASCO Annual Meeting. Although effective targeted therapy has become increasingly available for the systemic management of patients with metastatic RCC, the clinical benefit of this approach in patients with no evidence of disease following metastasectomy was unknown at the start of the study.
E2810 was a randomised, double-blind, placebo-controlled trial to test the hypothesis that pazopanib would improve DFS in stage IV patients with no evidence of disease following metastasectomy.
"E2810 found that pazopanib treatment for one year did not improve the chance of survival without disease recurrence," said lead trial investigator Dr Leonard J Appleman, a medical oncologist at the University of Pittsburgh and the University of Pittsburgh Medical Centre Hillman Cancer Centre, US. "This finding is important because these patients are at particularly high-risk of recurrence, and treatments shown to benefit patients with metastatic disease in place have been attractive to study after surgery to completely remove all visible sites of cancer." These findings are consistent with earlier studies with other VEGF tyrosine kinase inhibitors.
Following initial surgery, select patients with stage IV RCC may undergo metastasectomy to remove one or a very limited number of metastases that develop. While this approach can sometimes lead to durable control of disease, most patients ultimately recur. No systemic therapy has been shown to benefit this population, thus, the current standard-of-care outside of a clinical trial remains surveillance following the surgery to remove the metastases.
From August 2012 to July 2017, 129 eligible patients were enrolled into the trial by physicians at 58 clinical sites across the US. Patients were randomly assigned 1:1 to receive pazopanib starting at 800mg daily vs placebo for 52 weeks. Patients were stratified by one vs > one site of resected disease, and by disease-free interval ≤ one vs > one year. Clinical assessments for toxicity and patient-reported outcomes were performed every four weeks and restaging scans were performed every 12 weeks.
The median follow-up from randomisation was 30 months (range 0.4–66.5 months). More than half the patients have had a recurrence of their cancer either during the treatment period or in later follow-up. Most (83 per cent) of the patients are still alive and some have begun further treatment.
Meanwhile, a separate Canadian study presented at ASCO 2019 concluded that active surveillance in metastatic RCC (mRCC) is a safe option in certain patients.
While active surveillance is a commonly used strategy in patients with low tumour burden or slow growing disease, few studies have assessed active surveillance for mRCC compared to immediate treatment. This study aimed to assess the outcomes and safety of active surveillance in comparison to immediate systemic treatment for mRCC patients. Using the Canadian Kidney Cancer information system (CKCis), Canada's largest database of patients with kidney cancer that collects prospective patient data from 14 Canadian academic centres, mRCC patients diagnosed between January 1, 2011 and December 31, 2016 were identified. Active surveillance strategy was defined as: (1) start of systemic therapy ≥ six months after diagnosis of mRCC; or (2) never receiving systemic therapy for mRCC with an overall survival (OS) ≥ one year (OS ≥one year a surrogate to exclude patients not started on treatment due to poor prognosis). Patients starting systemic treatment <six months after diagnosis of mRCC were defined as receiving immediate systemic treatment. OS and time until first-line treatment failure (TTF) between the two cohorts were compared.
A total of 863 patients met criteria for active surveillance (cohort A). Of these, 370 started treatment ≥ six months after their initial diagnosis (cohort A1) and 493 never received systemic treatment and were alive for ≥ one year (cohort A2). A total of 848 patients received immediate systemic treatment (cohort B). Median age for patients in cohort A and B was 65.1 (19.0-91.5) vs 62.2 years (23.1-87.1) (P< 0.0001). Sex distribution was not statistically different. Patients in cohort A had fewer sites of metastatic disease vs cohort B and 23 per cent of patients in cohort A had metastasectomy vs 5 per cent in cohort B. Five-year OS probability was significantly greater for cohort A than for cohort B (70.2 per cent vs 32.1). After adjusting for IMDC risk criteria and age, both OS (HR 0.46, 0.38-0.56) and TTF (HR 0.79, 0.69-0.92) were greater in cohort A1 vs B. For cohort A1 the median time on active surveillance was 14.2m (range 6-71).
Based on the largest analysis of active surveillance in mRCC to-date, this data suggests that a subset of patients may be safely observed without immediate initiation of systemic therapy. The study authors note, however, that as patients were treated between 2011 and 2016, a prospective validation is required in the contemporary
immunotherapy era.