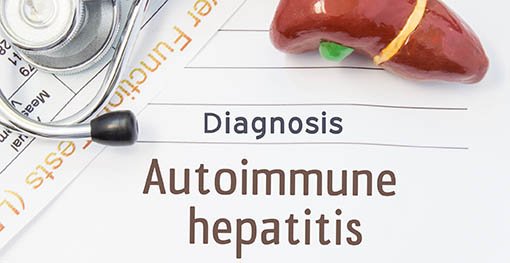 Autoimmune hepatitis diagnosis. Anatomical 3D model of human liver is near stethoscope, results of laboratory tests of liver function and printed on notepad diagnosis of Autoimmune hepatitis
Autoimmune hepatitis (AIH) is on the rise but remains under-diagnosed and under-recognised, the 2019 ISG Winter Meeting heard
Irish-born AIH expert Prof Dermot Gleeson, Professor of Hepatology at Sheffield Teaching Hospitals, UK, gave a tour de force update on AIH, a corticosteroid-responsive liver disease arising consequent to immunogenetic and environmental risk factors, which can be difficult to correctly diagnose and treat.
"AIH is still in the 20th Century in terms of treatment and randomised controlled trials," he commented.
Core diagnostic AIH features include the patient having an 'active' hepatitis, negative virology, typically a raised globulin or IgG, antibody titers, and a high incidence of rosettes and emperipolesis in histology. It "is a disease of women" and has a peak of around 60 years, not younger as previously believed, Prof Gleeson said.
Misdiagnosis/under-diagnosis is common, especially with the simplified AIH diagnostic criteria.
"We miss about 30-to-40 per cent of probable AIH by the more expansive 1999 criteria, and this is steroid-responsive disease," he said.
Prof Gleeson stated it is accepted that a diagnostic biopsy is generally needed. Differential diagnoses include Wilson's disease, hepatitis E, and non-alcoholic fatty liver disease or drug-induced liver injury. If uncertainty still exists around the diagnosis of AIH, Prof Gleeson recommended excluding all viruses and precipitants, checking soluble liver antigen antibody, HLA type, and carrying out a steroid trial; "if there is no response, then AIH is less likely".
AIH is on the rise, but remains under-recognised, according to Prof Gleeson.
"This disease is becoming commoner," he said.
"The prevalence is about 23 per 100,000, which means that if you have a catchment area of 250,000, you should have 60 patients. If you have a lot less than that, you'd have to wonder if you are under-diagnosing AIH."
Quoting familial risk data on AIH, he said, while there is an increased genetic risk, it is still quite small overall.
"The absolute risk is very low… even for a twin, the absolute risk is one-in-77," Prof Gleeson said.
The clinical course of AIH reflects relapsing and remitting, hepatocyte-targeted immunologic damage, which is countered by reparative responses to cell injury, with cirrhosis occurring in 12-to-20 per cent of patients at 10 years. Appropriate and timely immunosuppressive therapy can drive the disease into remission, albeit with inevitable side-effects, and relapse is frequent (50-to-70 per cent in one year if treatment is stopped). "It sums everything up with regards to AIH that we are still basing standard treatment on a trial published almost 50 years ago — a Mayo Clinic study that showed high-dose prednisolone or combination lower-dose prednisolone plus azathioprine led to higher clinical, biochemical and histological remission rates compared to azathioprine or placebo. Importantly, there was no difference between azathioprine or placebo, so azathioprine as an induction treatment is useless. It's fine for maintenance, but it is useless on its own to induce remission."
While steroids are generally very necessary, Prof Gleeson also cautioned about dosages and side-effect risks, including diabetes development and higher mortality rates, "so please be careful with high-dose steroids". For AIH patients who are intolerant of steroids, budesonide is the standard choice, "though it is not to be used in cirrhosis", while for those intolerant of azathioprine, mycophenolate (though not in pregnancy) can be used, he said. Tacrolimus also has good results as a second-line drug.
Summarising what is needed to improve outcomes in AIH, Prof Gleeson said dedicated consultants and more specialist nurse involvement are needed, as are better short-term surrogate markers of outcomes, non-invasive fibrosis monitoring, a better focus on patient perspectives, more audit, and cancer screening and vascular risk factor stratifying.
Speaking to the Medical Independent, Prof Gleeson said doctors "need to listen to AIH patients more".
"These people have a bad quality-of-life. They take these drugs that give them side-effects and I don't think we have paid enough attention to that. There has been a kind of complacency about treatment of AIH over the last seven decades really, since the advances of the 1970s, and it has been kind of static since then.
"There are various reasons why it has been difficult to develop drugs and to compare them — we lack markers of outcomes. It is only in the last decade that we have realised that the outcome isn't actually as good as we thought… "
He agreed that there is not enough attention and awareness about AIH compared to hepatitis C, and that compared to 25 years ago, "now AIH is the worse one to get."