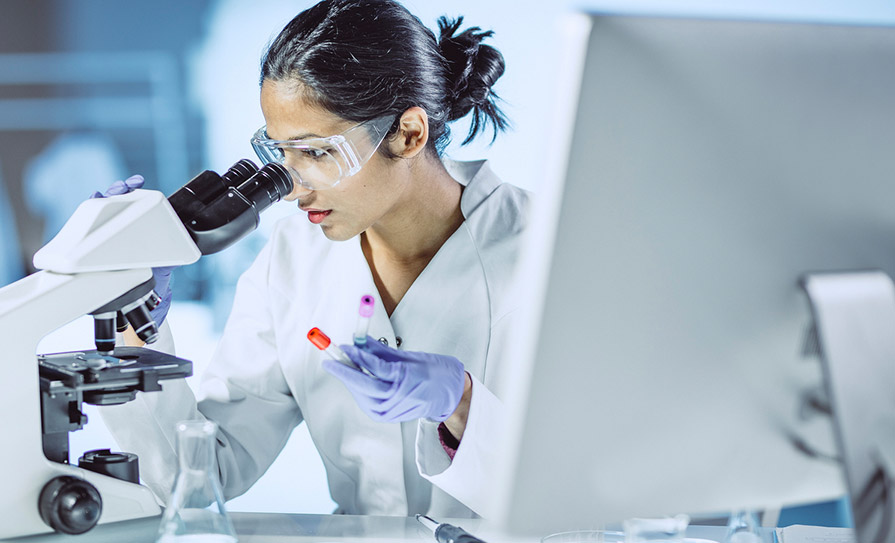 Chimeric antigen receptor (CAR) T-cell therapy is a highly personalised technology whereby a patient's own T-cells can be re-programmed to target and kill cancer cells. It involves collecting T-cells from a patient's blood and genetically altering them in a lab before transfusing
them back into the patient to fight the cancer.

Ireland's first adult CAR T-cell Centre was opened in St James's Hospital, Dublin, in 2021. The first patient was treated in December 2021; the first time this innovative immunotherapy was available within the country. Since then all patients receiving CAR T-cell therapy have been treated in the hospital's stem cell transplant unit, which has over 30 years' experience in delivering cell therapy.
This programme has been made possible through a major collaborative effort between St James's Hospital, the Department of Health and the National Cancer Control Programme (NCCP). It is an expensive therapy, as the costs incurred are not solely related to the cost of the CAR T-cell product, but significant infrastructural costs, including additional high-dependency beds, specialist medical and nursing staff, and laboratory resources.
CAR T-cell therapy is the most advanced immunotherapy currently commercially available for patients with relapsed refractory high grade B-cell lymphoma (DLBCL), primary mediastinal B-cell lymphoma (PMBL), and B-cell acute lymphoblastic leukaemia (B-ALL).
It is a complex therapy and is associated with two specific side-effects; cytokine release syndrome (CRS) – a systemic inflammatory response, and immune effector cell-associated neurotoxicity syndrome (ICANS) – a brain-specific inflammatory response.

The process

It is a very specialised therapy that requires significant multidisciplinary input to ensure a safe and effective service delivery. The multidisciplinary teams include the haematology transplant team (medical, nursing, allied health) supported by administration, intensive care, neurology/neurophysiology, radiation oncology, radiology, pharmacy, stem cell laboratory, and input may be required from other
specialist services. The CAR T-cell process is co-ordinated by Liz Higgins (CAR T-cell Clinical Nurse Manager III) throughout this complex journey.
The process involves collecting a patient's own T-cells as an outpatient in the haematology day ward apheresis unit by our team of specialist nurses. They are then prepared for export in the hospital's on-site stem cell laboratory under the guidance of Dr Nicola Gardiner, Chief Scientist, Cryobiology Laboratory. These cells are then sent overseas to a CAR T-cell manufacturing facility where
they are re-engineered to express a receptor to target the cancer cells. Following a robust quality assessment, the cells, now deemed a medicinal product, are returned to the stem cell laboratory. At this stage, the CAR T-cell pharmacy team led by Olga Crehan, (Chief Pharmacist, Haematology/Oncology) and the stem cell laboratory scientists perform a final quality check to verify the drug is suitable
for infusion.
Prior to reinfusion, the patient receives three days of lympho-depleting chemotherapy, which can be administered as an outpatient or inpatient depending on patient logistics. The patients are admitted to the cell therapy ward managed by Fidelma Dowdall for reinfusion of CAR T-cells. Patients will typically remain in hospital for 10-to-14 days to monitor and treat any side-effects.

Results to date

Between opening in December 2021 until February 2023, 26 patients had received CAR T-cell therapy (23 DLBCL, two PMBL and one patient with B-ALL). The expected toxicities of CRS and ICANS were observed in 22 patients. Seven patients were transferred to ICU for critical care management. No patients have died from treatment-related toxicities to date (February). It is too early in the programme to comment on outcomes post CAR T-cell therapy, but so far outcomes compare favourably to that reported in the literature.

Future plans

It is expected that the use of CAR T-cell therapies in the future will grow exponentially due in part to the development of new products (bispecific CAR T-cell, allogeneic products) and new indications (low-grade lymphoproliferative disorders, multiple myeloma, solid tumours). 
A new trial for patients with multiple myeloma (CARTITUDE-5) has recently opened in St James's Hospital and is being delivered by collaboration between the Cancer Clinical Trials Unit (CCTU) and the Clinical Research Facility (CRF). CARTITUDE-5 is comparing the efficacy of bortezomib, lenalidomide, and dexamethasone (VRd) induction followed by a single administration of ciltacabtagene autoleucel (cilta-cel) versus VRd induction followed by lenalidomide and dexamethasone (Rd) maintenance in newly-diagnosed multiple myeloma participants for whom ASCT is not planned as initial therapy in terms of progression-free survival (PFS). Healthcare professionals can contact CARTITUDE-5Clinicaltrial@stjames.ie for queries regarding patient participation.
This is the first CAR T-cell clinical trial to be opened in Ireland and it is expected that other CAR T-cell trials will follow.