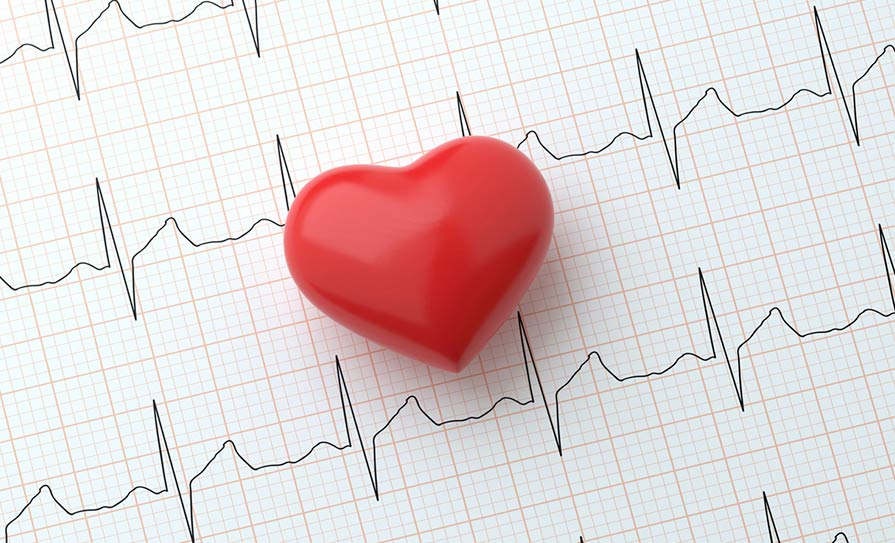 A nurse's experience with the stroke patient care pathway and the development of cardiac monitoring at UHL
Each year 1.4 million people have a stroke across Europe. The majority of all strokes are ischaemic, which means that they occur as a result of an obstruction, such as a blood clot, within the blood vessel. However, in around 25 per cent of cases, the cause of the stroke cannot be determined. This is what is known as a cryptogenic stroke.
About 25-to-30 per cent of these strokes are the result of atrial fibrillation (AF), the most common sustained cardiac arrhythmia worldwide, which can cause blood clots and increases the risk of stroke significantly. The incidence and prevalence of AF increases with age, and approximately one-in-four European adults over the age of 55 will develop AF. Prevalence data from the Irish Longitudinal Study on Ageing (TILDA) estimate the prevalence of AF at 3.2 per cent in Irish people over the age of 50, and using national population projections, this number is expected to significantly increase in the coming decades.
University Hospital Limerick (UHL) was one of the first hospitals to implement long-term cardiac monitoring for patients, post-stroke. Patients with potential AF need to be further investigated and closely monitored in order to determine the most suitable management and treatment option. This process is also critical to the prevention of secondary strokes.
Each year UHL admits over 430 stroke and 200 transient ischaemic attack (TIA) patients. Yet, despite the European Society of Cardiology (ESC) and European Stroke Organisation (ESO) guidelines both advocating the use of implantable loop recording devices, there is still very little awareness around cryptogenic stroke and clinicians are often not considering loop recording devices as a viable treatment option. This, combined with gaps in the referral process and a lack of patient compliance, means that loop recording devices have remained relatively under-utilised.
The implantable loop recorder monitors a patient's heart rate and rhythm for up to four-and-a-half years, and provides the most reliable picture of the health of patients who have experienced strokes or loss of consciousness.
Without such data, clinicians are unable to reliably determine the cause of a stroke or a loss of consciousness in patients. Long-term monitoring enables the cause to be determined and treated effectively.
Patients with the implant are monitored at home, and can contact the nursing team for advice if they experience symptoms. If an abnormal rhythm is detected, nurses will contact the patient to organise a management and treatment plan.
Assessing the existing stroke pathway
The existing stroke patient pathway at UHL meant stroke patients would be referred directly to cardiology after their stay on the acute ward, where they would then have a loop recording device implanted. This procedure was carried out in a catheterisation laboratory (cath lab) and required a full cath team. Each procedure took 45 minutes and patients were then required to recover post implantation for another one-to-two hours.
Due to the busy nature of cardiology departments, and despite the procedure being short and minimally invasive, there were several inefficiencies in this approach. Appointments were regularly cancelled and patients often had to wait for long periods before being seen by the cath team. In response to these challenges, the stroke and cardiology departments carried out an audit to identify areas for improvement. The audit highlighted that there was an eight-month waiting period from hospital discharge to the implantation of a patient's loop recording device. This process was overseen by the cardiology service. UHL recognised that acute care and patient follow-up within the patient pathway could be streamlined within stroke departments, reducing anxious waiting periods, and freeing up vital cardiologist resources.
A new stroke patient pathway was born
In 2018, I helped develop a nurse-led pathway to streamline the implantation of loop recording devices, and set up an implantable loop recording list where patients would be directly admitted to the rapid access medical unit. Patients would be selected on the basis of a referral, post-inpatient cardiac monitoring, for between 24-to-72 hours, an echocardiogram, an MRI, and full blood work. When the service began, nurses only had access to the use of a small hospital room once a month, for a couple of hours. The procedure, inclusive of recovery, lasted up to 35 minutes and patients were given a specific appointment where there was minimal danger of cancellation. The loop recorder was implanted by an advanced practice provider (AAP), and often patients were treated and supported by nurses who had met them at the doors of the emergency department on admission.
Once discharged, the nurse would then follow up with the patient within 24 hours, making sure they were comfortable. The nurse later follows up with the patient a further two times at three and six months. If AF was detected, the nurse would contact the patient and talk them through the diagnosis, organising their coagulation prescription without the patient having to visit a hospital. UHL's monitoring is managed externally and each week nurse practitioners are alerted with a traffic light system with red, amber, or green notifications. A report is then generated and sent directly to the nurse who would look over it in more depth and identify the most suitable management option. The patient has access to the practitioner nurses Monday to Friday, 9am to 5pm, which is the same access that they would have had with a cardiologist.
I had the full support of the stroke and cardiology departments and, alongside my team, we put together a business case for hospital management to implement this pathway more broadly. We highlighted the benefit of the time and costs saved by moving the procedure from a cath lab into a specialist room, which would enable more urgent procedures such as the implantation of pacemakers or implantable cardioverter-defibrillators (ICDs) to be carried out, while ensuring stroke patients' appointments remained on time, without risk of cancellation.
Evidence to support the standardisation of implantable loop recording devices
There is significant evidence in support of the application of implantable loop recording devices for stroke patients. In 2016, the ESC released guidelines regarding the management of AF, calling for the urgent involvement of a specialised AF service in hospitals. This view is also supported by the American Hospital Association (AHA), and the ESO.
There has been much success with UHL's new stroke care pathway. This includes an AF detection rate increase of approximately 26 per cent and, a mean time of implantation to detection of 54.3 days with no cases of complications to date. Additionally, a minority of patients have been implanted before discharge and this management option has been extended to combine stroke, cryptogenic stroke, and transient loss of consciousness (TLoC) referrals.
Adapting to implantable loop recording devices
It is important that teams are trained to overcome potential challenges that may arise with implantable loop recording devices. Often nurses have very little exposure to surgical procedures. Consequently, to prepare for device implantation, they are usually required to embark on surgical training, scrubbing up on incision techniques and learning how to suture. Post the Covid-19 pandemic there is already immense pressure on the HSE and surgeons may not have enough time or the correct resources to be able to support the training of nurses.
Younger patients can often be more complicated to treat and, prior to having their loop recording devices implanted, may go on to have a trans-oesophageal echocardiogram (TOE) carried about by a cardiologist, a process which can take up to six weeks. In more complex cases, UHL would be required to raise concerns regarding the patient's treatment at their multidisciplinary meetings, which are held monthly in order to discuss such patients, and a combined consensus would be made to ensure the most appropriate line of care is delivered – delaying the implantation of the loop recording device.
It is incredibly important to have the full support from the hospital with all stakeholders onboard with the revised pathway. Implantable loop recording devices require input from a wide range of medical professionals including acute care staff, cardiologists, and stroke specialists. In order for the care pathway to be most effective, all stakeholders need to align and advocate for the use of implantable loop recording devices not only during a patient's stay in hospital, but also post-discharge. It is when patients are reintegrated back into the community that they are likely to feel most vulnerable and will require ongoing follow up support from the nurse-led pathway.
Our team of specialised nurses at UHL have demonstrated our invaluable roles in developing and implementing a new cardiac monitoring pathway for stroke patients. It is clearly a pivotal time to be working within cardiology and stroke services, and this pathway has brought to light the essential role that nurses have within the HSE and in supporting patient care.