This article sets out the key changes in the GINA 2020 recommendations, including approaches to Covid-19 and paediatric asthma
The Global Initiative for Asthma (GINA, https://ginasthma.org) is a medical guidelines organisation, which works with public health officials and healthcare professionals globally to reduce asthma prevalence and mortality.
The 2020 report of the Global Strategy for Asthma Management and Prevention sets out new scientific information about asthma and is a review of the most recent scientific literature by an international panel of experts on the GINA Science Committee.
Since 2007, GINA has been actively seeking interventions for mild asthma in order to reduce the risk of exacerbations and death and also to set out goals of treatment and preventing exacerbations, as well as guidelines
on the use and reliance of short-acting beta-agonists (SABA) in early disease.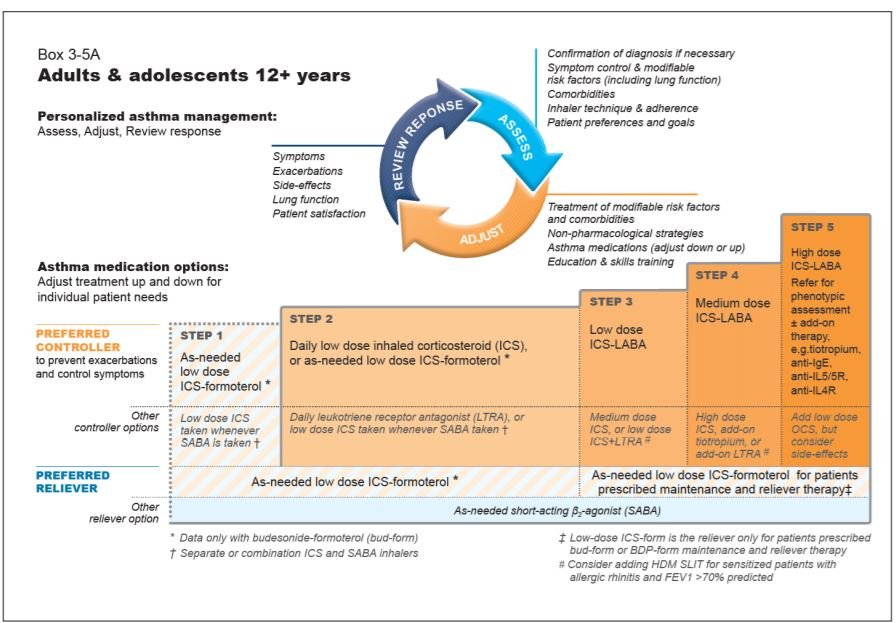 In 2019, GINA published landmark changes in the management of asthma:
▸SABA monotherapy – no longer recommended for Step 1. The background to this change was that frequent use of SABA is associated with adverse clinical outcomes – dispensing of >three canisters per year was associated with increased risk of emergency department presentations and dispensing of >12 canisters per year was associated with higher risk of death.
▸In children under five years, the evidence is still unclear – a trial of ICS should be used in those not responding to as-needed SABA.
▸ICS (inhaled corticosteroids) recommended for all adults and adolescents with asthma to reduce risk of serious exacerbations (regular daily treatment or as-required low-dose ICS-formoterol).
GINA recommendations on Covid-19 and asthma 2020
▶ Advise patients to continue taking their prescribed asthma medications, particularly ICS and OCS (oral corticosteroids) if prescribed.
▶ Patients on biological therapy for severe asthma should continue and not stop if prescribed OCS.
▶ All patients should have a written asthma action plan that should be followed and this action plan should include instructions about increasing controller and reliever when required, taking a short course of OCS for severe exacerbations if needed and outlining when to seek medical help.
▶ Nebuliser therapy should be avoided where possible due to the risk of disseminating virus to other patients and to healthcare staff. Use of a pressurised metered dose inhaler via a spacer is the preferred treatment during severe exacerbations.
▶ Spirometry and peak flow tests should be avoided, again due to the risk of dissemination and should only be carried out if there is an urgent need.
Summary of GINA 2020 recommendations
▶ Covid-19 and asthma recommendations as outlined above.
▶ All patients with asthma should be treated with ICS regularly or as required, but trialled in children under five years to be reviewed after three months of therapy.
▶ GINA no longer recommends SABA alone for first-line.
▶ For adults and adolescents over 12 years old GINA recommends ICS in combination with formoterol for as-needed symptom relief.
▶ ICS with SABA recommended in children aged six-to-11 years.
▶ Mild asthma – where reliever is required no more than twice per month. The preferred treatment is as-needed ICS-formoterol combination.
▶ All patients should be regularly reviewed and this should include (1) assessment, (2) adjustment, and (3) review of any response to adjustments.
(1) Assessments to include confirmation of diagnosis, symptom control and modifiable risk factors, inhaler technique and adherence, and patient preferences and goals.
(2) Adjustments should involve treatment of modifiable risk factors and comorbidities, non-pharmacological strategies, adjustments of asthma medications and education and skills training.
(3) Response review should look at symptoms, exacerbations, side effects, lung function and patient or parent satisfaction.
Should all patients start at Step 1 of management? Recommended options below – based on symptom prevalence – remember Assess, Adjust, and Review.
What dose of ICS-formoterol as-needed to prescribe?
The guidelines recommend as-needed low-dose budesonide-formoterol to be prescribed in maintenance and reliever therapy (Steps 3-5) above or as-needed only therapy (Step 1).
Max daily dose recommended is 72mcg (12 inhalations of budesonide-formoterol Turbohaler 200/6mcg).
For as-needed low-dose beclomethasone-formoterol prescribed in maintenance and reliever therapy the max daily dose is 48mcg (six inhalations of beclomethasone-formoterol 100/6mcg).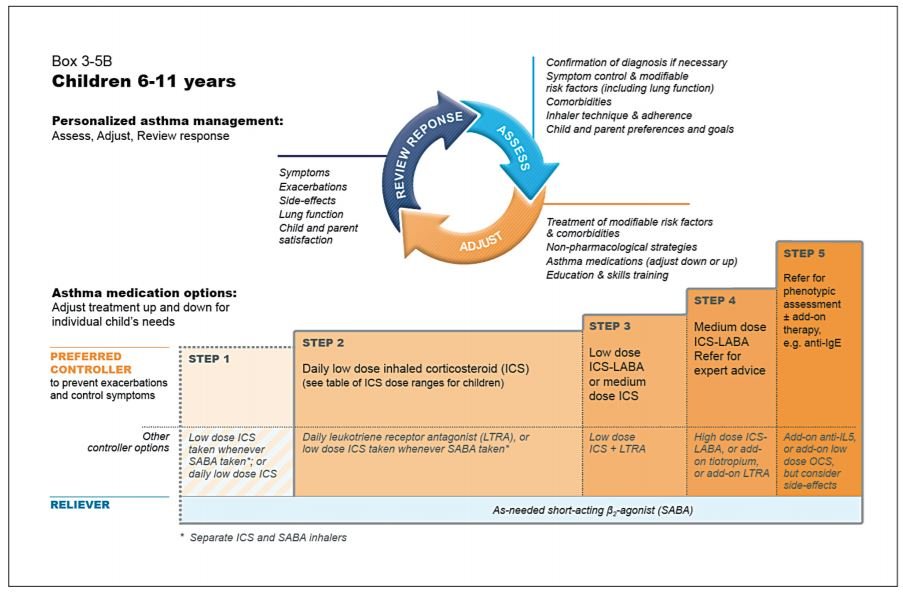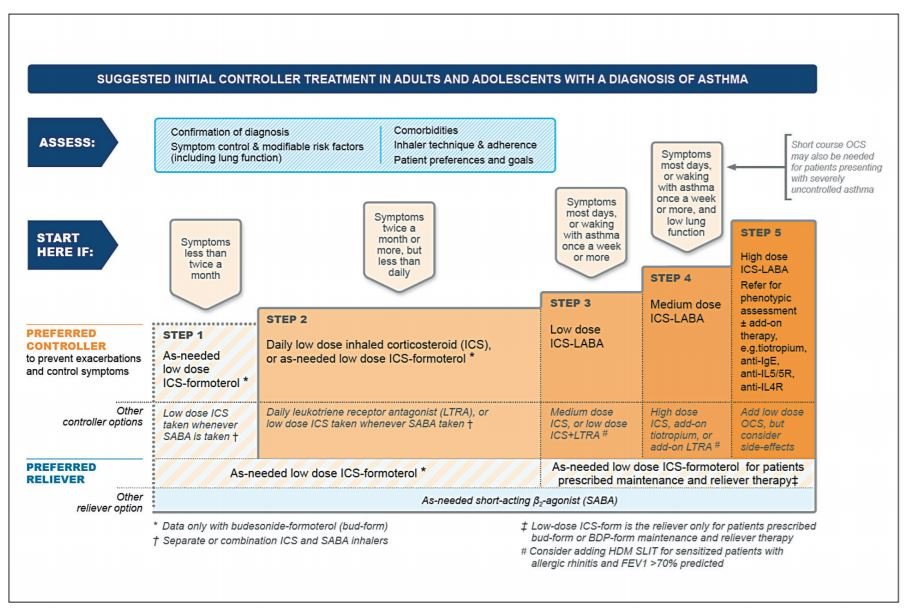 In assessing symptom control and frequency of SABA use, GINA recommends asking the following questions in the box on page 27 (Box 2-2) and categorising them according to level of control.
Further data is awaited on assessing whether ICS use should be included in the symptom control assessment. Low-dose ICS is all that is required for most patients, however, some patients may require medium dosing if their asthma symptoms are uncontrolled despite following correct techniques and usage.
High-dose ICS is required for a very small cohort of patients due to the increased risk of systemic side effects with this use. In Step 2 of management, the daily use of a leukotriene receptor antagonist such as montelukast is recommended, however, GINA recommends that its use must be closely monitored and its benefits and risks considered by the clinician prescribing, given the US FDA warning that was issued in March 2020.
The FDA warns that there is a serious risk of neuropsychiatric events including suicidality, nightmares, and behavioural problems among adolescents and adults prescribed this.
Children five years and younger
A diagnosis of asthma in young children with a history of wheezing is much more likely if:
▶ It is wheezing that is associated with exercise, laughing or crying, or in absence of any respiratory infection.
▶ There is the presence of another allergic disease such as eczema or allergic rhinitis, allergen sensitisation or asthma in a first-degree relative.
▶ There is worsening of symptoms with cessation of controller treatment and clinical improvement during two-to-three months of treatment.
GINA recommends a probability approach and following symptom pattern in diagnosing asthma under the age of five.
Estimated probability of asthma diagnosis in under five-year-olds
▶ Symptoms (cough, wheeze and heavy breathing) for <10 days during an upper respiratory tract infection with two-to-three episodes of this per year and no symptoms in between – few have asthma.
▶ Symptoms (cough, wheeze and heavy breathing) for >10 days during an upper respiratory tract infection, occurring three or more times per year and/or worsening at night-time, with often wheezy episodes in between – some have asthma.
▶ Symptoms (cough, wheeze, and heavy breathing) for >10 days during upper respiratory tract infections with >three episodes per year, worsening of symptoms at night and a history of allergic sensitisation, atopic dermatitis, food allergy or positive family history – most have asthma.
The goals of asthma management in young children are similar to adult management, with the objective being to achieve good control and maintain normal activity levels as well as minimising the risk of flare-ups, impaired lung development, and side effects of medications.
GINA recommends that all wheezy episodes in children should be treated initially with inhaled SABA, regardless of a diagnosis of asthma being present.
Asthma management in general practice
The Asthma Society of Ireland has developed resources and training programmes aimed at GPs. These are up-to-date to reflect the new GINA 2020 guidelines. Goals of long-term management remain to achieve and maintain symptom control and prevent any further exacerbations or mortality.
Regular review, assessment and adjustment where required will remain to ensure good adequate control of symptoms. The key to this is guiding self-management in the patient through education and training and ensuring formulation of an action plan to follow.
Uncertainty about disease severity, implications for quality-of-life and management can often lead to non-adherence and poor control. Some barriers in general practice include the cost of devices, particularly some of the combined agents, and the unlicensed use of some of those recommended.
Summary
This article sets out the key changes in the GINA 2020 recommendations. SABA use alone is no longer recommended for first-line. For adults and adolescents over 12 years old, GINA recommends ICS in combination with formoterol for as-needed symptom relief. Covid-19 presence does not change asthma management, but care must be taken with use of nebulisers and aerosol equipment due to risk of disseminating virus to others.