As early and pragmatic adopters of new technologies, Irish hospitals can become centres of excellence when it comes to radiology
Healthcare is being revolutionised with all areas benefiting. In the area of radiology, we are seeing many benefits, and if the sector can manage to embrace the opportunities which are now within our grasp, patients, physicians and hospitals could benefit enormously. New and improved equipment and technology across many areas, advances in PACS (Picture Archiving and Communication System) in the Cloud, and the use of artificial intelligence (AI) are already helping to improve patient outcomes, and this along with the increased collaboration between the public and private sector will ensure that the benefits are maximised and democratised.
HSE Director of Digital Transformation Prof Martin Curley has promoted across the healthcare sector a set of filtration criteria to adopt new technologies requiring four prerequisites: Improved patient outcomes, reduced costs, improved patient/clinician experience, and improved quality-of-life.
As early and pragmatic adopters of new technologies, Irish hospitals can become centres of excellence when it comes to areas such as radiology, while also establishing Ireland as a stronger gateway to Europe post-Brexit and as a world leader in this area.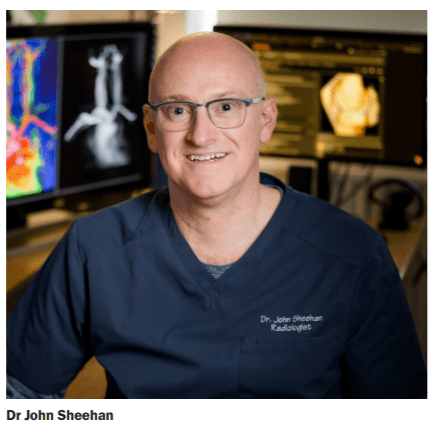 New improved equipment and technology
One of the most consequential developments in recent human history has been the exponential increase in computing power. As Jeanette Winterson explained in her new book, 12 Bytes: How We Got Here. Where We Might Go Next, the change has been truly dramatic. It is hard to believe that in 1914 during World War I, Marie Curie the scientist invented a mobile x-ray unit, called a 'Little Curie', and trained 150 women to operate it in the battlefield, imaging wounded troops.
Earlier this year, US medical device company Hyperfine made waves when it announced the arrival of what it calls the "world's first" portable MRI scanner bringing the imaging to the bedside. This can be used for brain imaging in the hospital ICU or emergency department (ED) setting when a patient is not able to transfer to the MRI department, or indeed in a nursing home patient with an acute neurological event.
It also may have a social impact to democratise healthcare by making MR imaging accessible to everyone around the world.
Siemens Healthineers last month introduced the world's first photon-counting CT, which is a total reinvention of computed tomography (Image 2). It is based on a new photon-counting detector with revolutionary direct signal conversion of x-rays into photons leading to much higher spatial resolution, reduced noise, reduced dose and increased spectral information, with the capacity to examine small heavily calcified coronary arteries and remove the calcium, allowing accurate assessment of the true lumen remaining and the degree of soft plaque, which is the more important and often unstable type.
Improvements in other scanning technology are also helping to advance cancer treatment in Ireland. Recently, Blackrock Clinic became the first private hospital in the country to provide PSMA (prostate specific membrane antigen) PET/CT scans for prostate cancer.
This involves using nuclear isotopes in Fluorine-18, which can detect certain proteins in the human body by attaching to them and 'lighting up' on a scan if they encounter cancerous growths. The PSMA PET/CT scan thus provides the most accurate staging and re-staging evaluation for men with prostate cancer, which will lead to increased precision and personalisation in treatment.
Another aspect to technological innovation, which needs to be considered, are the implications when it comes to the doctor-patient relationship. At a time when clinicians are increasingly stretched, it can become more difficult to make the time for the conversations, which really matter to patients.
Thankfully, the digital transformation of healthcare is at the same time presenting us with ways to dismantle the barrier between doctors and patients, improving and enriching these relationships.
A good example of this is in the area of digital informed consent. In February 2022, the Hermitage will begin a pilot project with EIDO Healthcare, a company that provides standardised digital informed consent to 65 per cent of the
UK's NHS and private hospitals.
Patients prior to any planned procedure will be able to receive a patient information leaflet in a digital format on their iPhone or iPad which they can read in their own time and then digitally sign their consent. In the hospital, the patient's journey through interventional radiology or surgery becomes more efficient and patient-focused.
In a world of insatiable demand for imaging, an estimated 20-to-50 per cent of advanced imaging is unnecessary; leading to delayed diagnosis and increased waiting lists. Clinical decision support (CDS) tools based on 'Appropriateness Criteria' from the European Society of Radiology can guide clinicians from NCHDs, GPs, and specialist consultants as to the best test for different clinical scenarios,but these are extensive and not easily accessible.
Irish health tech start-up xWave Technologies, in partnership with the European Society of Radiology, has developed a radiology referral tool to ensure the patient gets 'the best test first' leading to better patient outcomes. The xRefer App with AI empowers the referring clinician to easily order the appropriate test quickly, schedule, and track their patients.
Advances in PACS and the Cloud
One of the most beneficial aspects of the overall shift towards improved care are the advances when it comes to PACS. Radiologists can now benefit from constant real-time communication with their peers about the images they are reviewing. As a result of this, physicians are in a better position than ever to decide on a treatment path for their patients.
In the Hermitage, our new SwiftQueue online ordering and Change Healthcare PACS will transform how the patient, referring physician and radiologist interact. Ordering, scheduling, and protocolling will be online and paperless. Image interpretation will benefit from 'intelligent workflows' that prioritise cases based on referral source or type, leading to improved turnaround times.
We will be able to avail of peer review software that randomly and efficiently contributes to our regular quality improvement meetings. The system will also help to streamline our many regular multidisciplinary meetings, which are a core part of patient management.
Cloud-based enterprise imaging from a clinical, IT and corporate perspective realise the opportunity for improved connectivity, upgrades, security, AI opportunities, and much more besides. Another interesting area is the idea of 'radiology gamers', based on the 'compound effect' where small, imperceptible changes with consistency over time, result in large gains in the longer run. Our new PACS system, which uses gaming mice and special keyboards with efficient shortcuts, shaves seconds off reviewing each study; leading to greater efficiency, user satisfaction and reduced common repetitive strain injuries.
Artificial intelligence
One of the most hotly discussed topics today is the development of AI. By transforming tasks such as notetaking and medical scans, AI has the potential to reduce the costs involved in medicine while also saving lives. In the Hermitage we have engaged with Siemens Healthineers as their first site in Ireland to use their cloud-based suite of radiology AI algorithm tools for identifying pathology on chest x-ray, CT chest, MRI brain, and MRI prostate. AI and the radiologist work synergistically together increasing detection, speed, and diagnosis, and reducing missed diagnosis, all resulting in better patient outcomes and indeed job satisfaction for the radiologist. As the AI is cloudbased, the existing six algorithms for chest x-ray, for example, are constantly iteratively improved and added to over time, just like all the Apps on your smartphone.
Maximising the value of public-private cooperation
Among the many policy learnings from Covid-19 has been the importance of promoting closer links between public and private hospitals. Throughout the pandemic, the HSE has relied on private hospital capacity to ensure that patients could continue to access vital services – particularly in the areas of radiotherapy, cancer treatment and diagnostics – without placing further strains on our public hospitals.
Of course, public-private cooperation was not a new development, but links are deepening to the benefit of all parties. For example, HSE patients from nearby Connolly Hospital, Blanchardstown, have regularly been treated here in the Hermitage, and the planned development of additional facilities, including a second ultrasound machine, will allow for this work to be expanded.
The Hermitage is also providing additional support to Our Lady's Hospital Navan and scans performed in Navan can be
assessed using our NIMIS (National Integrated Medical Imaging System) workstations.
This enhanced cooperation will also lead to more rapid adoption of the cutting-edge technology which is transforming healthcare for the better.
Mobile Medical Diagnostics offers mobile x-rays in the community, such as nursing homes, and is the only company
in Ireland and the UK to do so, and indeed the only company in Europe to have a licence to do it in people's own homes.
Using the latest digital technology provides a community-based and flexible radiology services solution, resulting in improved access to diagnostic services for patients, aiding in ED and hospital avoidance, reducing pressure on radiology and ambulance services, and improving clinical outcomes.
Ireland has enormous potential to become a world-leader by embracing a new approach, which will benefit our patients long into the future, and one which will see us going from 'laggards to leaders' in healthcare medical technology, to quote Prof Curley.
Key to this will be the authentic and trusting partnerships joining the clinical, health-tech, med-tech and corporate dots.
Acknowledgement: Dr John Sheehan is Clinical Director of Mobile Medical Diagnostics and Clinical Advisor to xWave Technologies (xRefer)