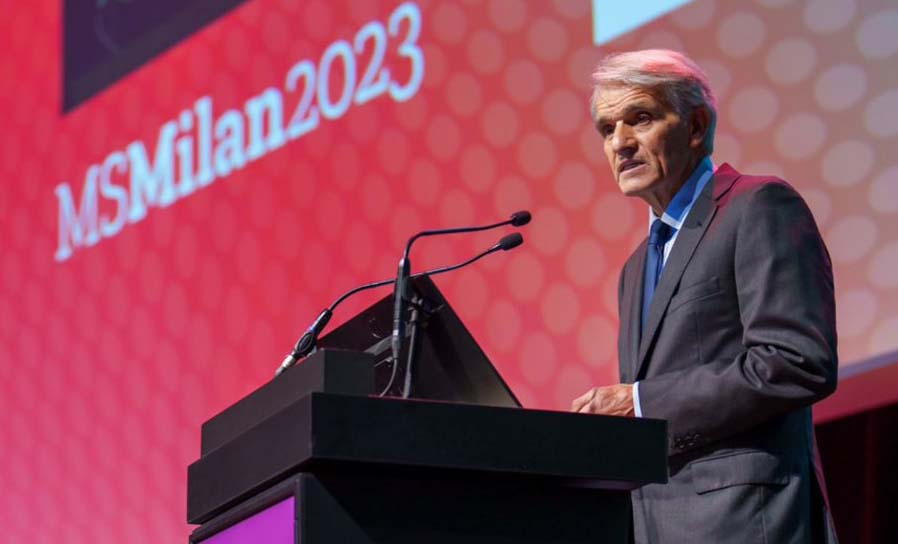 Prof Stephen Hauser
ECTRIMS 2023 heard how growing understanding of the pathology and underlying mechanisms of MS has brought the prospect of a cure closer than ever
"I think that it's possible that MS [multiple sclerosis] could be the first autoimmune disease to be cured. And I think we have a chance to see this in our lifetime."
That's according to Prof Stephen Hauser, Professor of Neurology and Director of the Weill Institute for Neurosciences at the University of California, San Francisco (UCSF), who gave the European Committee for Treatment and Research in Multiple Sclerosis (ECTRIMS) lecture at the 9th Joint ECTRIMS-ACTRIMS Meeting, held in Milan, Italy from 11-13 October.
Growing understanding of the pathology and underlying mechanisms of MS has brought the prospect of a cure closer than ever, but there is still a lot of work to be done.
"MS is one of the two or three great success stories of modern molecular medicine. We are halfway home, but we are not all the way there," he told the world's largest MS meeting, adding that the medical research community has "an immense opportunity to advance from partial to complete suppression, to cure".
Informing earlier treatment
Disability is usually irreversible, so the earlier MS is treated, the more likely it is that "maximum and complete control" ca be achieved, said Prof Hauser.
To date, the research community has made little progress in identifying the earliest triggers with any specificity. Now, however, researchers are starting to shine a light on the premonitory phase and on a specific MS signature.
Genetics plays a role, but it does not tell the full story. Work from the International Multiple Sclerosis Genetics Consortium has identified more than 230 loci associated with MS susceptibility, the majority of which are in the vicinity of genes that affect blood or immunity cells. However, these have only a negligible effect on disease severity, said Prof Hauser, explaining that the severity loci cluster in genes that are central nervous system expressed.1 "Genetics play an incremental role, but can't really distinguish who's at risk."
In other autoimmune conditions, including lupus, diabetes, and rheumatoid arthritis, serologic autoantibodies have been the most effective biomarkers of pre-symptomatic phase of diseases by far, Prof Hauser noted. This has led to huge advances in how these conditions are treated, and we are now "moving closer" to being able to do the same in MS.
Using the US Department of Defence Serum Repository, a UCSF team used whole human proteome PhiP-Sequencing to analyse blood samples from 250 people with MS collected a mean of five years before symptom onset, and one year after. These were matched, by age, race, and gender, to 250 healthy controls. The team found an immunogenic cluster that was only present in the MS group, both before and after diagnosis. "This cluster is commonly expressed in a number of pathogens, with the closest homology being the early lytic antigen of the Epstein Barr virus, BRRF2," said Prof Hauser, adding that even in the pre-symptom stage, the signal was associated with increased serum neurofilament light (NfL) levels.2
Validation in a UCSF ORIGINS incident cohort found the marker exhibited robust specificity before MS onset, at the point of the initial flare, and post-diagnosis.2 However, it is insensitive, being present, so far, in about one-in-seven patients. In addition, many questions still remain such as when the signal first appears and its relationship to genetics and disease expression. "We need to learn much more, but it is a very exciting story that, I am sure, will develop over time," said Prof Hauser.
Progression drivers
Acute MS lesions, meningeal B-cell rich follicles, slowly enlarging lesions, diffuse white matter, and age-related atrophy are all well-established drivers of progression. However, it is now known that there is much more at play.
To illustrate this point, Prof Hauser presented the example of a man who died from secondary progressive MS after 17 years of anti-CD20 treatment. His pathology showed a complete absence of CD20 B-cells and CD138 plasma cells, and large numbers of activated CD68, CD163, and CD45 microglia in the nervous system and white matter. The normal splenic architecture was completely effaced, with complete loss of B-cells from the tertiary structure.
"We eliminated the acute inflammatory white matter lesions and B-cells from the nervous system, yet the pathology is still being driven by activated microglia and by CD8 T-cells," Prof Hauser explained.
An immense opportunity
Summing up his presentation, Prof Hauser said a cure for MS is possible, if the community is able to seize the opportunity.
"We should take the lead from cancer therapeutics, where they define what a cure means," he said, adding that in oncology, complete response (CR) is based on no evidence of disease, and being off treatment for a defined length of time. "A CR equivalent could be developed for MS."
Achieving this will require a 'tool box' for the monitoring and defining of silent progression. Current criteria for no evidence of disease activity (NEDA) 3 and NEDA 4 are insensitive, inadequate, and need work, he said.
Teams also need practical ways to monitor progression drivers such as chronic active plaques, meningeal follicles/cortical lesions, and white matter change. Imaging biomarkers such as slowly expanding lesions and paramagnetic rim lesions, proteomic/genomic readouts of cell type-specific myelin damage such as NfL, and immune biomarkers such as oligoclonal bands, all hold promise. However, they need to be "scalable and harmonised in order to be useful across the whole MS population", said Prof Hauser.
Next-generation therapies, he continued, would likely need to neutralise multiple cell types, including treatment-resistant B-cells, microglia, and CD8+ T-cells, and much work is ongoing in this area.
"We have a great opportunity, as a community, to come together across nations and across disciplines, bringing the academic world, industry funders, insurers, and patients together to ask the big questions," said Prof Hauser. "The past 40 years have been amazing, but the next generation are going to have an even more exciting time."
WHO gives update on action aimed at increasing global access to MS treatment
During the 9th Joint ECTRIMS-ACTRIMS Meeting in Milan, the World Health Organisation (WHO) delivered a message to attendees recognising the public health need for effective and affordable MS treatments and encouraging the global MS community to work towards improved global access to effective treatments for MS.
In July, the WHO added disease-modifying therapies (DMTs) for MS onto its Essential Medicines List (EML) for the first time. With this landmark decision, the WHO emphasises the critical need to make MS treatments available in all health systems at all times.
The three treatments added onto the WHO EML are rituximab, cladribine, and glatiramer acetate.
Listing of these medicines as treatment options for MS with different routes of administration, different prices (with the availability of generics and biosimilars), and different recommended uses, is aimed at facilitating improved access to treatment for people living with MS around the world. The decision to support off-label use of rituximab is supported by strong evidence of its efficacy and safety for this indication, the WHO said. As this is the first time that MS treatments are included, a new section was also created on the list underlining the importance of treating MS.
"The EML is an important tool for achieving universal health coverage, providing guidance to governments, health facilities, and procurers on which medicines are the best value in terms of benefits for individuals and communities. The EML includes medicines only on the basis of solid evidence for safety and efficacy. Approved indications within national jurisdictions or the availability of on-label alternatives is not a decision criterion," said Secretariat of the WHO EML, Dr Benedikt Huttner.
"Given the evidence-base and the increased affordability of rituximab, including the availability of pre-qualified biosimilars, it has been prioritised over on-label alternatives as an essential medicine to treat relapsing/remitting and progressive MS."
ECTRIMS was one of the organisations that endorsed the application prepared by the Multiple Sclerosis International Federation (MSIF) and the WHO Collaborating Centre Bologna to add MS DMTs to the WHO EML.
MSIF and ECTRIMS stress that the three medicines listed provide a baseline of care, but are not the only ones that are effective and important for the treatment of MS. There is global consensus that a range of MS treatments should be available in all health systems at all times.
References
International Multiple Sclerosis Genetics Consortium; MultipleMS Consortium. Locus for severity implicates central nervous system resilience in progression of multiple sclerosis. Nature. 2023 Jul;619(7969):323-331
Zamecnik CR, Sowa GM, Abdelhak A, Dandekar R, Bair RD, Wade KJ, et al. A predictive autoantibody signature in multiple sclerosis. medRxiv [Preprint]. 2023 May 15:2023.05.01.23288943