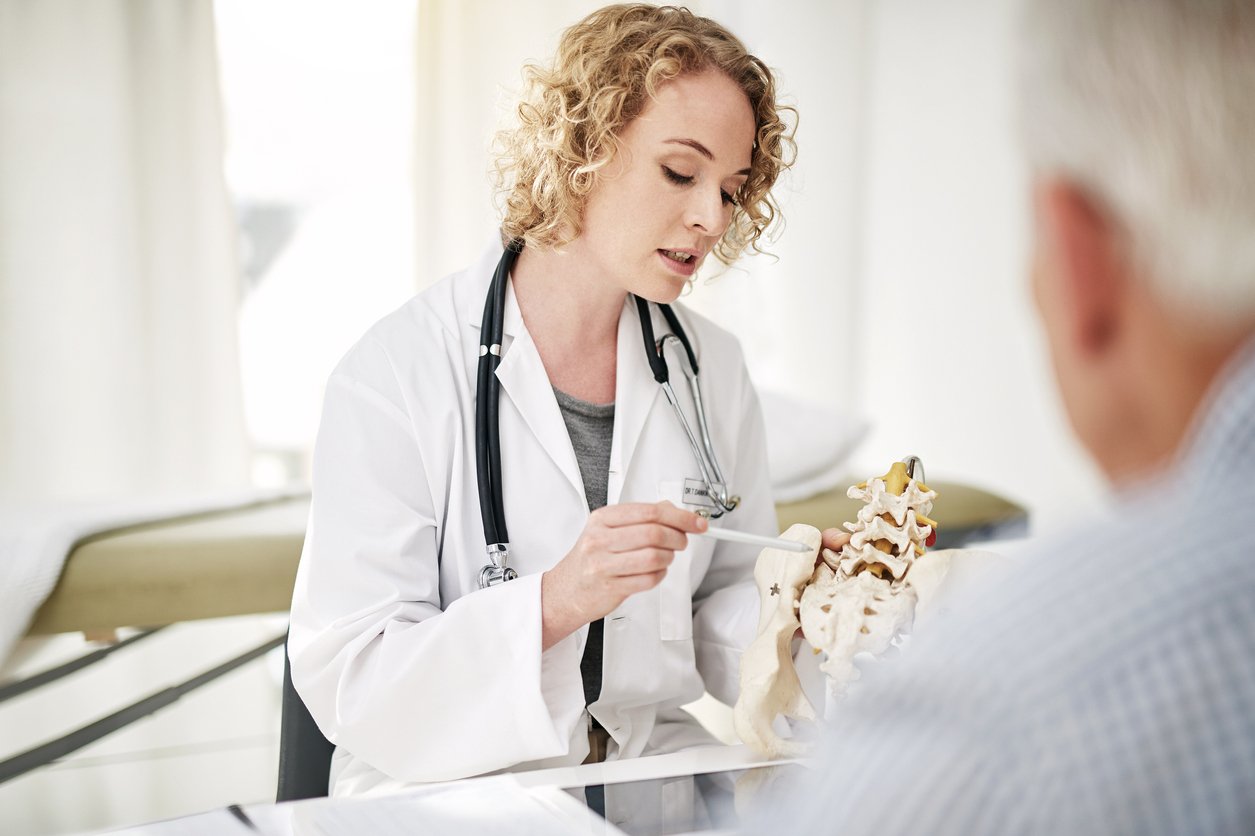 Shot of a doctor explaining a medical procedure with a model to a senior patient while sitting in her office
Paul Mulholland speaks with President of the Irish Osteoporosis Society, Prof Moira O'Brien, about the Society's
upcoming conference and the need to correct misinformation about the disease
The Irish Osteoporosis Society's (IOS) Annual Medical Conference for Health Professionals will take place virtually on 23 October 2021. The event will see a range of experts deliver talks concerning evidence-based treatments for osteoporosis and related issues. It will also touch upon the effect the Covid-19 pandemic has had on patients and the treatment they receive.
President of the IOS, Prof Moira O'Brien, told the Medical Independent (MI) one of the major issues that has arisen during the pandemic is patients being inappropriately put on 'drug holidays'. Prof O'Brien voiced concern about the issue to MI at last year's conference and said it is still a problem. At this year's event, Dr Kevin McCarroll, Consultant Physician and Geriatrician, Bone Health Unit, St James's Hospital, Dublin, will deliver a talk titled 'Update on denosumab treatment compliance, especially during Covid-19,' which Prof O'Brien said will address the subject. Denosumab is a monoclonal antibody drug for the treatment of osteoporosis administered as a six-monthly subcutaneous injection, which needs to be administered by a healthcare provider. Over the past year, she said many patients were informed that they could pause their treatment, as denosumab was not an essential medication. However, Prof O'Brien explained this advice was incorrect.
"You can't just stop taking denosumab," she explained.
"If you don't close it off [by taking a bisphosphonate to slow the rate of bone loss], you will get vertebral fractures. And we have had a large number of patients, who have been told they can take a 'holiday'. And that is absolutely crazy. And the amount of vertebral fractures that have occurred is because of a lack of understanding of the importance of doing the blood tests before the [denosumab] injection, and making sure that the patient gets their injection on time." Dr McCarroll completed a clinical Fellowship at the Mercer's Institute for Research on Ageing and was awarded a doctorate in medicine for his thesis on vitamin D and its relationship to cognition, blood pressure, falls, and mood.
His research interests include vitamin D, bone health and cognitive impairment. He is a co-investigator in the TUDA (Trinity, Ulster, Department of Agriculture) study, which comprises 5,200 Irish adults aged over-60 and from which peer-reviewed research on vitamin D, dairy intakes, and bone health has been published.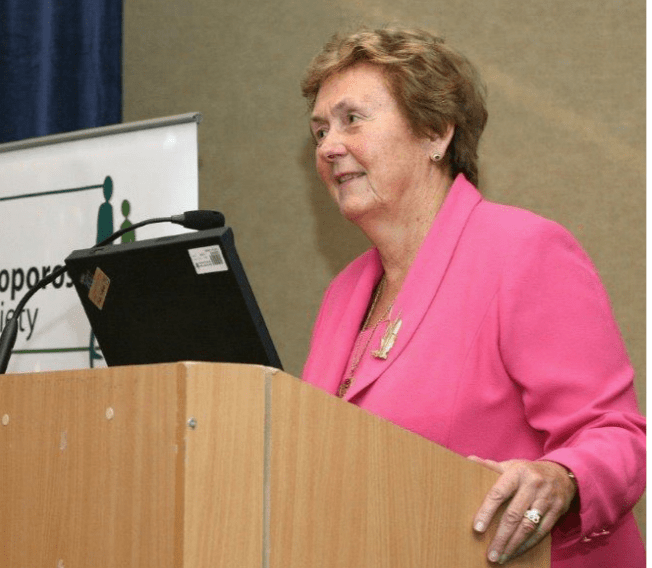 Prof Moira O'Brien
Vitamin D
During the conference, the topic of vitamin D will be specifically addressed by Prof Bernard Walsh, Consultant Physician and Geriatrician, Bone Health Unit, St James's Hospital, Dublin, and Trinity College Dublin.
Prof Walsh is a Fellow of the Royal Colleges of Physicians of London and Edinburgh, Member of the American Society for Bone and Mineral Research, and is the author of over a hundred peer-reviewed papers. He has extensive experience on the use of parathyroid hormone as an anabolic treatment in patients with severe osteoporosis and has also taken a national and European lead in vitamin D milk supplementation.
Prof O'Brien said the talk will highlight
why vitamin D is one of the most important tests that should be done in relation to osteoporosis. "Vitamin D not only protects bone, but it also helps the immune system," she explained. "A lot of people think calcium is important. But if the vitamin D is low, the calcium will be low."Dr Donncha O'Gradaigh, Consultant Rheumatologist, Waterford University Hospital, will deliver a talk titled 'Treat to Target'. It will be followed by a question and answers session, with the panel consisting of Dr O'Gradaigh, Prof Walsh, Dr McCarroll, and Prof O'Brien.
"We will seek to address the misinformation that is being put out there," she said. "The number of people who ring the Society and, 'well, I'm 40, and I've just fallen', but when they have asked for a DEXA [scan], the GP would have said, 'you're not old, that can't be osteoporosis.' That is the level of knowledge. They need to know the risk factors and that will all be emphasised."
Mental health
Following Prof O'Brien's opening address, Consultant Psychiatrist at and former Medical Director of St Patrick's University Hospital, Dublin, Prof Jim Lucey, will deliver the first talk of the day at the virtual conference on the subject of mental health.
Prof Lucey recently published the book A Whole New Plan for Living. It proposes and explores 10 steps to help people build and practice balance and wellbeing in their daily lives.
Prof Lucey wrote the book during the Covid-19 lockdown last year. The book deals with the heightened anxiety and distress the pandemic has brought, with multiple stressors, such as isolation, illness, grief, and financial strain; and limitations in our everyday routines. While one-in six-people experience a mental health challenge in a year, Prof Lucey explains that this has likely increased to as many as one-in-three during the pandemic.
Prof O'Brien said stress and anxiety is a strong risk factor regarding osteoporosis. "What people don't realise is that if you are stressed, your cortisol goes up, and this is one of the highest causes of bone loss. And for people to realise the importance of various factors, such as the amount of sleep, the amount of exercise, and the correct type of exercise."
Exercise
Ms Ciara Shields, Chartered Physiotherapist, Clinical Specialist in Musculoskeletal Physiotherapy, IONA Physiotherapy, will deliver a talk on the subject of exercise. Her presentation is titled 'Stay strong – Exercise and bone health'.
"Patients need to know how to exercise properly," Prof O'Brien said. "And this is not just walking; they need to do weights and resistance training. With resistance training, you can do it sitting down, you can do it standing up, depending on the level of the patient and whether they have a high risk of fractures. But you have got to do it slowly. And the one thing they must not do is bend forwards. Because if they have poor bone density in their spine, and they are told to bend forwards, that will give rise to fractures."
Another topic will be male incontinence, which will be discussed by Ms Aoife Ni Eochaidh, Chartered Physiotherapist, Clinical Specialist Physiotherapist, Women's and Men's Health and Continence, Bon Secours Consultants Clinic, Galway.
The conference will also feature a presentation from guest speaker, patient, Ms Sarah Buckley, who will talk about her "journey from brittle bones to full bone health". Ms Buckley will speak about the importance of finding a cause for bone loss from her own personal experience.
"In certain cases, it is the lifestyle that is the cause of it," according to Prof O'Brien. "And if you don't alter that, they aren't going to get better." According to the IOS, some lifestyle risk factors to developing osteoporosis include: A lack of physical activity; smoking; excess alcohol; and excess caffeine.
In conclusion, she pointed out that one-in-two women, and one-in-four men, over the age of 50, if they do not lead a healthy lifestyle, will develop an osteoporotic fracture. "There still is the perception that it is only an old ladies' disease, which isn't true," Prof O'Brien said.