A phase 2 randomised study comparing the efficacy and safety of targeted therapy or cancer immunotherapy versus platinum-based chemotherapy in patients with cancer of unknown primary site (CUPISCO)
CUPISCO is an ongoing phase 2 randomised controlled multicentre trial (NCT03498521), comparing the efficacy and safety of targeted therapy or immunotherapy versus standard of care platinum-based chemotherapy in patients with newly diagnosed, poor prognosis carcinoma of unknown primary (CUP). The rationale for the study is that approximately 85 per cent of cases of CUP have a clinically relevant genomic alteration that may respond to molecularly-guided therapy.1 CUPISCO aims to use comprehensive genomic profiling (CGP) to identify clinically relevant genomic alterations and to use these to guide new targeted treatment options in patients with CUP. This is a global study with 124 clinical sites in 32 countries, including two sites in Ireland; University Hospital Waterford and St Vincent's University Hospital, Dublin.
The trial aims to recruit 790 patients for a planned study duration of 48 months. All enrolled patients undergo genomic profiling of tissue and blood samples and subsequently all patients will receive three cycles of platinum doublet induction chemotherapy. Patients who demonstrate a response are randomised to either the experimental arm: targeted therapy/immunotherapy based on their molecular profile, or the standard arm: Additional systemic chemotherapy. Patients with progressive disease following induction chemotherapy are assigned to targeted treatment/immunotherapy based on their molecular profile. A molecular tumour board (made up of medical experts in CUP, oncology and pathology) will advise on the choice of targeted therapy for these patients.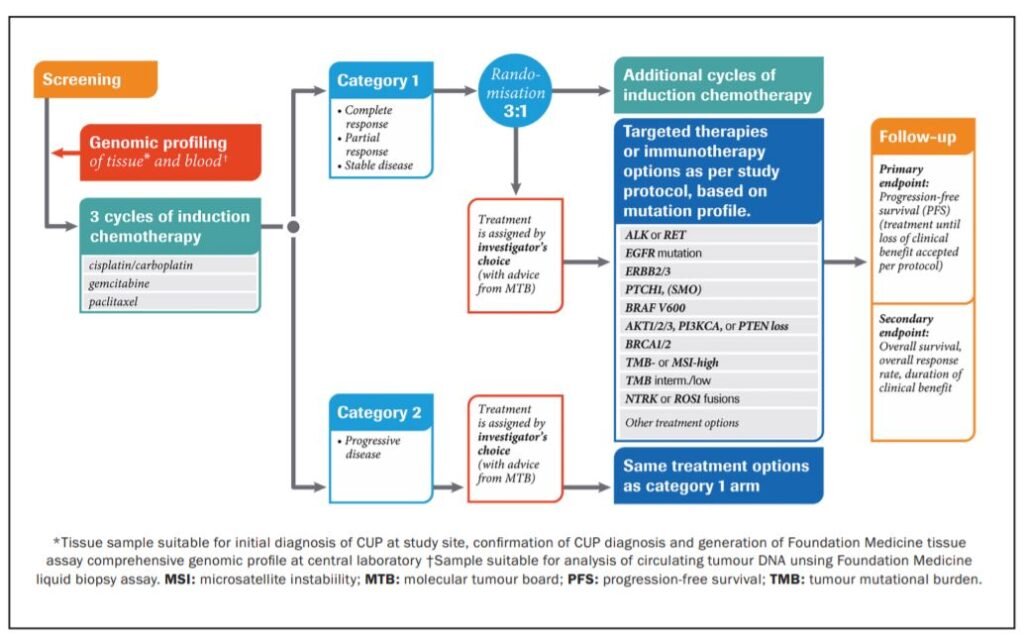 The primary endpoint is progression-free survival (PFS). Secondary endpoints are overall survival (OS), overall response rate (ORR), duration of clinical benefit (DCB) and adverse events (AEs). Inclusion criteria include age >18 years, no prior lines of therapy, eligible for platinum-based doublet chemotherapy, ECOG performance status 0-1, at least one lesion that is measurable (RECIST v1.1), histologically confirmed metastatic/advanced unresectable CUP. Key exclusion criteria include favourable subsets of CUP, non-epithelial cancer and squamous cell CUP. CUP is a disease that is historically associated with a poor prognosis and limited treatment options.2 This novel phase 2 trial aims to show a benefit of targeted therapies as compared to standard platinum-based chemotherapy in patients with unfavourable newly diagnosed CUP. Improvements in DNA profiling and the growing array of novel therapeutic agents mean that a more personalised approach may now be possible for patients with CUP and we await the results of CUPISCO with anticipation.
References: 1. Ross JS, Wang K, Gay L, et al. Comprehensive Genomic Profiling of Carcinoma of Unknown Primary Site: New Routes to Targeted Therapies [published correction appears in JAMA Oncol. 2019 Aug 1;5(8):1232]. JAMA Oncol. 2015;1(1):40-49. 2. Greco FA, Hainsworth JD: Cancer of unknown primary site. In: DeVita VT Jr, Lawrence TS, Rosenberg SA: Cancer: Principles and Practice of Oncology. 9th ed. Philadelphia, Pa: Lippincott Williams & Wilkins, 2011, pp 2033-51.